I was bad and drank two tea today.
I came home after lunch, and since I had an hour before the library opens again (they close for lunch), I decided to make some tea to kill time. I brewed up the darjeeling I got from Hong Kong this Christmas.
It's…. a darjeeling, first flush, methinks. At least the way it tastes and smells and looks are first flush quality. No specific estate, so I have no information beyond that. It is quite tasty, and brews a slightly darker infusion than yesterday's Lochan
3rd infusion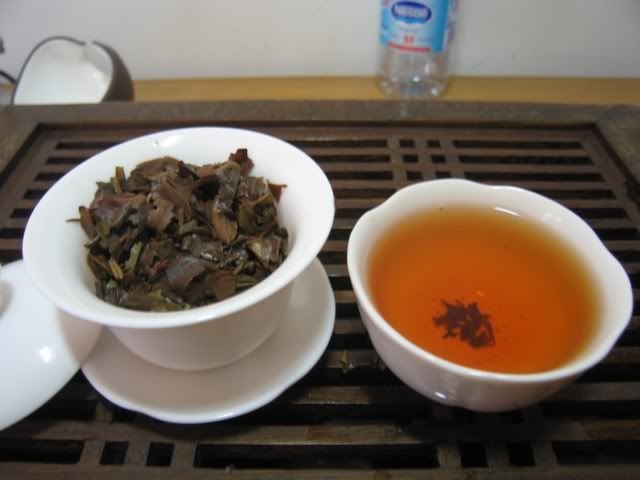 The tea is less rough than yesterday's, although it could also be because I was managing it very carefully to try to make a tea that is less rough on the tongue. I managed to get about 5 infusions out of the tea, at which point it was clearly dying. The fragrance from this tea is less immediately stunning, although I think it has a deeper flavour than the airy aroma of yesterday's. What taste is this? I don't think I know how to describe it.
Wet leaves — typical Indian tea, very broken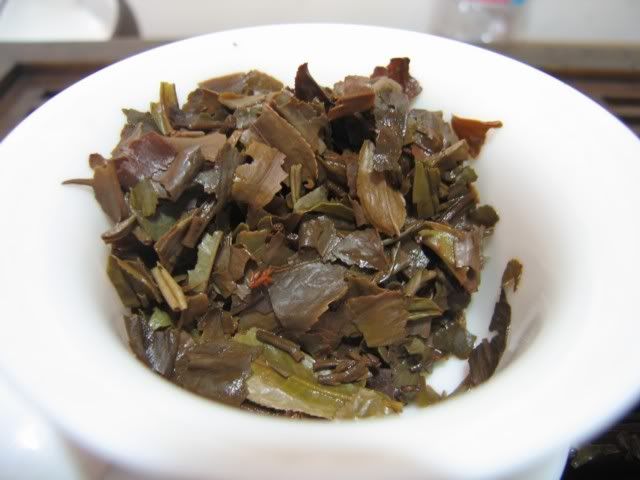 After library, I got home… and felt like I didn't drink any tea at all. 4-5 infusions of darjeeling just didn't cut it.
I rummaged through my ever-growing collection of sample-sized teas, as well as tins and cans and bags of stuff. I'm sure most of you who read this blog know exactly what I mean — there's always more tea than you can ever finish drinking. Among them, I saw a Hou De bag… one that I have completely forgotten for a while. This is a sample of the 1999 Mengsa from Xizihao. I looked in the bag… there was enough for an infusion! So…. out it came.
I was sniffing the leaves and noticed something — it seems to have absorbed some of the paper bag's smell. After all, it's been in the bag for more than half a year. It's only natural that it soaked up some of the smell, but that is not a good thing. I immediately dumped the other Hou De stuff from the paperbags into little plastic bags that breath a little. I think that is a better option. I peeled off the labels so that they could be easily identified and threw those in the bags too… if you have Hou De samples lying around aging, you might want to check and do the same.
There was actually slightly too much tea for one infusion, but I didn't want to leave a tiny bit of tea behind, so I brewed it all anyway. The first two infusions were a little off, no doubt due to the paperbag. It had an odd flavour, a little unpleasant, and bitter. The liquor looks nice enough
By the third the tea improved a bit. However, whereas I remember being quite impressed with the tea the first time I tried it, now I'm not so impressed anymore. Perhaps this is extra experience from the past year, when I've drank my way up and down Maliandao and Hong Kong shops. Perhaps it is poor aging. I'm not sure.
The tea retains aromas that are similar to what I remember it had last time I tried it. There is something that I didn't notice last time though, and that was a little sourness… there's some sourness in the tea, most prominent during the 2nd to 4th infusions. Dry stored teas can have a sour edge to it, and this one showed. It wasn't very nice drinking puerh that was slightly sour. The sourness went away around infusion 5, and the more characteristic puerh sweetness returned, but it already left a bad taste in my mouth.
Infusion 3

Infusion 8

It generally seemed a little weak and thin, relatively speaking, especially considering the amount of leaves I used. It also went downhill relatively quickly, as puerh goes. It was still pretty flavourful when I was finished with it, but it wasn't exactly impressive at any point of the tea.
One thing I noticed about the wet leaves is that the leaves of this cake seem quite heavily rolled, especially when compared with teas that are being produced now. Heavy rolling supposedly makes the tea a bit more bitter, but heavy rolling was the norm. In fact, rolling is getting lighter these days, because people like seeing their tea unfurl. I'm not sure that's a good thing.
All in all, it was pretty interesting revisiting this tea. I remember the first time I had it, I thought this was better than the 1997 Yiwu. Then, on second try, I thought that the Yiwu actually was better than this. I no longer have a sample of the Yiwu left, but I think I would still hold the same opinion. Perhaps it's just my taste that has changed.