I had a lull in the day today running errands before going to Beijing tomorrow, so I decided to go to Sheung Wan where a lot of old teashops exist to check them out.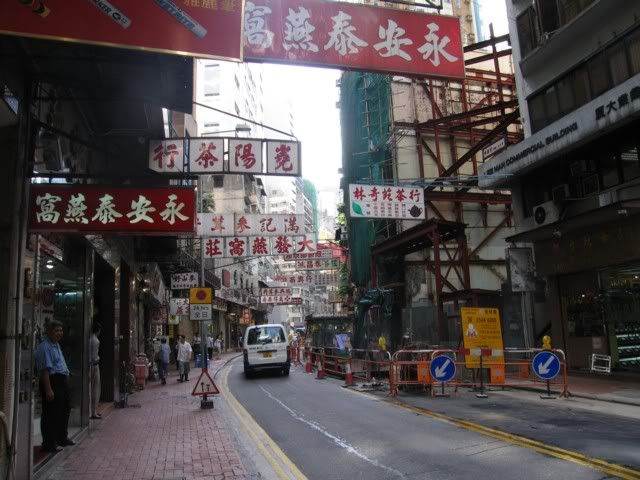 I've never been in that particular area before. It's very much an old street with lots of old shops — most are stores that sell various sort of Chinese medicine and supplements like deer horns, bull's testicles, bird's nest, etc etc. Among them are a few teashops: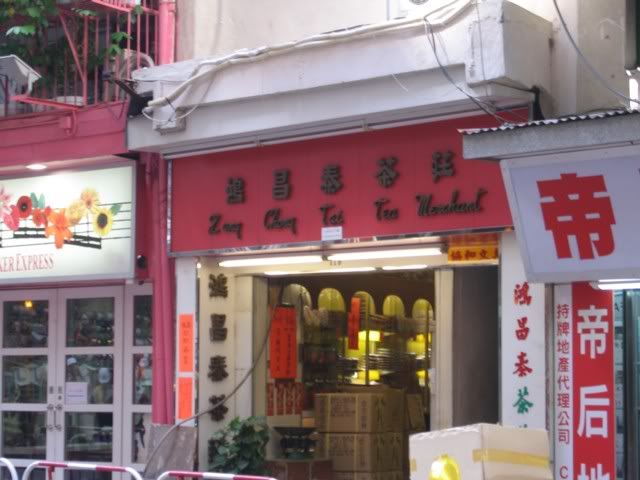 This is the first one I went to, and one with the most local flavour. I've only been to one teashop like this before, in the Mongkok area. They mostly sell cooked puerh, with some raw puerh, but most of the raw puerh have been through wet storage.
I tried a few teas there. What's most unique is not the tea they brewed but rather the method of brewing:
They use these big bowls to brew the tea (with a cover, much like a gaiwan, but big). Infusion time is about 5 minutes. This is somewhat similar to the test tasting method with a spoon, but with no spoon. You use it to test what Cantonese call the "tea base". Then, they scoop the tea out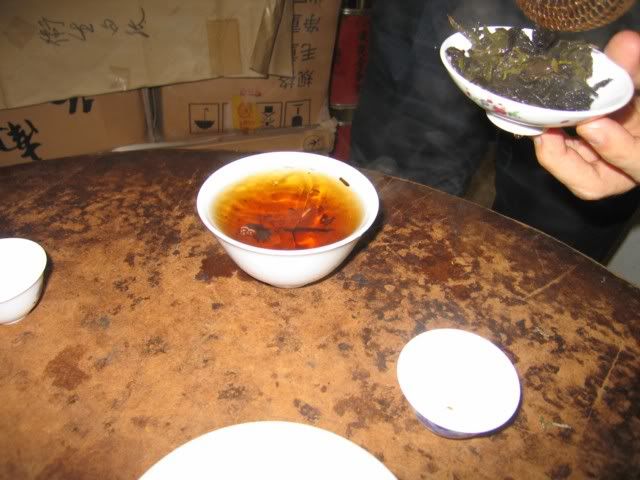 Like this. The tea is then presented to the taster on the lid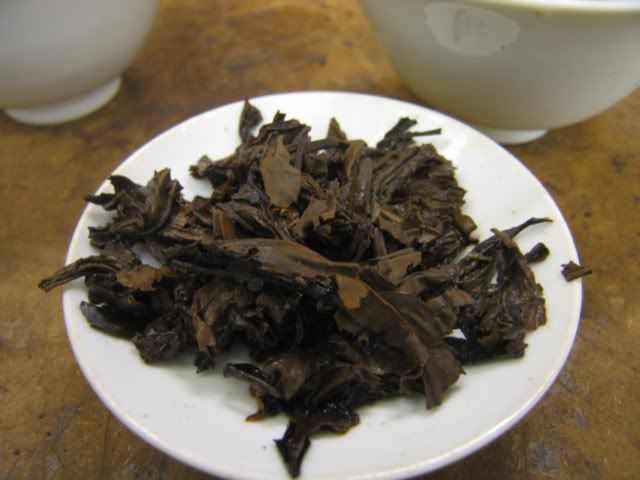 While they use a western style teacup to scoop out tea from the big bowl and pour into a small drinking cup for you to taste test.
The tea on the left is a wet storage pu. It tastes somewhat like a cooked, but with a bit more flavour and less of the nasty cooked taste. Quite mellow, as befitting of a wet storage tea. The one on the right is the only raw cake they sell. In fact, they don't even have it in stock, but must be ordered beforehand. It wasn't expensive, and since I felt bad for having sat there for a while, I decided to order it (minimum one tong). It was decent enough. A good bit of cha qi. I quite liked it, actually.
The last tea I tried was actually the one in the scooping picture. It's a weird tea — some shuixian mixed with qingxiang tieguanyin. Yes, you heard me right. It's an odd mix, but it sort of works. I think they did it mostly to cover up the strong roasted smell of their shuixian, which I think is a bit slightly overroasted. The qingxiang tieguanyin balances some of those flavours out. I bought a bit of it as a curiosity piece. At $12 USD a jin (around 600g) it's really not very expensive. No cha qi, but hey, it's cheap.
This store was shabby inside. As you can tell from the pics, it's very undecorated, but had its flavours. They say they've been in business for 60 years.
I then went to another teashop next door. It's owned by a man who's now in his late 60s, early 70s. This store has also been around for about 55 years or so. His daughter now operates a teashop in Vancouver, BC. Family business, obviously. They are a bit more gentrified, and cater to more tourist business (some Japanese tourists walked in while I was tasting teas). I tasted two of their own make's cake. One's from 1996, another from 2004. The 1996 tasted decent, although lacking a bit of depth, but quite nice nonetheless and will probably improve. The 2004 is also nice. I bought one just to try another sample of a different cake.
Sigh, one trip, and two more purchases. I really need to clamp down on the buying in Beijing….