I got some tea in the mail today, which would've made this blog entry, but then, I got called out by ZH to go tea drinking at around 7:30, so off I went.
By the time I got there it was already 8:30pm, but that didn't stop us from drinking lots of tea. It was quite a nice little teahouse, actually. I really liked it, and regret not bringing my camera. Nice service, allows us to brew tea freely for a nominal charge, and really just a decent place all around. If only China has less smokers….
Anyway. First tea was a fired tieguanyin, supposedly with some years of age. It was difficult to tell, because, apparently, it was very recently re-fired, as they do from time to time to keep moisture out of the tea. That, however, means that it was harder to taste the subtle aged taste of a tieguanyin, and a lot of the roasted aroma instead. Not bad, quite mellow, and pleasant. Obviously aged. It's just a matter of how much.
Then…. we had two Yiwus, side by side. One is ZH's stuff, supposedly something like 8 or 9 years, I can't remember now. It's been in Beijing for about 4-5 years, and it shows. The tea, i thought, was only 3-5 years of age, because it looked young. When tasted, it had an odd aroma… something I've never encountered in a Yiwu before. It has a hint of what I know as the Yiwu flavour, somewhat aged, but it's different in that the aroma of one particular aspect (sort of a spice… not sure what) is quite distinct. I think what it is is that because aging is slower here, it takes longer for the tea to pass through each stage of aging, and therefore what might be sped by in Hong Kong storage is instead accentuated here. Different flavour, for sure. It's a little bitter and a little astringent. I think in some ways I prefer the Hong Kong taste.
The other Yiwu is this — something I received very recently as a sample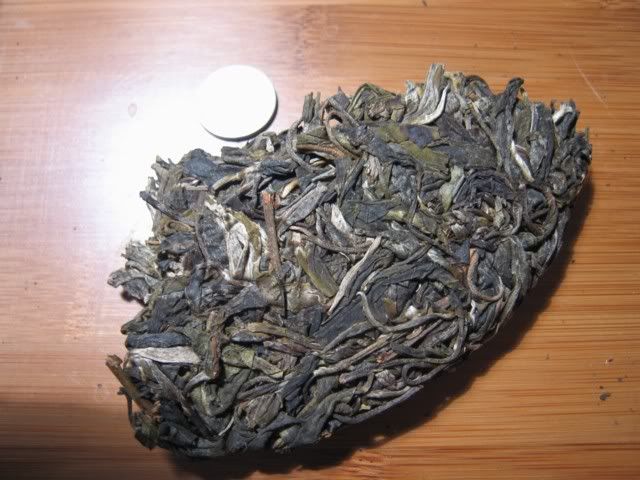 The coin is there mainly for comparison, it's about the size of a nickle. This is a 2006 fall Yiwu small arbor tree, made with tea that is about 20 years old, supposedly. This is stuff that many vendors try to pass off as "old tree", "ancient arbor tree", and stuff like that. I specifically asked for this so I could use it as a basis for comparison. Of course, if a tea tastes like this it doesn't mean it's necessarily a small arbor tree, but what it does mean is that it is small arbor tree quality tea, so it should command a similar price…
Anyway, the tea is nice, sweet, very very mellow, and very Yiwu. It is slightly on the thin side, compared with better, old arbor tree teas from Yiwu. It's less aromatic as well. All in all though, not a bad tea. I might even consider getting a few just to see how they taste when aged, especially in comparison with all the other Yiwu I have right now.
After we went through some rounds of the Yiwu, we moved on to a cooked brick from the 80s in ZH's possession. Oddly enough, it tastes somewhat like the Guangyun Gong I've had recently, with the exception that the GYG had a lot more yun, or aftertaste, than this one. This one is sweet like the GYG, but is not as "long" as the GYG. It also doesn't last quite as long, and by about the 10-12th infusion, it was going downhill, losing the sweetness. It will be good for some more infusions if one were to boil it. Nice tea though, and very enjoyable.
Next was the "30 years loose puerh" from Best Tea House. I am now of the opinion that this tea is probably more like 15-20 years. Not 30, but then, it doesn't really matter. It's quite enjoyable, and quite nice, especially for a loose raw puerh that doesn't cost an arm and a leg. As ZH mentioned, he feels indulgent when drinking stuff like his brick and this kind of tea. It's old, and at the end of the day, the market price for this stuff is not low.
Meanwhile, we talked about teas in general, plans for Zhongcha this year, etc. The conversation is better than the tea, and that's what really makes these gatherings.
Just when we were about done (I was all tea-ed out), we were thinking "is there anything more to drink?". I was going through his bags of samples that he has (he has lots), and found an interesting item… Lochan Darjeeling. Hmmm, didn't expect to see it here.
He got some through his work. Since I told him I have been chatting with the owner of the firm on the internet, he said "why not?", and off we brewed. We didn't use much leaves. It was a first flush taste — very light, green, almost white tea like. An unmistakable Darjeeling flavour profile. ZH comments how Indian teas in general can be so consistent, whereas Chinese teas are less so, usually. The aromas are quite pleasant, and quite strong. The liquor is light in colour. The tea is a bit on the thin side of things, and with one quite noticeable flaw — the tea, when drunk, is VERY rough. You know how some teas leave your tongue roughed up? Well, this is one of them, and quite seriously so. Part of this is a water issue, and playing with the water can help fix it. Part of it, though, I suspect is just the tea itself. This is extra apparent, probably, because we've been drinking a lot of very smooth teas today, so the roughness stood out.
Then again, this is not a tea that was produced for gongfu brewing, I think. Instead, it's made for a different style of drinking, where such roughness would be much, much less apparent and tolerated. Priorities are different as well. This in some ways exemplifies very well the different preferences of Western versus Chinese tea drinking. Western tastes are very aroma focused, with typical descriptions of a tea surrounding a particular tea's taste — it's about how a tea literally TASTES and SMELLS. Chinese drinkers, however, don't only go for the aroma and the taste, but also how it FEELS in one's mouth, on one's tongue, and down one's throat (or even after it's been swalloed). These are equally, if not more, important to a tea's overall quality and appraisal. For example, in Hong Kong when drinking tea with Tiffany & Co., if a tea is rough on the tongue, no matter the aroma, they will rate it as a bad tea. That is not to say it is really that terrible, necessarily, but to them, that's enough of a sin to make it not worthwhile to drink. The same tea, given to another group of people with entirely different tastes, will receive very different reactions.