Today's tea is probably my last, seriously brewed tea I'll have in the United States for quite some time.  Tomorrow the movers will be coming to pack my things up and send them on their merry way to Hong Kong.  So, to commemorate the occasion, I thought I should drink something different, something interesting.  After some dithering and going over the many teas I have, I settled on one that has special meaning to me, because it's the one that got away.
Back in 2007 when I was still in Taiwan, I was a frequent visitor to the various old teashops in Taipei to look for aged oolong.  At that point I don't think many people were selling aged oolongs online, aside from a handful at Houde, and there was very little information on such things.  I hunted high and low for these things, good, bad, and everything in between.  It was a fun experience, and I learned a lot just by tasting the different teas and talking to different people who sell them.  One store in particular, as my old-time readers will remember, I affectionately called the "Candy Store" because buying things from there made me felt like a kid in a candy store – lots of goodies, and the thrill of having to hunt them down.
Late in my stay in Taipei, perhaps a week or two before I had to leave, I went to the Candy Store again and found a few things that looked interesting.  One of them was a small, perhaps 2-3kg bag of rolled oolong with a label that said it was from the 80s, a Dongding competition tea.  I only got to try the tea after I left Taiwan, because I had no time to do it before flying out.  By the second or third time I tried the tea, it became obvious that this tea is really good, and I wanted the whole bag.  However, it was too late, and when I asked a friend to visit the store again for this tea, it was all gone.
This is what spurred me to buy in bulk whenever I like a tea now – I think back in the day I felt less confident in my ability to tell good from bad apart, and tended to buy in smaller quantities because of it.  These days, I'm more sure of what I like and don't like and also my ability in telling good from bad, so when I find something that I think checks all the boxes, I tend to buy in bulk – a few kilos at a time, so that the misfortune of not having a good tea when I want it is no longer there.
What I drank today is the very last bit of this tea, the last of the 4oz that I bought when I first visited the Candy Store.  Drinking it today, there's still that nice, peachy taste to it, but it had also gotten a darker taste, a more aged flavour, if you will, that wasn't there when I bought it.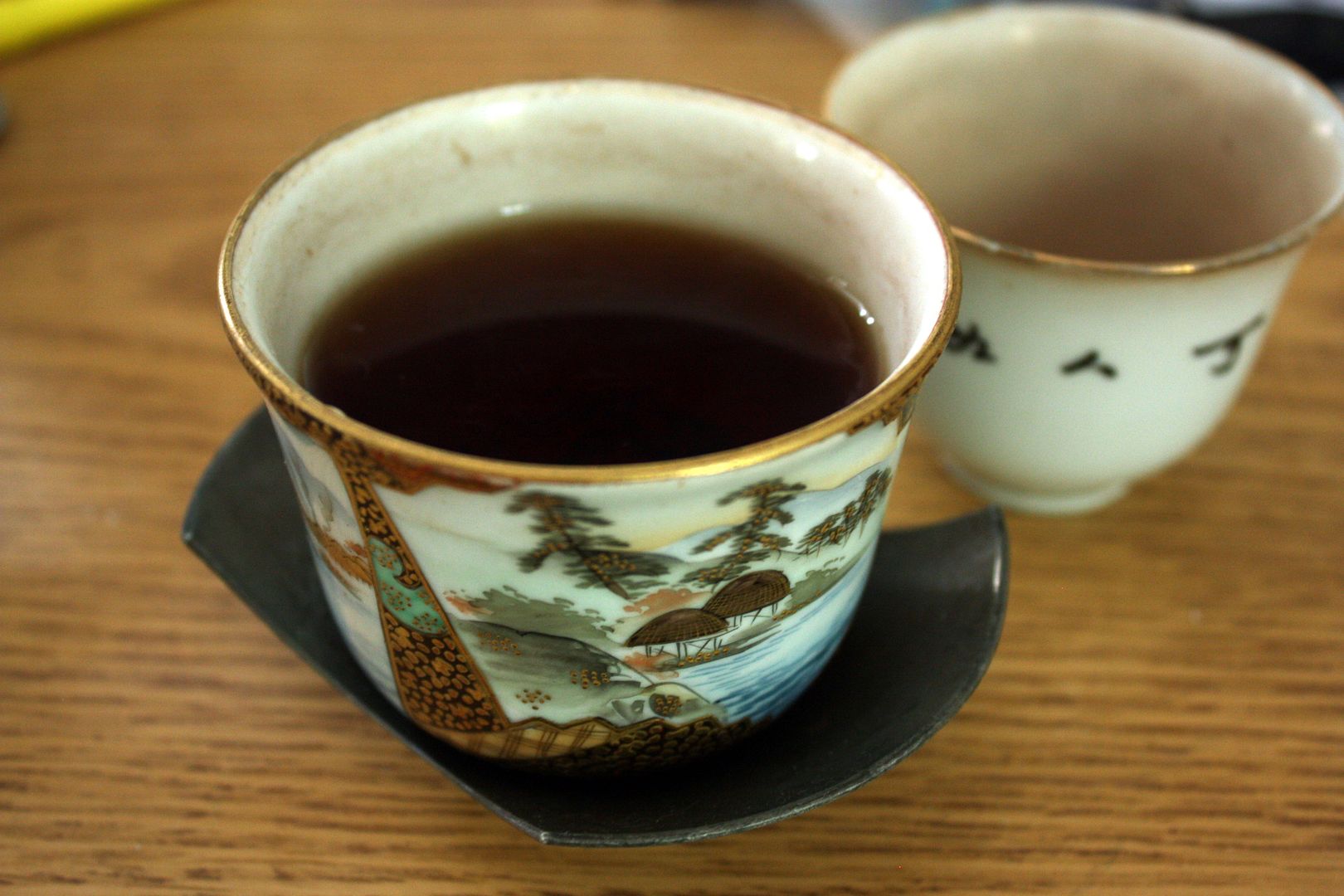 The tea looks a lot darker, although I think at least part of it is because there was a lot of dust in the bag, and that the cup is much deeper than the one in the original photo from three years ago.  Nevertheless, this is still a great tea, with depth, fullness, and qi.  I wish I have more, but I don't.  It was one of the first teas I drank after coming back to the US from my long sojourn in Asia during 2006-7, and it is the last serious tea I'm drinking before I fly back to Asia, ending almost fifteen years in North America.  The next two days I'll have to subsist on grandpa style teas, and then, back to home base.  See you on the other side.