I sat down yesterday to drink the competition tea that I got from the candy store right before I left. I only have a small bag of this stuff, so I suppose I shouldn't drink it all too quickly, but it's tempting.
This tea is supposedly around 25 years old, and entered some competition back then. I am not sure if it won anything, but it doesn't really matter. What matters is that this tea is very well stored, and display no sourness or really anything that is undesirable.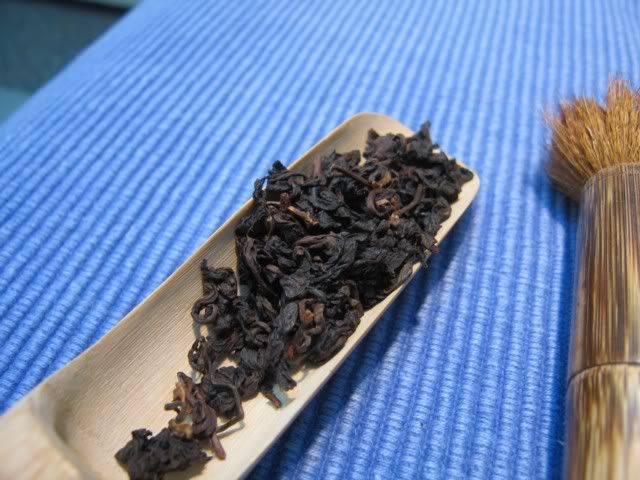 The colour of the tea is a pleasant orange. I think aged oolongs that have this sort of colour are generally of the unroasted (or rather, un-reroated) kind. The ones that develop a darker colour often have been reroasted at some point. That's not to say they're bad, just different. For teas that haven't been re-roasted, I find that they develop a fruity perfume, and tend to die a little faster than the reroasted teas.
This competition tea is the same — it starts out with an intense peachy aroma, gradually giving way to a more "tea" like flavour, but never really gaining any sort of bitterness or roughness. It's smooth and sweet. What I like about it is the good qi that comes from it — an obvious sense of energy that only really show up with better teas. Different teas have different ways of displaying their qi. There are those that knock you over the head, and those that only slowly makes you feel warm and fuzzy. Not surprisingly, I like the latter kind.
The tea gets more subdued after 5-6 infusions but lasts quite a while. I've been using my new black pot to brew, and I find that even teas that had a little sourness in them no longer display that quality. The aroma also has gained a little more focus, for some reason. I've also used relatively less leaves than I would with a gaiwan.
I need to keep experimenting with my new pots…. I think today I'll try the zhuni one to compare how they do for aged oolongs.