There are a few places in Washington DC where one can have tea. I don't have that much time to check them all out, but since one of them — a place called Teaism — is nearby, I figured it won't hurt.
The store I went to is near Dupont Circle, and it's located next to the local branch of the Evil Caffeine Empire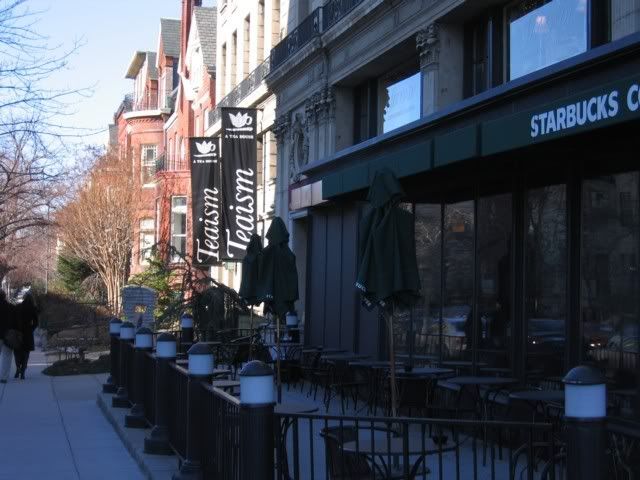 What my fiance remembered of the place and its current incarnation are actually a little different. Supposedly, they used to be more tea focused, but this time, when we went, it seems to be more of a lunch place that sells some tea on the side. The tea menu is quite undistinguished, and consist mostly of regular stuff you can find in any self-respecting tea store. My guess is that they discovered selling tea alone does not pay rent, as I suspect is the case in the USA for independent stores.
We did get some lunch though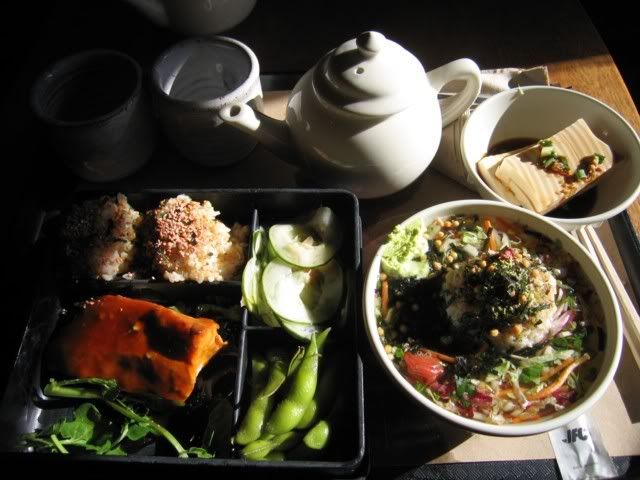 A bento with (cold) salmon, and ochazuke — basically leftover rice with bad sencha. In this case, the sencha wasn't so bad (I tried a little of it independently) — it was sweet and not grassy. The other pot of tea was something we ordered – a "Golden Monkey", which is actually quite disappointing, considering they serve a pot of tea without actually giving you any leaves. The tea is underbrewed, and rather boring, and not having the leaves, I couldn't even tell if they brewed it from teabags. For $3.75 a pot, I expected a little more.
There's a store called Ching Ching Cha which seems a little more interesting, but it's a little farther out, and I have a feeling I won't have time to go… oh well