This is what I'm surviving on while away from home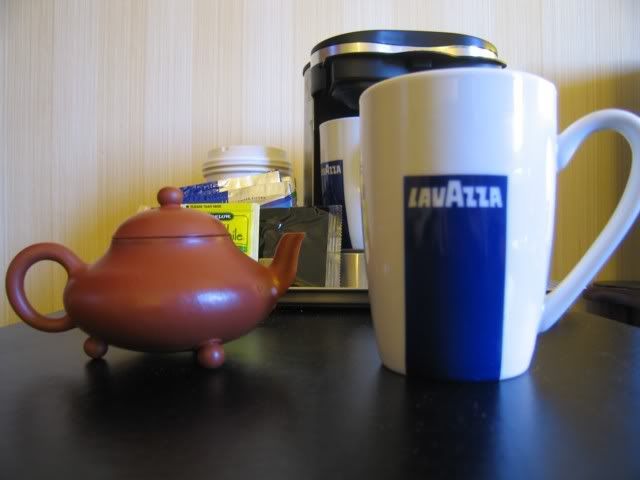 It does the job. They have a fancy Cuisinart coffee machine with Lavazza coffee, but the only tea the hotel can muster up is some Celestial Seasoning Chamomile. Hasn't anybody told them that chamomile isn't even really tea?
Good thing I decided to bring my pot, and my electric kettle, because otherwise, I won't have anything to drink tea with. Now, some hot water, a mug, and some aged baozhongs, and we're in business.
Incidentally, because I'm relying on bottled water (boiled tap water in DC tastes awful — I tried) I got to test out two different waters for this baozhong. There's Fiji, which worked really, really well. There's also Poland Springs, which is so obviously inferior I wonder why anybody should pay money for it. It's actually similar to the conclusion I reached almost two years ago in the early days of my blog — Fiji is a pretty good tea water, in that case a qingxiang tieguanyin. The aged baozhong is much heavier, but it also benefits from the Fiji water. It's definitely better than my usual mix of filtered tap water plus some mineral water. It worked really well, actually.