This is a sample I received from somebody on a Chinese forum. The guy was generous enough to send me two samples of Yangqing Hao teas. One of them, the 04, was once available on Hou De but has been long gone. This one, the Baisui Xiangcha, or "Hundred Years Fragrant tea", I don't believe has ever been sold there…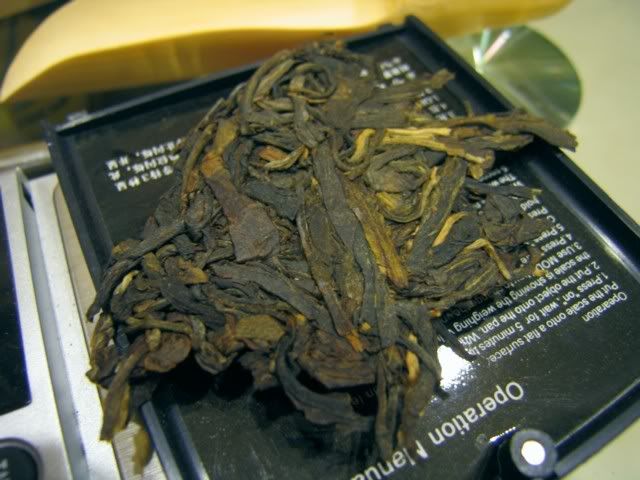 The leaves are quite dark when dry. It's supposed to be a mix of six mountain tea, so not all Yiwu like many of his other cakes. I think this is a lower grade cake, relatively speaking.
The tea brewed a golden colour — quite pretty
The first cup was extremely smooth and soothing. There was a fair bit of bitterness, in a very subdued fashion, in the first cup. It's an interesting feeling — the bitterness is simultaneously there and not there. The smell on the bottom of the lid was a reassuaring grassy/green smell, while the fragrance lingered in the bottom of the cup. The tea, however, gradually got a little more rough as time went on. There was not a lot of qi, and the aftertaste/throatiness varied in degree, depending on which infusion. Sometimes it's stronger, sometimes it's weaker. It started turning sweet around infusion 5, and then got sweeter, while still remaining a bit rough.
The wet leaves are …. interesting
They come in all shape and sizes and colours
The blending is obvious, both in the way the leaves look but also in the cup. While it does taste like the six mountains area, there is a fair bit of change going on in the cup and in that sense, the tea is quite interesting. I don't, however, believe the leaves are of very high quality. I think it is a blend of old and new tree teas, and while the body is fair, the strength, in terms of aftertaste, qi, and that kind of thing, are not quite there. The blending part can does make up for some of the deficiencies in other areas though…