This is a sample I bought from Hou De probably a year and half ago. I remember trying it once, and then forgetting about it while it sat in Beijing. I discovered it today while looking for things to drink… so I pulled out a few grams of it
The leaves look big and are quite long, not too hardly compressed and easily broken off. The leaves are on the reddish side of things. They look very clean — dry stored.
I brewed it normally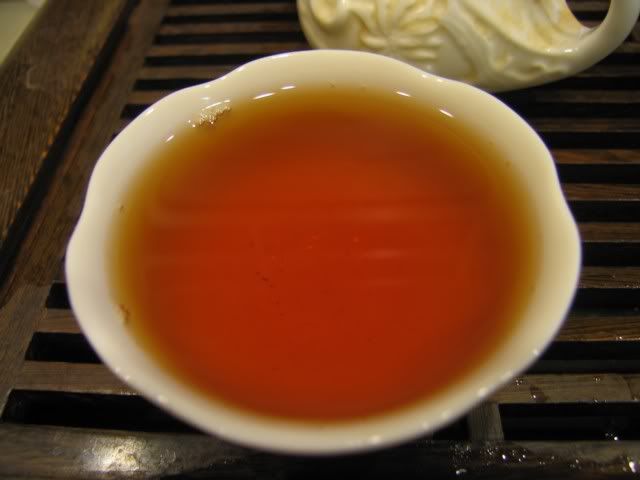 (Still trying to figure out the lighting, sorry)
The tea has a dry stored taste for something 6 years old, with a lot of high aromatics, a bit of that sweetness, some roughness, and in the second infusion, a clear flash of sourness. The tea is not very thick at all — in fact, I'd say it's a bit thin. This is a bit of a contrast to what I remember from my last tasting, when I thought it was quite good. It could be the fact that much traveling and a year of Beijing storage in a paper bag did some damage to the tea, or maybe a year more of drinking teas actively and thinking about what I'm drinking has made me notice these problems. I have noticed that by blogging about the teas I drink, I've gotten more sensitive to things I see in tea — perhaps because I actively process them while drinking, rather than just drinking them.
The leaves of this tea are quite green, still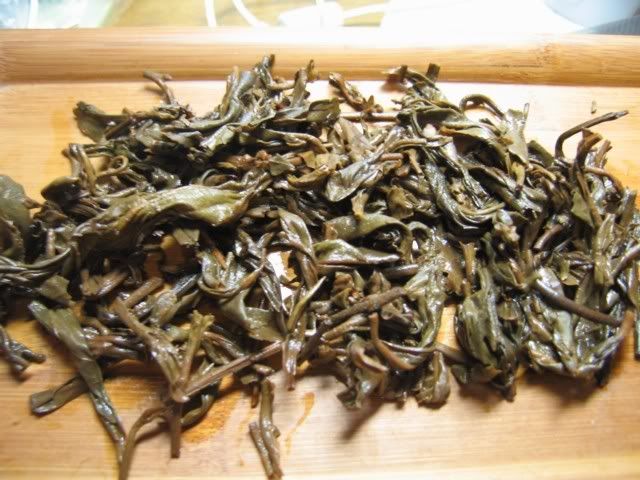 And more importantly… they are a little on the thin side
As well as oddly shaped, I might add.
I still have more of this. Maybe I'll keep it and see what happens after another year and half.