Dear Davelcorp,
Thank you, very belatedly, for sending me this sample. It's been more than a year since its arrival, and only till now have I found time to drink it. I'm sorry it took so long, but I'm sure, as you know, I went to Asia shortly after your tea arrived, and in the rush to pack things up, move, and… move again, I haven't found time to drink the tea. I suppose since it's puerh, it doesn't matter so much how it was stored. In fact, your smell-neutral paper bag probably worked pretty well since it allowed some air exchange for the bits of tea in there.
So I finally opened the well-labeled packet today, complete with your name in the bottom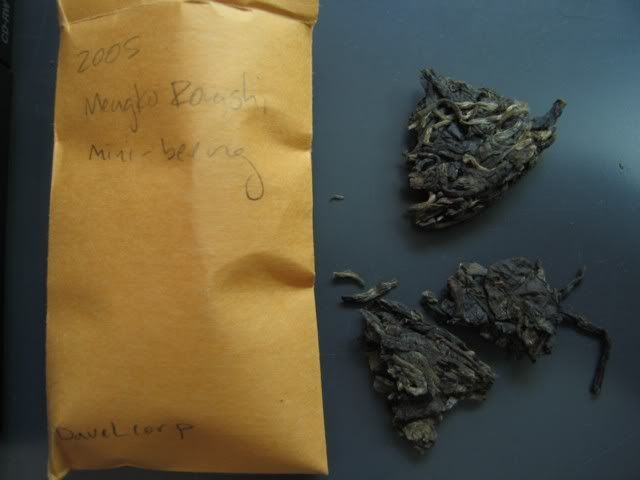 These are not all — there's a bit more tea in there, loose leaves, mostly, but the small bits make picture taking easier. Here's a closeup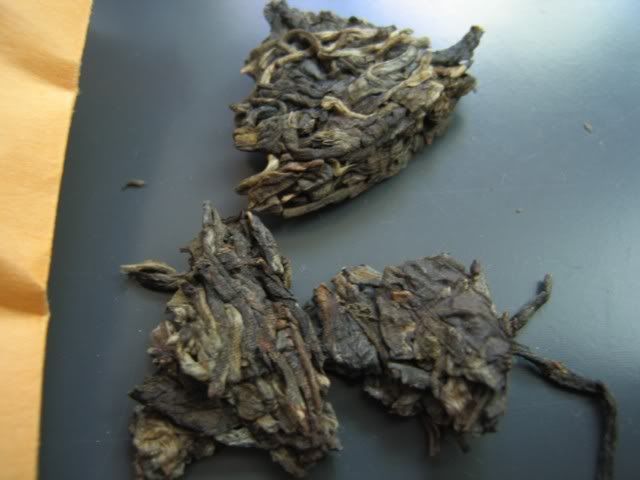 Mengku Rongsi factory is one that I'm somewhat more familiar with, having visited their factory store in Maliandao multiple times, and having tried quite a few of their products, young and old. Their young teas I found to be somewhat floral, at times quite bitter, but always possessing some strength and complexity. The older teas are a bit more of a mixed bag — some turn out a little like a dianhong, but retains a chocolate/nutty flavour that can be quite interesting, even only after 4-5 years of aging. I myself bought some of their teas, and have hopes that they will, at least, turn into something interesting.
These mini-bings I did see in Maliandao, but I've never tried nor bought any of them. I've found that many of their products, despite their different names, often taste quite similar. No doubt this is partly due to their use of maocha from generally the same area.
This tea therefore didn't surprise me with the way it tasted. There's something vegetal and slightly floral, without an initial bitterness, but it shows through after it's been in your mouth for a little bit. After swallowing, at least for the first few infusions, there's a throatiness that lingers, which is nice. The flavours are almost sort of subdued — it's light in a way, but heavy in another. Perhaps elusive is a good term. It's not bad that way — just the way it behaves. The bitterness doesn't last very long, which is good. The tea, however, stays quite potent through many infusions. I liked that about this tea, and I find it to be generally true of their productions. For the price, at least at the time (it seems it's gotten pricier) it was probably a very good buy. I'm not sure if it's as good a purchase now, but it might be interesting to see how these age compared to a big bing.
The colour of the tea is a little dark, but not too unlike the young puerhs I've been having the past few days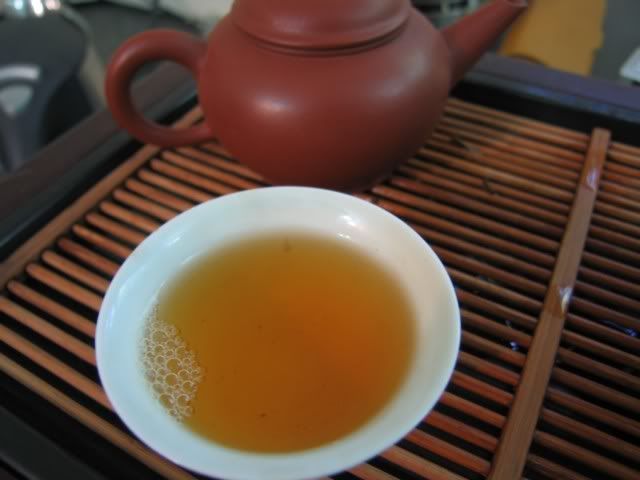 The wet leaves are quite thick, compared to what I've been drinking. They're also mostly whole buds or small leaves. Some are broken, others whole. Some stems too, but not a whole lot.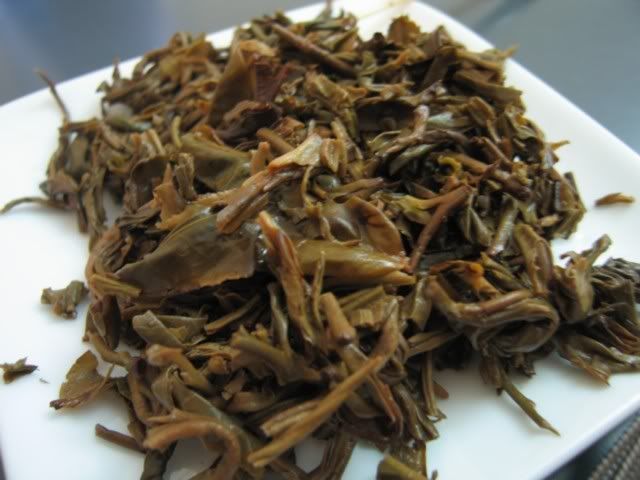 On Chinese forums such as Sanzui (which has strangely been hard to get to these days) some have pondered whether the new products from Mengku Rongsi has been processed at too high a temperature. It doesn't seem this tea has that problem, given that it's been about two years since its production. I can't say for certain, but I've had much nastier teas that are two years old.
I very much enjoyed this tasting, and I look forward to trying this again perhaps a few years down the road with a sample exchange with you for something else.
Yours,
MarshalN