I went to see my ancestors' tombs today to pay my respects. The ones I visited are both on Yushan:
It's the only mountain in Changshu. It's not very high. The structure you see is a city-wall gate — part of Yushan was within the city limits and was walled.
There are lots of things on Yushan. Tombs is probably the most numerous things though. There are lots of older tombs there, starting from this:
Supposedly the tomb of one of Confucius' most famous students, Ziyou. This would date the tomb to something around 450 BC.
So I went and swept the tombs, as we Chinese call it. There are some nice views
You can see the Yangtze River in the top right corner.
It also involves some climbing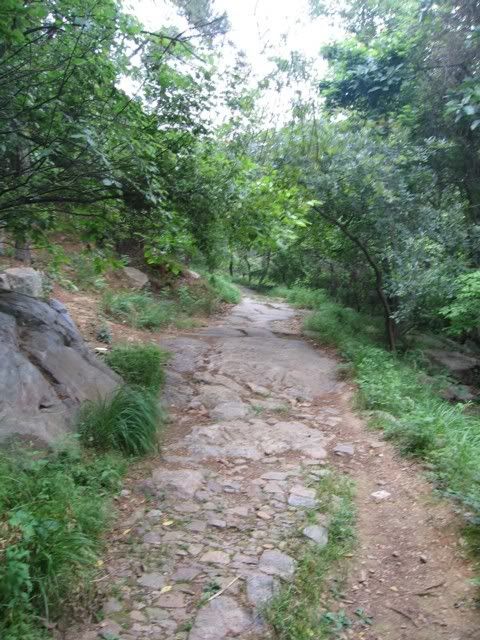 And for one of the tombs… the entrace is next to some tea farms where women are picking tea. This is not going to be good tea, methinks. It's already rather hot…. the leaves aren't going to be tender!
I did want to stay, but I wasn't done yet, and so I had to move on from the tea farm. I don't know if I'll have time tomorrow…. but perhaps not.
I did, however, acquire three nasty mosquito bites on the way. They were rather swollen — those mountain mosquitos are powerful. Interestingly enough, when I came back to the room and drank some Qihong… they magically disappeared, very quickly too. Now they are reduced to mere small red dots. Is this another healing property of tea I'm discovering!?!?