This post is about the first set of Curated Samples. For details of my rationale and thinking behind this project, please go read the original post. For clarity, I'll divide this post under smaller headings.
The teas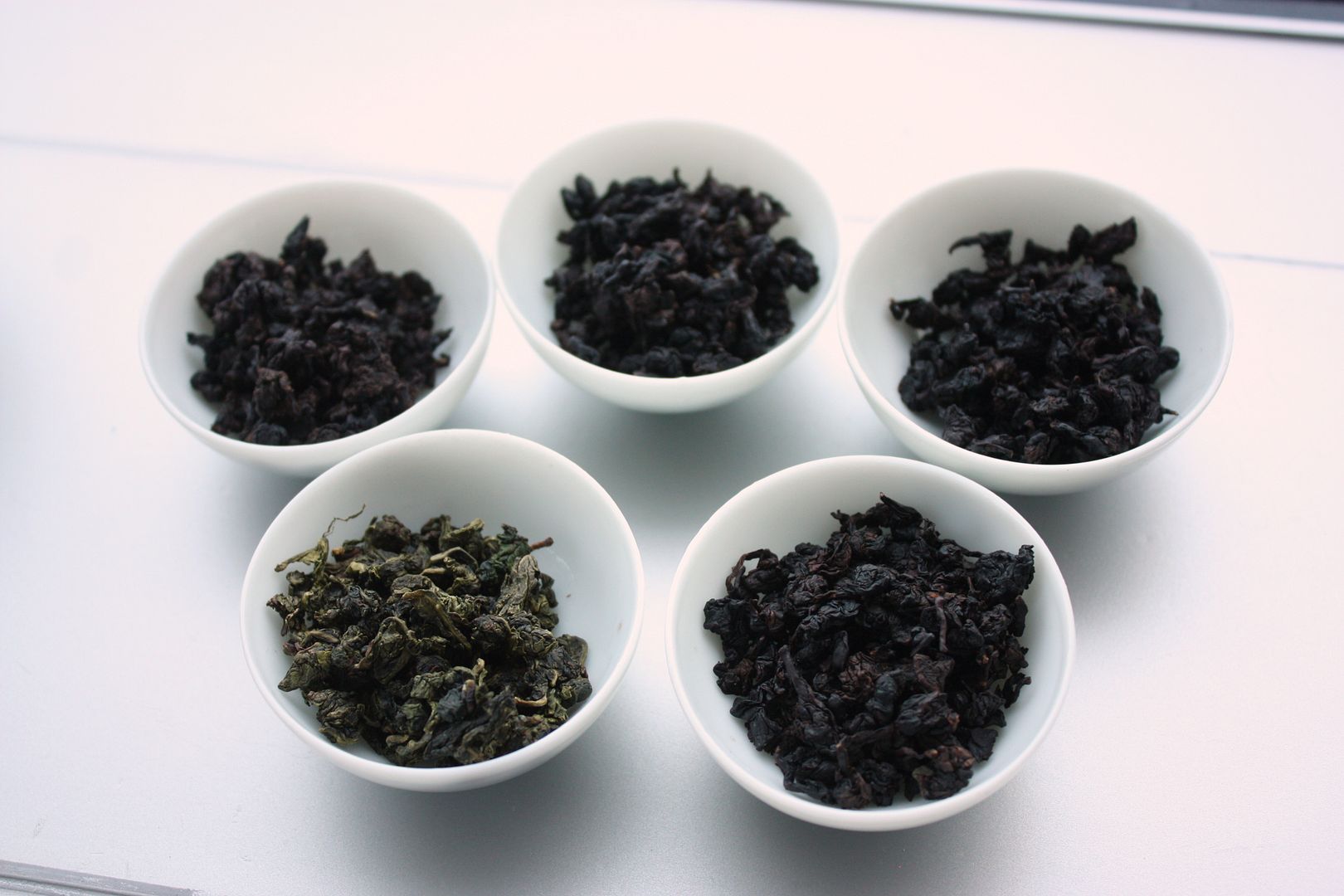 As I mentioned before, the inaugural Curated Samples will be a set of five teas. They are leaves from the exact same batch of tieguanyin, with the only variable between them being the time spent in the roasting oven. The tea was roasted by a shop that has been in operation for over fifty years, and whose owners have always done their own roasting. They switched to electric roasting about 30 years ago during the 80s, when regulations and escalating costs meant that owning a large, charcoal roast warehouse was no longer an option given their location in the city.
The bottom left you see above is the original tea, with no roasting at all done by the roaster. The one at the bottom right is the final product, after spending 59 hours in the roaster. The three above, from left to right, are the intermediate ones, at 15, 30, and 45 hours each. You can see slight variations in the colour of the dry leaves in the intermediate ones, although they are not immediately obvious. The difference between roasted and unroasted, of course, is night and day.
The only tea that is sold by this shop is the final product, the bottom right one. The rest are not sold, and in fact, the owner pretty much flat out said the intermediate ones are not very good at all. I asked him to do this for me because I wanted an example where we can completely isolate the roasting time as the only factor that differs between the teas, and by taking a bit of tea out of the oven every 15 hours, we are ensuring that they have been through as little variation in their processing as possible. This is not the same as trying different teas with different roasting levels, because in those cases they may have been roasted in different ways to achieve different tastes. Here, they have gone through the exact same thing, but only with different times. This is why the intermediate teas are not considered finished products – in fact, they're basically half baked, literally.
For some of you, this might be some of the highest roasted teas you've ever tried, since teas like this is not routinely sold in the West outside of a few outlets. Most tieguanyin you encounter these days tend to be closer to the raw tea you see here, and even roasted ones are quite a bit lighter than even the 15 hours version here. Such teas are quite popular in Southeast Asia and is the traditional teas used for the Chaozhou gongfucha.
What I hope this will show is the difference that time spent in roaster will do to a tea, and what, exactly, roasting does to a tea to begin with. While the dry leaves don't seem to differ that much, you can see that the liquor is somewhat different.
Also, as a bit of an added bonus and something that Brandon reminded me of just now, the final roasted tea is actually almost exactly the same in style and taste as many fake aged oolongs that are being sold on the market. Very often, you may encounter aged oolongs that are very highly roasted and claims to be quite old – 20 or more years, with the additional claim that it has been reroasted frequently. In fact, they are often just newly roasted tea pretending to be old. This tea is not sold as aged oolong at all, but some would do that, so knowing what this tastes like will help you distinguish fake, heavily roasted oolong from aged ones.
For this set, I will include 25g each of the 0, 15, 30, and 45 hours of roasting, and 50g of the final product for the purpose of comparison. So, this will be a total of 150g of tea.
The cost
The entire set will be priced at $60 USD, inclusive of everything. This includes costs for the tea, packaging, shipping, as well as my legwork and time, as I have mentioned in the last post. It will be shipped via registered mail worldwide at the same price. If you can show me that you're a current full time student at some institution, I'll take 20% off. I think Paypal is the only logical form of payment here. There are a total of 30 spaces for this.
Signup
Many of you have expressed interest in the project, but not necessarily for this specific set. I also hadn't announced the price for the packet at that time. If you have already expressed interest and I don't hear from you again, I'd assume you're still interested, in order to save you the trouble of having to sign up again. Some of you, however, look like you might have used an email address that isn't real. If that's the case, please post a response here with your real email address, so I can contact you. Those who haven't expressed their interest, please do so within the next 72 hours. If you expressed interest but only generally, but not actually interested in this particular round (some liked my aged oolong idea better, for example) please let me know as well so I'll take your name out. After that, I will put everyone's name in a lottery and allocate the samples to the 30 names that popped out. Of course, if interest level is lower than that, then there's no worry.
Then what?
I am thinking of withholding from posting about these teas until almost everyone has had a chance to try them. I will probably create a separate page on this blog and those who have the tea can post their own thoughts, if they so wish, there. I hope this may facilitate some discussion about what they get from the roasting levels, and anything else that pops out. Ultimately, I hope this will be an interesting, and somewhat nerdy, exercise in communal tea exploration.