I recently had a sample exchange with Eugene, writer of the Tea Urchin blog and owner of the webstore of the same name that sells young puerh, many of which with maocha he sourced himself. At the time, I wasn't aware that the store was already open for business, so I asked if I could buy some samples. We ended up trading tea instead, with me supplying some teas from my own stash, and him giving me a pretty generous haul of tea from his various offerings. I think I made it out of this exchange in the positive.
The range of teas that are new and available is vast. They can go from the most run of the mill mass produced teas, to high end, hand made, old tree teas. There are, of course, a great chasm between the two, and unfortunately many of the old tree teas actually properly belong to things that are in between, or even wholly on the mass produced side. I have heard many stories of tea farmers selling adulterated maocha to people, mixed with different kinds of teas, and unless you really know what you're doing, very often such mixed teas or even more inferior ones will make it into erstwhile old tree cakes. Clearly, the offerings from the Tea Urchin, at least those of his own pressing, are at the high end of the market.
Although this is the first time I'm writing about Tea Urchin's tea, this isn't the first sample I had. I already drank four or five of them, and for this 2011 Fall Gaoshanzhai, I tried it twice. I'm not myself a great fan of fall teas these days, and will generally try to avoid them if there's something available from the spring. In this case, however, a sample can't hurt.
The leaves are certainly good looking, and they look robust and thick, which is a good sign.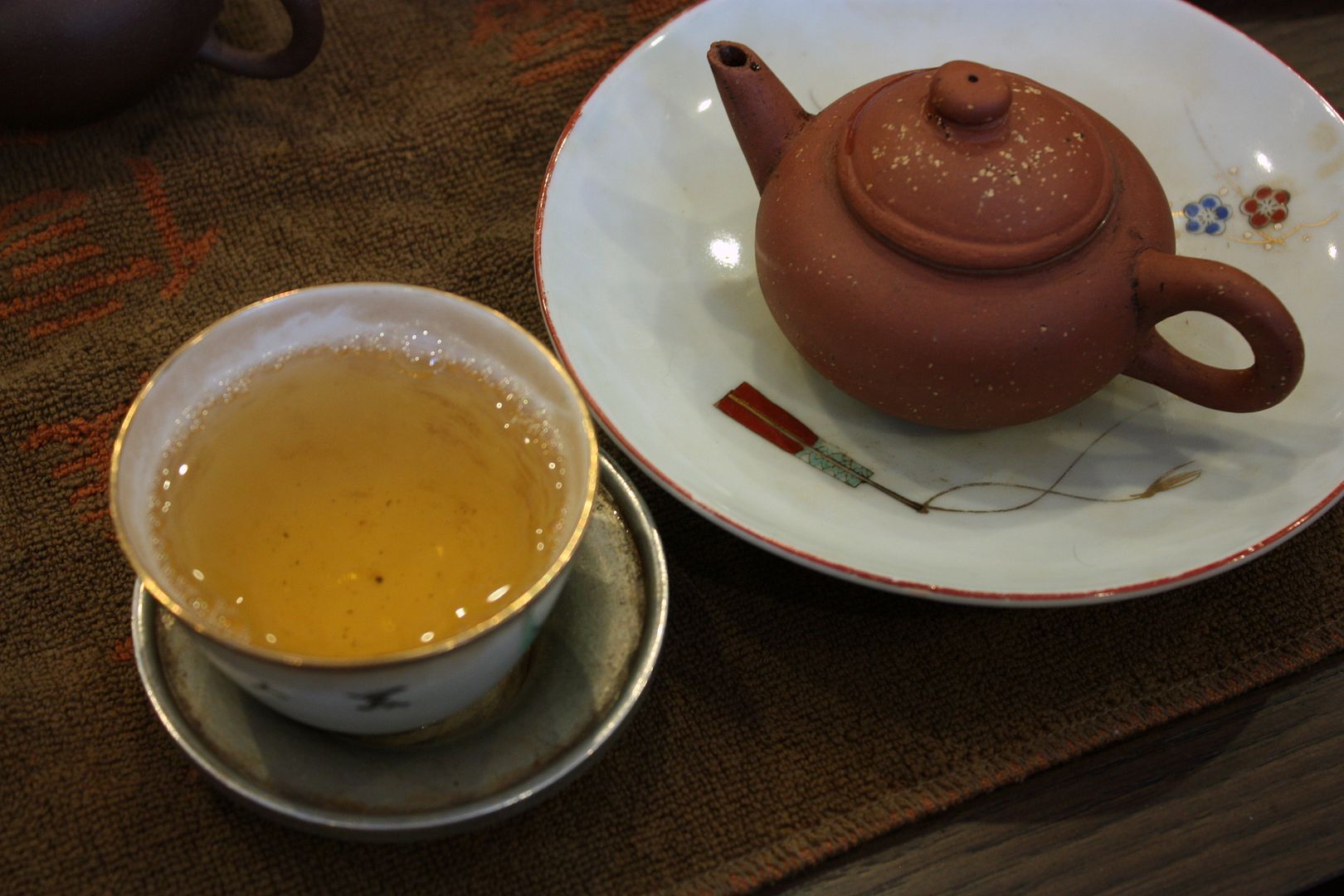 The tea itself also brews a nice, thick liquor, with a good aroma that is straight out of Gaoshanzhai, which is probably my favourite Yiwu village in terms of aroma, even though Guafengzhai teas are often better overall. The tea, I think, really is quite good. The first time I used lots of leaves, the second time less, and I think in some ways, using a little less leaves does bring out the higher notes more, although for the physical sensations of drinking the tea, a heavier dose is often preferred.
Prices for old tree teas have been going one way only – up. This year the prices of maocha has gone up yet again, partly due to a drought in Yunnan, supposedly, but mostly I think has to do with the insatiable demand for such teas. Another problem, of course, is that many so called old tree teas are anything but, sometimes with a small mixture of lesser leaves, sometimes it is an outright fraud. I think in this case, the tea does show what I understand to be old tree teas. Prices here, of course, also reflect that. Unfortunately, you can't really find decent Yiwu teas at anything less than about $80 USD a cake these days.
Now that samples are easily available from his website, I think it's worth your time to try it out. $7 for 30g is not terrible, and you can do a lot worse than this if you're looking for a young puerh.