Aaron gave me a bagload of samples to try, they're all 2001 and they're numbered, so I figured I'll start with 1. These are all fairly small samples. Since the blasted electric scale died on me (this is the second one to die within a year! Damn those cheap Chinese goods) I have to go by instinct.
With sample 1 this wasn't a problem, since there wasn't much and I had to throw the whole thing in
There are some big leaves mixed in with some pretty broken stuff. You can already tell there's a lot of stems in this sample when looking closely.
The tea is quite smooth, pleasant, a bit fruity, sweetish, aromatic, seems like there's a bit of qi, but generally a little on the bland side of things. It's a pleasant enough tea. It reminds me of a few aged-a-few-years Yiwu I've had, especially the Fuhai Yiwu that Davelcorp gave me — that lighter kind of stuff, not the Menghai one that I dislike with the heavy tobacco notes. The storage of this tea is "clean" i.e. non-wet, and something about this tea makes me think this is not a spring tea. The tea is durable enough though — it lasted a while.
The liquor looks about right
So do the leaves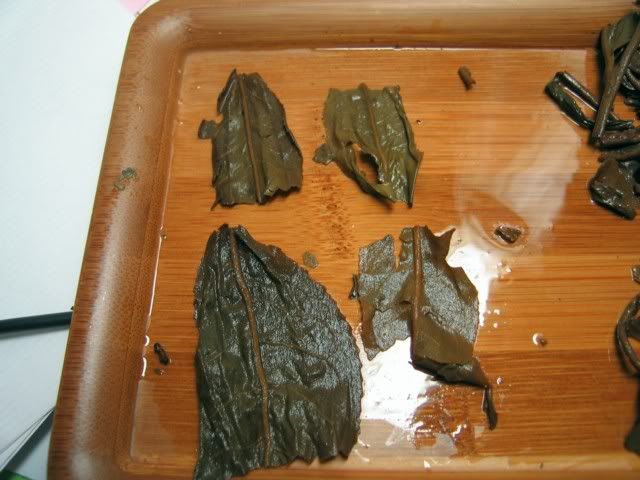 Given the small amounts, it might've been more instructive if I just brewed it with those 5 minute brews, but I want to enjoy drinking this, not just evaluating. I wonder how far off I am from the reality 🙂