Continuing my sample eradication, yesterday I drank the remaining piece of Zhongcha traditional character bing given to me by my friend YP in Hong Kong.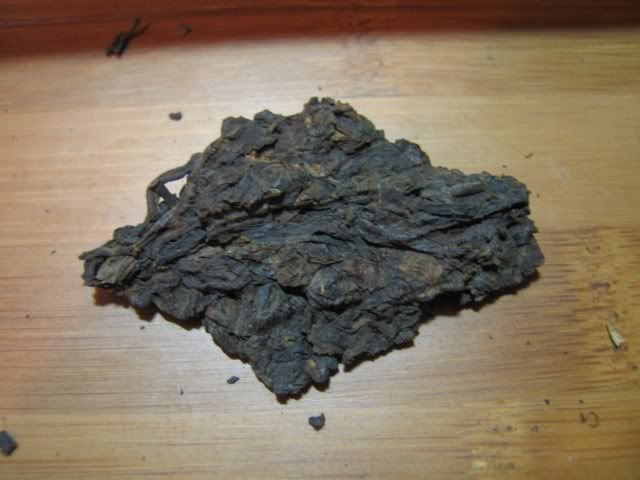 A really clean, but unremarkable, piece of tea. It's about 5g, not really enough for my pot. So I decided to add a few small pieces of the Guangyungong broken bits that I bought in Hong Kong and see what happens.
The tea first brewed very lightly
But it then deepened into a nice red colour
Notice, though, that you can still see the sediments. The liquor, though dark, is very very clear. The picture doesn't really do a good job of showing that.
The taste of the tea is a mix of the two. There's the more fragrant plummy taste of the Zhongcha cake, and then the blander sweetness mixed in with the bamboo wrapping taste of the GYG. My girlfriend thought it was an unsuccessful mix, as they lost their individual characters and turned into a mix of taste. I must admit it probably could've been mixed better, but I thought in some ways the tea wasn't bad at all.
The pieces were too broken for good pictures of the wet leaves, although it is obvious that the Zhongcha tea was better stored with more flexible/nicer looking leaves, while the cheap GYG pieces had darker and stiffer ones. I also think it could be partly a function of the different varietals used, with the GYG using Guangdong tea leaves that age differently compared with the Yunnan ones.
Now I'm wondering what to drink for today….