Continuing the campaign of samples eradication, I drank part of the 101 Plantation Jingmai 2004 cakes that Lew Perin gave me when I visited New York. I never got around to them until now, sorry.
I have heard that 101 plantation has closed out Jingmai mountain for themselves, but I think that's obviously not true, unless all the Jingmai teas out there are all fake, which I don't think is the case. Jingmai teas tend to be rather aromatic when young, and turns a deeper tone once aged a few years. I've had a few cakes that are a few years old from He Shihua, among others, that have a deeper tone and quite different from the light and fragrant young Jingmai. It's actually slightly similar to some Mengku cakes in the progression from a very light and fragrant tea that turns deep very quickly.
I again had the option of using the broken bits or the big piece. I opted for the broken bits, which came to around 8.5g of tea. A rather heroic amount for my small gaiwan (since my big one broke), but what can we do.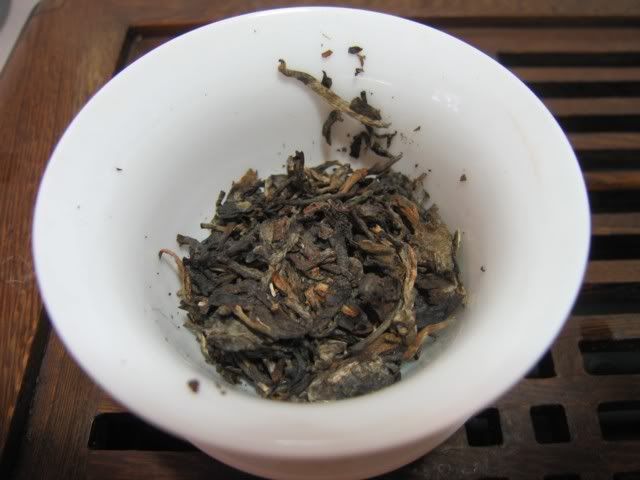 The two years of aging has done some work to the tea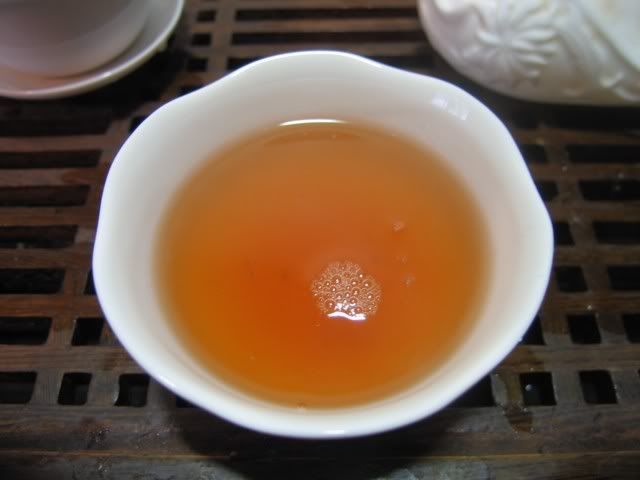 It's thick, fairly bitter, very slightly sour, and smooth. My girlfriend identified the aroma as dried apricots, which actually lasted through all the infusions with very little obvious change. The bitterness dissipated after about 5-6 infusions. There wasn't a lot of huigan, nor was there much in the way of throatiness, but the tea remained mostly smooth throughout, no doubt thanks to the buddy leaves. In those respects it's actually rather similar to the tea I had yesterday, except that the tea yesterday was sweeter and lighter, and today's was heavier. Drinking a young Jingmai though, one would not really expect the taste to turn so much in so little time.
Since I used broken bits… the wet leaves are obviously quite chopped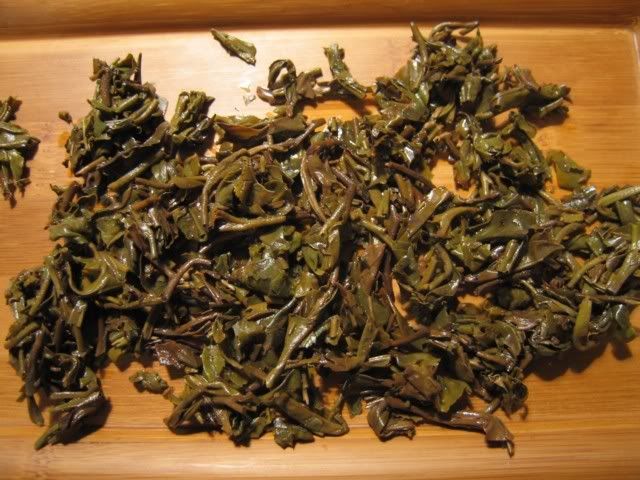 The few complete leaves I could find were all very tiny — early picked teas, for sure.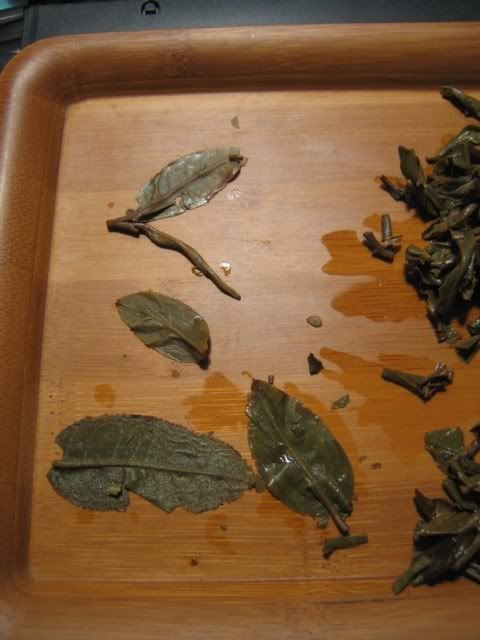 I personally am not a great fan of Jingmai. While the young young teas are nice, I think I prefer other areas. It's also gotten very expensive, being one of the priciest mountains in Yunnan these days. Nevertheless, it was nice and smooth drinking, and thanks Lew for the sample 🙂