I'm trying to clear out my samples, if you haven't noticed. Samples are a bit of a pain to carry around, and since I'm going to be leaving Beijing in about a month, having too many samples will make shipping more of an annoyance than it already is. So… today I picked up the sample labeled alpha from iwii and drank that. There was a piece of solid tea, and then the loose stuff. The loose stuff end up being around 7g, so it made sense to drink the loose stuff first.
The tea brewed a somewhat dark liquor
That deepened in colour by infusion 3
The taste is a bit odd, and not immediately pinpointable. I know this must have been aged a few years, maybe 3-5 years. The taste is mellow, if a little subdued. The first infusion or two were a little bland, but there is some aftertaste, though no feeling down the throat. The tea is soft and reasonably thick, and smooth. The subsequent infusions, around 3-4, developed a slight sourness that had me worried. That, thankfully, went away by around infusion 5-6. There was a bit of bitterness that showed up in infusion 3-5, but overall the tea is not bitter at all. Aftertaste is a bit stronger here as well, but still no real cooling effect. There's a slight feeling of astringency, but the tea is overall pretty smooth. No doubt the few years has done some good, and probably softened out the edges, but I have a feeling the tea, to start off with, was never very bitter nor rough.
This makes me think that it could be a Yiwu, and the late infusions (9+) tasted sweet and more Yiwu like. The earlier infusions had hints of what I thought was a Yiwu taste, but dissimilar enough so that the thought didn't occur to me until the tea turned a corner in the later infusions.
I asked iwii with this in mind, whether if this was a Yiwu or not. Turns out it's Stephane Erler's 2003 Yiwu. Iwii also reminded me that Stephane himself said this cake is more precisely from Jiangcheng. This might explain the unfamiliar flavours I had in the beginning.
I must say this time it tasted quite a bit better, and very different, than last time when I tried it in Shanghai with Bearsbearsbears, when I thought it tasted odd and uninspiring. I think there might be a few things at work here. One is that it was traveling in his backpack for a few weeks before getting to Shanghai, the other being differences in water used. I must say that while there are still things that worry me a bit, such as the sourness and the general lack of a physical effect, it's not nearly as problematic as I remembered from January when I had it in Shanghai.
Since I used the shavings, one wouldn't expect to see many whole leaves in the sample
I did manage to find a few after some sifting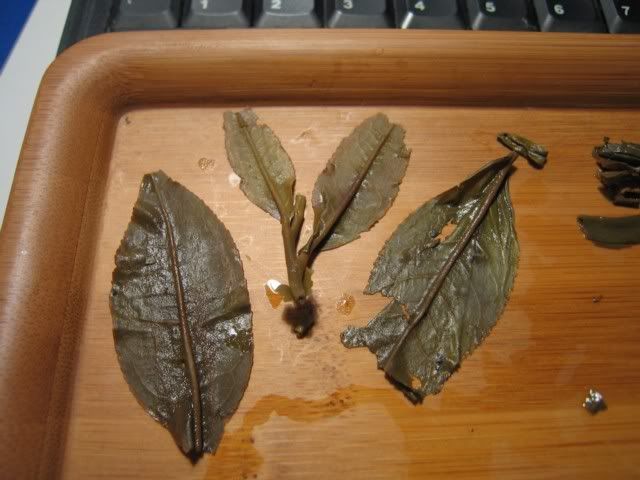 It'll be interesting to try the big piece next time, probably in yet another place since I don't think I'll get to it before I leave Beijing. It is also a good reason why tea samples sent for honest opinions shouldn't be labeled 🙂