I was debating what to drink today.  Was my body ready for another dose of these maocha?  It's a tempting thought.  It's actually really nice today, sunny, with clear air.  The roses you saw a few days ago are now in full bloom:
After deliberating and looking at the unopened bag of Wangzhi maocha… I decided to give it a go.  After all, this bag looks less packed than the Gedeng.  I think I'll be fine.
Here are some of the contents once I opened the bag… the leaves look a little thinner than the Gedeng and the Manzhuan, and on part with the Yibang and the Yiwu.  Don't get me wrong though.  They're still good looking leaves.
And here is a particular leaf that you'll see again, later:
Ready to brew: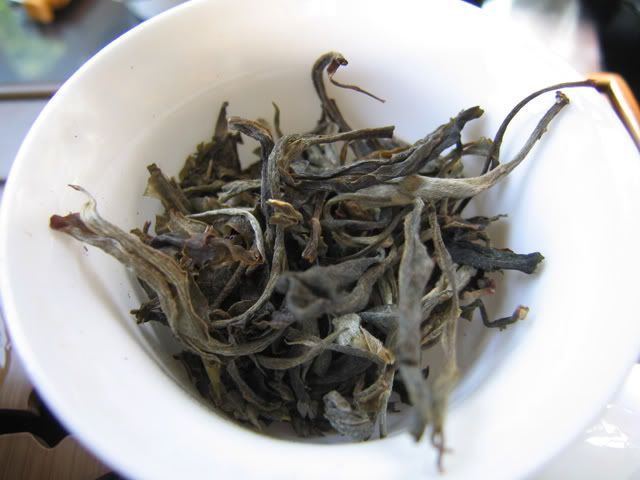 In goes the hot water, and out comes the tea…. some leaves were crushed, somehow, before I opened the bag, even.  So this time there was a little more broken bits than before.  Oh well.
The tea brews up a similarly coloured one as the Gedeng… slightly lighter, perhaps.
The colour turned out a little blue…
Wangzhi is west of Gedeng, but it isn't showing up as strong as the Gedeng tea.  I think amount of leaves in the gaiwan has something to do with it, but also, the colour of the tea itself changes slightly from region to region, at least from what I've seen so far.
The taste is vegetal.  If Yiwu has some sweet honey notes, Manzhuan is a little more spicy/heavy/fruity, Yibang is almost minty, and Gedeng is just… tea like, then Wangzhi is vegetal, or at least this sample is.  There's a slight feeling of eating some slightly dried vegetables, somehow, when drinking this tea.  It's not unpleasant like some nasty green teas.  Rather… it's a little refreshing that way.  The huigan is strong, although not too deep, but the whole back end of the mouth as well as the beginning of the throat is coated in that coolness that is an indication of great tea.
It didn't last quite so long today, but it also didn't turn astringent on me.  Astringency is the lowest so far among all the teas, and that's quite an accomplishment.
Lots of photos of wet leaves today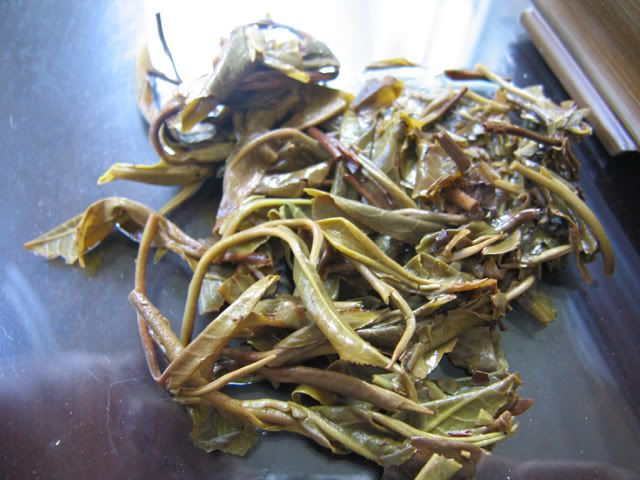 That big leaf on the bottom is the same one as the one I told you to pay attention to when dry.  I'm quite certain they're the same one, given the size and composition.  I noticed that the blacker dry teas tend to show up dark-green with red stem quite often when wet.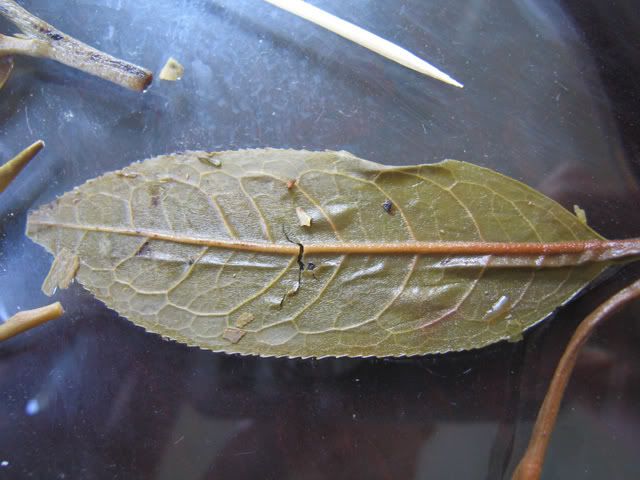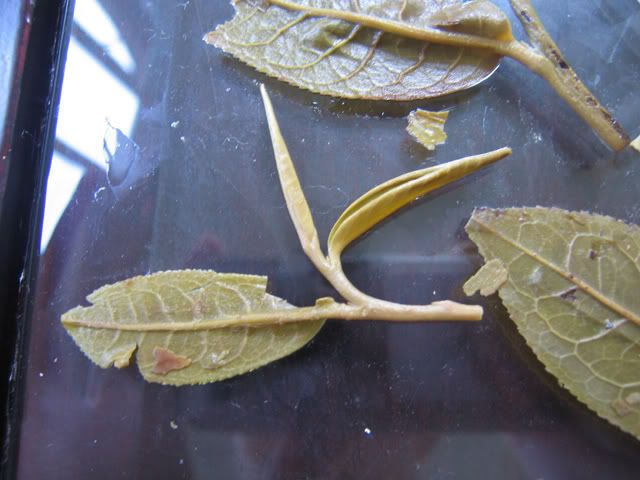 Veins are really popping on this one:
One left — Youle, the westernmost of the six mountains.  Hopefully I'll have time to drink it tomorrow.