Today I had a sample that has been sitting around for months without me touching it. I was rummaging through my cupboard looking for something interesting to drink, and this one popped out among the many little bags of samples that I have. Why not?
Yangta, from what I understand, is a part of Jinggu, which in turn is an autonomous county for the Yi people and under the jurisdiction of Simao, although it's quite close to Lincang city. The tea that makes Jinggu famous is the Dabaicha, or "Big White Tea". It's a great looking tea — very big, broad leaves, thick looking, with lots of silvery hair covering it and thus makes any cake look good. There are some truly stunning looking cakes that are made by these teas, but from what I know, traditionally this hasn't been used for puerh. It's either made as a green tea, or as dianhong. Nowadays though, puerh commands top dollar and so they switch to puerh instead, but even then, Dabaicha isn't an expensive kind of puerh. Good cakes clock in at under 150 RMB a cake. I have also heard of factories adding a bit of Dabaicha to their cakes to make their cakes look better. Visually it's quite pleasing.
This is just a sample that I got along with the two other 12 gentlemen series. Somehow I never got around to drinking this particular one.
This is the piece I used today… breaking of parts of it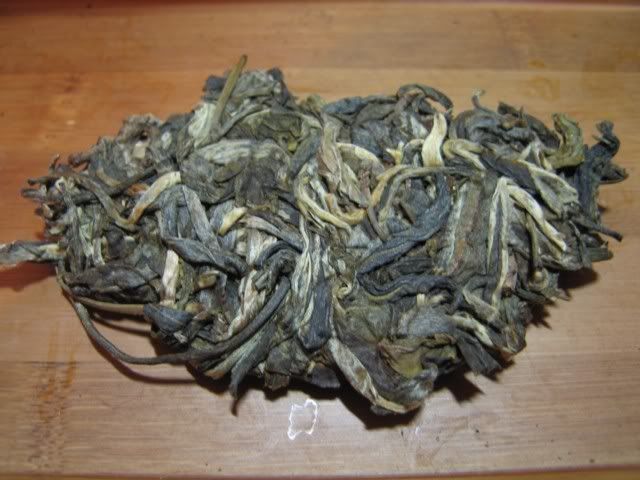 This piece is a few inches long, and really looks quite nice.
The tea brews a rather thick brew, very light colour in the first infusion
Darkening from the second on
And the third
Colour stays pretty uniform after that for quite a few infusions, all from about 7g of leaves.
The tea is very sweet, with a light floral fragrance. It's great to drink now, although it gets a little rough after infusion 5 or so. Before that though, the tea is very pleasant. I think of this as a green tea, at least the way I probably really should brew it, I should brew it as a green tea — low temp being the key. But then again, a proper puerh should exhibit signs of roughness when brewed with higher temperatures, because otherwise it's probably too weak for aging. When you add a generous amount of tea, using hot water, brew it, and the tea doesn't exhibit signs of bitterness or roughness…. and this is a puerh meant for aging…. then we've got problems.
There is a vague similarity between this tea and some weaker Yiwus I've tried. I think the overall profile are slightly similar, although all similarities are superficial once you take care to look.
The tea lasted quite a few infusions and I actually gave up before it did. It just got a little boring for me, and I don't think I can drink this stuff very often. If I want something that tastes like this… I go drink a good green tea, which is better than this stuff.
Leaves look pretty meaty, and feel pretty meaty. All in all, a good looking tea, but don't let the looks deceive you.. I think there are better puerhs out there.
I need to pass the rest of the sample out… there is something like 40g of it left, and I don't think I'm going to drink it.