Tea brings together lots of people. From the vendors and salespersons whom I have met throughout the years, to tea friends I meet in teahouses, to internet bloggers and other active participants on communities like the one on livejournal, I have met lots of people through tea — people whom I otherwise will never have met because our lives have almost no chance of crossing.
Today was a meeting with one more such person. I met up with a reader of my blog who lives in Paris. We went to his house and tasted some of his collections — which is way bigger than mine.
After browsing through his stuff a bit (which includes a lot of teas from Maison de Trois Thes or M3T, more on them later) we decided to start off with tasting the 2005 Yangqing Hao Yiwu to get warmed up. After all, I haven't had good teas for a few days.
I remember the reviews for the 2005 Yangqing Hao was mixed. Some liked it, others panned it. Now I get to taste it for myself….
We brewed it, and the first two infusions….. the liquor is slightly orangy. Then I thought we should do a more systematic way of tasting, so we brewed it according to the Sanzui method — 30s, 60s, 30s, and pouring the water low, touching the rim of the gaiwan and causing no ripples.
The tea…. tasted like green tea. It smelled like green tea, and tasted like green tea. This was especially evident in the last 30s infusion. There's some huigan, and some "throat-feel". However, the green tea taste is unsettling. I think this is why BBB told me this cake is fickle to brew…. it's got problems. I don't like it, and neither does my host. He is drinking it as a "drink it now". It's not bad for drinking now, I think.
Next up was an oddity, something I've never seen before.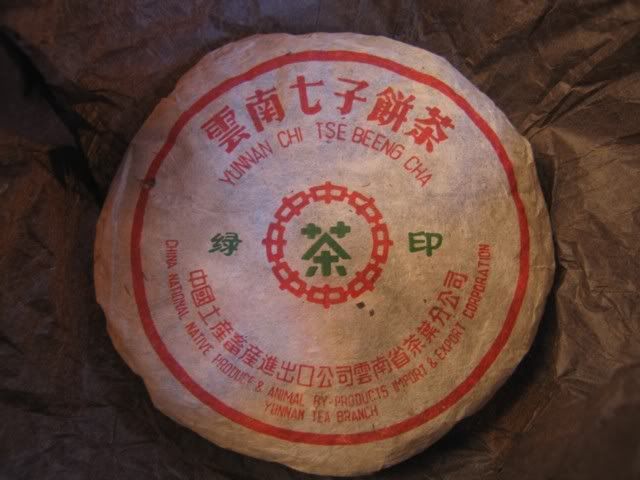 My host said this is from the M3T, and that they claim it's a special order batch made for them in (IIRC) 04. This is a mini-cake.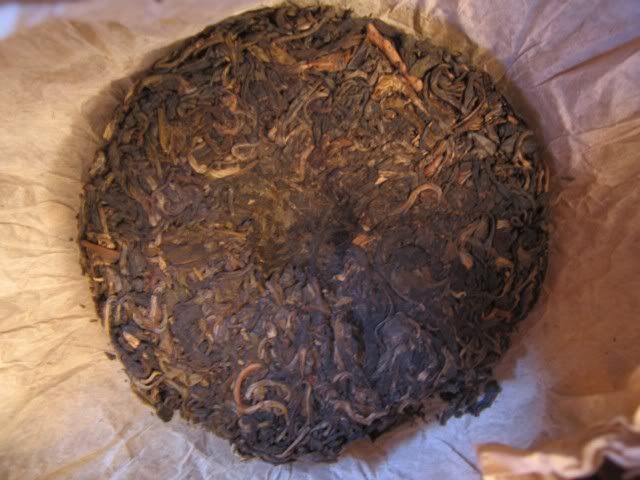 The tea is not bad. It is starting to age a bit, and I think it probably has some wild tea mixed in. One thing was interesting, however. Using the 30/60/30 method…. the tea is BITTER. It is VERY BITTER. It was bitter through and through, and the bitterness doesn't go away for a good while…. which is a bit odd. I'm not sure what to make of it, and rarely do I taste something like this. Quite interesting, I have to say, and it has nice notes. The bitterness throws me off a bit. Maybe eventually it will mellow out a bit to become less bitter and more sweet?
This brings me to my gripe about M3T. Although I haven't been there, I have heard from more than one source now that the place is rather nasty. This is not to say their tea is bad, but rather, that the store has bad practices. First of all…. it doesn't let you sample teas, so if you want to try something, you must pay the single-tasting fee at the store to drink it there. They also, apparently, are rather secretive about their teas. They don't tell you any sort of real information, such as manufacturer, storage condition, etc. They are also rather snobbish about their tea, supposedly. I don't know for sure, as I've never been there, but I can imagine.
While I don't have a problem about this, necessarily, if they are honest about their teas, but it seems like they might be a little less than honest. For example….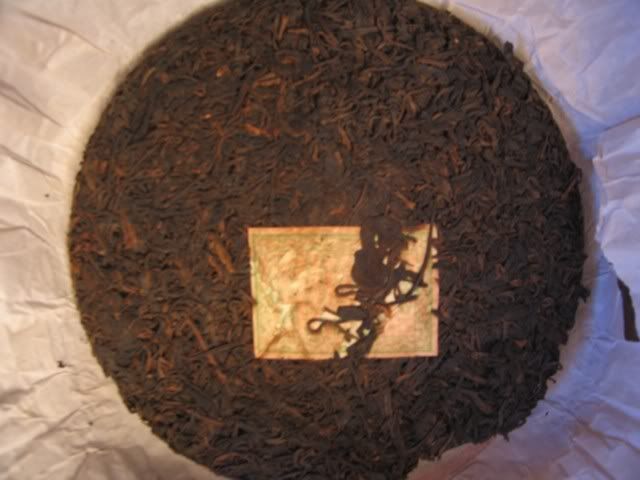 This is a cake that is, I think, claimed to be 85 that my host owns. The tea, from what little research I've been able to do since I got back, seems rather to be a 90s production. That makes sense, because this Tongqing hao brand was revived by a Taiwanese merchant, and in the mid 80s puerh was not a known quantity in Taiwan yet, as far as I'm aware, so dating the cake to 85 would seem pretty problematic. It's also gone through obvious wet storage, which in and of itself is not a sin (after all, they didn't claim it to be dry storage). We didn't end up drinking this.
Why do people still buy stuff from vendors like this, who refuse to tell you things and who seem to lie about their teas? Because, as my host says, "it's like you're a heroin addict — this is the only dealer you can buy from".
On with the tastings.
We drank this next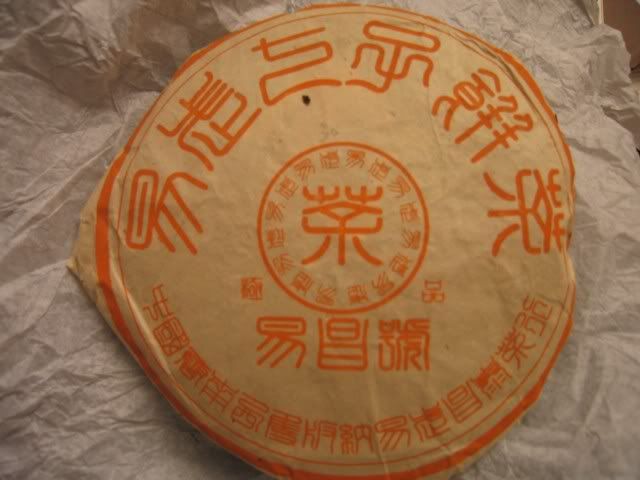 This is, if I'm not mistaken, the 1999 original Yichang Hao Jipin cake. 1999 was when Yichang Hao first made some cakes, and became famous (and grew to be the Changtai Tea Group it is today). I didn't take a picture of the cake itself… but it looks good. No obvious white stuff, etc, seems fine.
We tried the tea… it's quite nice. Using the 30/60/30 method, the tea is quite tasty, with lots of camphor notes and other pleasant tastes. The tea does not have any of those unpleasant things like closing up your throat or drying you out, instead it feels like it's a rounded tea that moisturizes your mouth. Overall, very nice, and I can see why Changtai got famous making this cake. Too bad not all their cakes are like this.
We ended with a Yiwu tuo that is also from M3T…. it brewed up a ricey tasting tea. It's gone through some wet storage, and I'm not sure how old it actually is. I've seen the wrapper, but can't remember for the life of me what or who made them. I need to do a little more research.
We ended with cheese and dinner. It was a very nice day drinking tea in Paris, and I have made one more tea friend 🙂