Ok, Maliandao I went again. Today, I first shopped for teaware…
I got this but not at this price. Rather, I paid around $11 USD, which is still overpaid (apparently I can get it for about $8, but I didn't wait long enough to find that store that sold it at that price, sigh).
Then I went back to the store where I bought some tieguanyin last time I was in Beijing. I bought some more of their tieguanyin, since I'm totally out, but that's not it…
I bought this too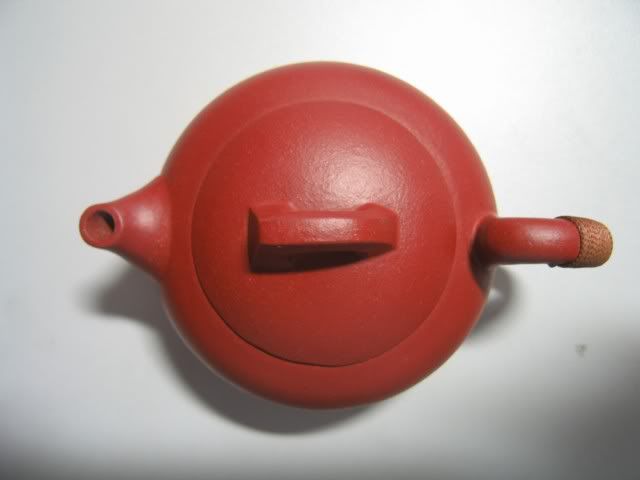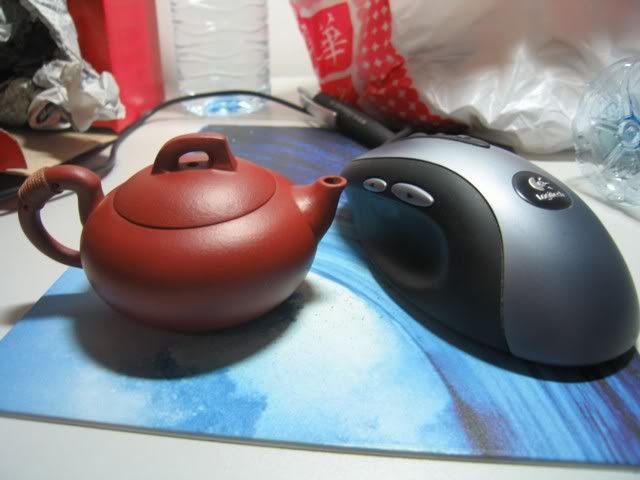 For a grand price of $10 USD. It was selling for about $30 or $35 last time I was in Beijing, but in the ensuing months, it got chipped slightly in the interior of the lid. It's a very small chip, and you can see also the lid is slightly defective in its roundness, but that knocked the price down. I thought it's a good bargain, and I was looking for a pot for my Wuyi tea, so I bought it. It's distinctive enough — I've never seen a pot shaped like this before.
Then we went shopping for teacups for my cousin, who was with me today. She ended up buying two from this store that mainly sells puerh. The owner is a very nice Fujian man who loves his pu. He apparently makes a few hundred cakes a year for his own brand, selling them at about $35 a piece (I suspect I can bargain it down). He goes to Yunnan to collect the maocha, and then presses them and ships them up. He even showed me a big picture book with him taking pics with lots of different tea trees. It's actually kinda funny.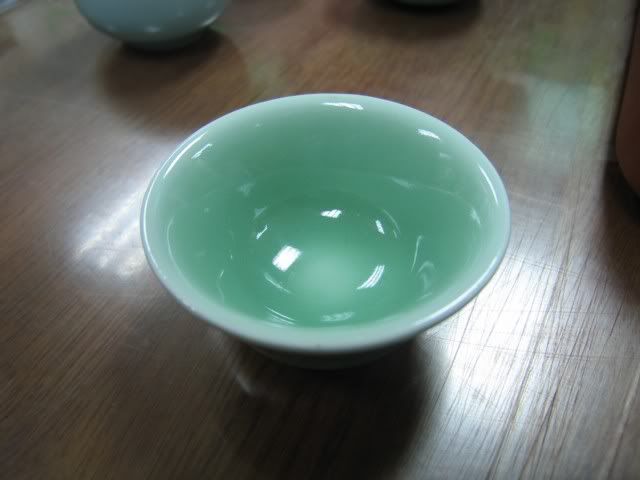 This is similar to a cup my cousin bought. They're very nice. I think I might consider getting something like that too…
While we were there, we also chatted about puerh and tried one of his cakes. It's very interesting. The tea itself is very plain tasting, but he put in tonnes of leaves — about 3/4 gaiwan full when brewed. Infusions were long, about half a minute each, or longer. The brew, as you might expect, will be bitter and nasty, but it's not. Instead, it's very mellow. He claims that only tea bushes (as opposed to trees) get really bitter, and only younger trees do that.
He also showed me a fake Menghai cake, among other things.
All in all, a good place that I found. I know I'll be going back to this one for more puerh discussions.