Puerh is different from most teas in a number of ways, but one of the traits that it shares less with tea (other than liu'an) and more with wine is that puerh holds resale value, at least in the compressed form. When you have a cake of puerh, you can resell the tea to someone else quite easily, and if you have held it for a while and the cake is famous, the cake can resell for quite a premium. I was talking to some friends last weekend about tea while we were drinking together at a local teahouse, and they mentioned that they bought some Yellow Labels back in the day (about 10+ years ago) for 500 HKD a piece. That tea is now easily 20k HKD depending on the condition of the cake, so it's quite a markup over the years. While they may not be able to fetch that kind of price, it is quite safe to say that someone who bought tea twenty or even ten years ago would've made a lot of money keeping it.
This is drastically different from most teas, which, upon being sold, holds little value. Sure, you can resell 200g of whatever oolong you bought from some online shop probably for little loss if you grew to dislike the tea or simply want something else. Try doing that with 2kg, or 20kg, however, and you're in real trouble – it's no longer feasible, and chances are nobody will take it off your hands without a substantial discount. With puerh, that illiquidity haircut is much lower than that of other teas.
This also means that when you buy a cake of puerh, you're also paying the premium that comes with the liquidity of the underlying asset – the tea itself. When you spend 15k HKD to buy a cake of Zhenchunya, for example, you know that you can quite easily resell the tea to someone else for pretty much the same price. This is also one of the reasons, I think, why teas from Dayi tend to trade at a premium to other factories. Of course, with Dayi tea we more or less know what we're getting, and there's definitely a "trust" factor involved here. However, there is also the case that Dayi teas are among the most liquid of puerh teas on the market today, which therefore commands higher prices. This is why there's the very strange phenomenon, observed by friends in the mainland who deal tea, where one jian of Dayi tea costs more than 42 loose cakes (Dayi jians are all 6 tongs now) of the exact same thing – the jian is more valuable because 1) the packaging of the whole jian gives it one extra layer of anti-counterfeit measure and 2) the jian is the basic unit of trade for tea traders, whereas once you've broken up the jian you have to sell it retail, and there just isn't all that much demand, retail, for this sort of tea.
So when you buy an aged cake, one of the things you're paying for is this resale premium. You are, in other words, paying for the ability to sell it at a later date. What if you can strip this value away and not pay for it?
Well, there are ways, one of which is to buy broken up pieces of cakes, which are always substantially cheaper than the whole cake itself. Some of these, when you can find them here anyway, are quite tasty and well worth the value. Another option is to buy cakes that are damaged in some ways so that they are no longer sellable in the same way a whole cake with original wrapper, etc, can be sold. Some of these were used as samples. Others were just damaged. Still others… who knows. For the end user of tea – drinkers like you and me – this is something that matters very little.
One of the cakes I acquired recently is in this vein – cheap (relatively speaking) aged tea because it has no wrapper, lost a decent amount of tea (it's about 300g instead of 357g) and just generally not very appealing looking. It doesn't mean it isn't aged, and it isn't tasty – it's just no good as something to be sold to someone else, so the only people who're going to be willing to buy them are people like me – drinkers.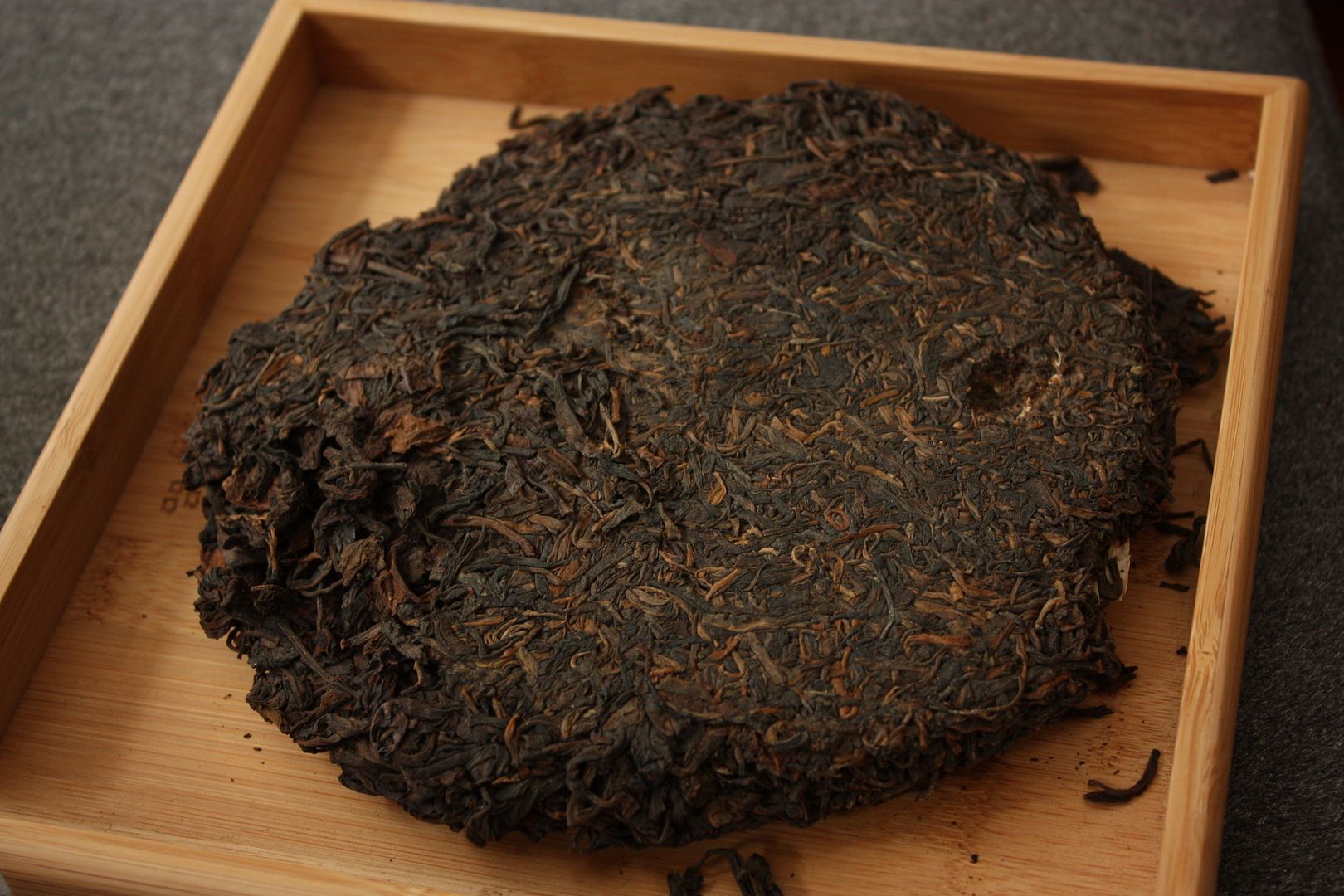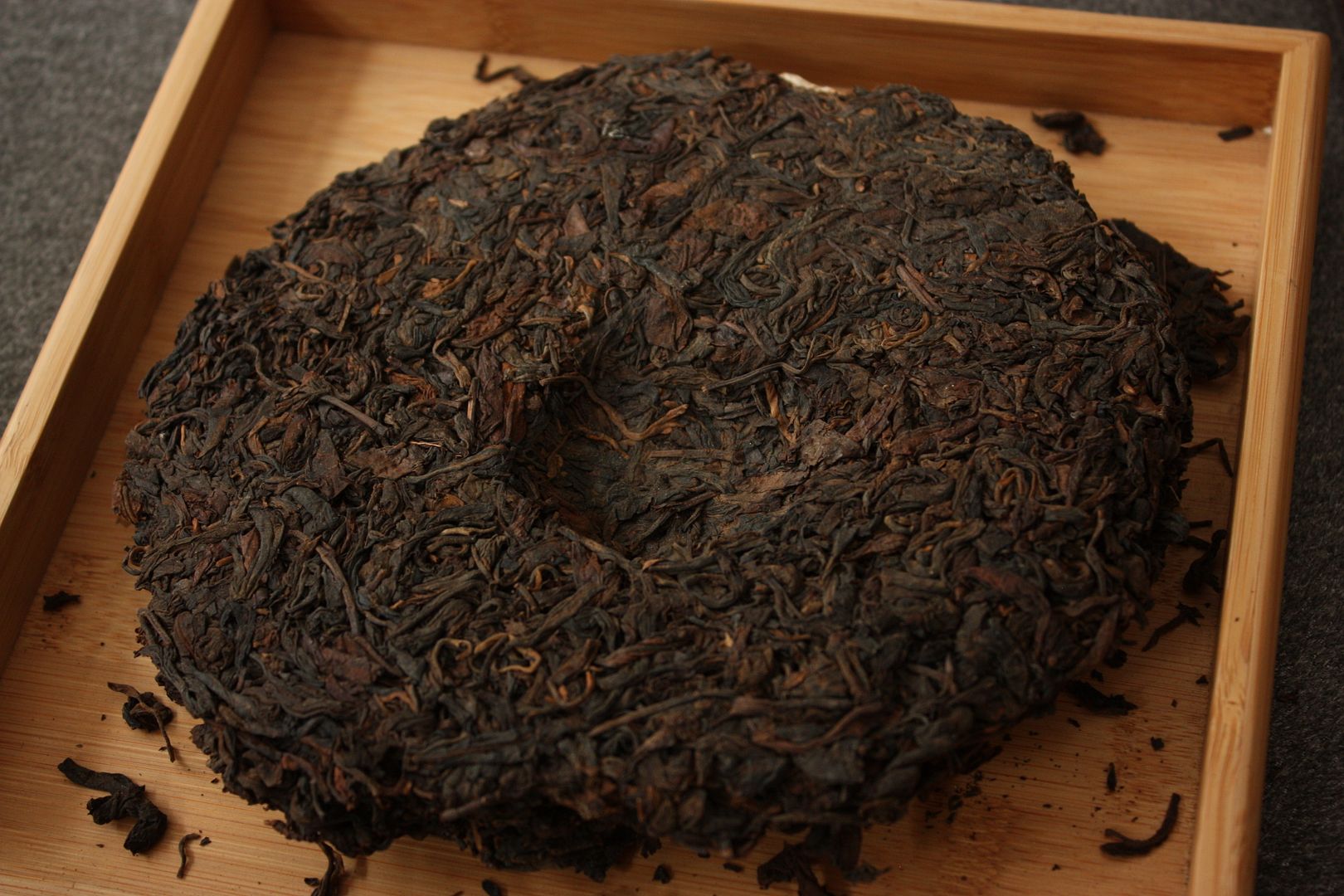 You can see this is typical Menghai factory stuff (the neifei is "submarine" i.e. under the surface of the cake) with a layer of finer leaves on the face of the cake, and on the back (and inside) rather big leaves. The tea is not particularly great or anything, but it is superior to many of the loose, broken pieces that you can find, which tend to be a little lower in quality. Also, this being a whole cake, it provides a nice reference point for the age and the type. The seller claims this is about 20 years old or thereabouts. The information is, at best, sketchy. The tea has been through some traditional storage, but that was definitely a while back, and the time spent on the shelf of the seller's store has made it rather mellow.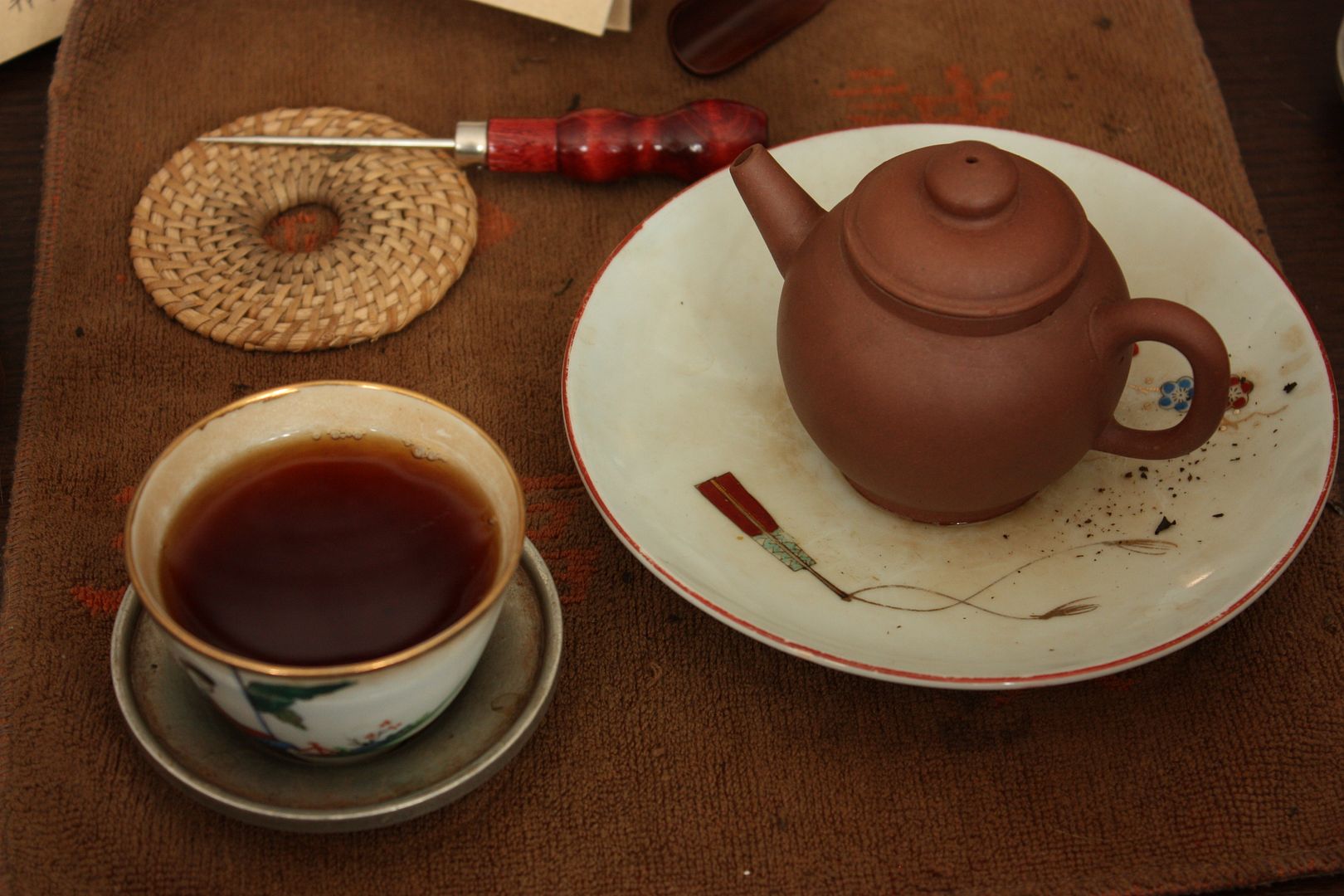 With teas like this, is there any reason to pay full price just to get a wrapper?