Yiwu has lots of villages, and probably more than anywhere else, every puerh lover these days are pretty intimate with Yiwu geography. The villages closer to Yiwu town include things like Luoshuidong, Mahei, and Daxishu. Then you have Gaoshan zhai to the northwest towards Manzhuan, which includes villages like Xiangming. To the northeast, though, are relatively newer places like Zhangjiawan, Dingjiazhai, and right up against the Laos border to the East of Yiwu is Guafengzhai. These are some of the hottest places in the Yiwu area these days, ever since they became known as "good" places to find tea of real quality, mostly because villages like Mahei and Luoshuidong are, in my opinion anyway, quite inferior and not very good usually. The further you go, it seems, the more likely you're going to hit relatively virgin patches of tea trees, although these days they're all harvested to the hilt.
This is really the opposite of things like wine, where the famous regions are quite often the ones that seem to produce the most. I think this has a lot to do with the belief that old tree teas are better, therefore the supply of such things are, by definition, limited and confined to a small area. This then drive up prices, and eventually it becomes a bit of a self-fulfilling prophecy.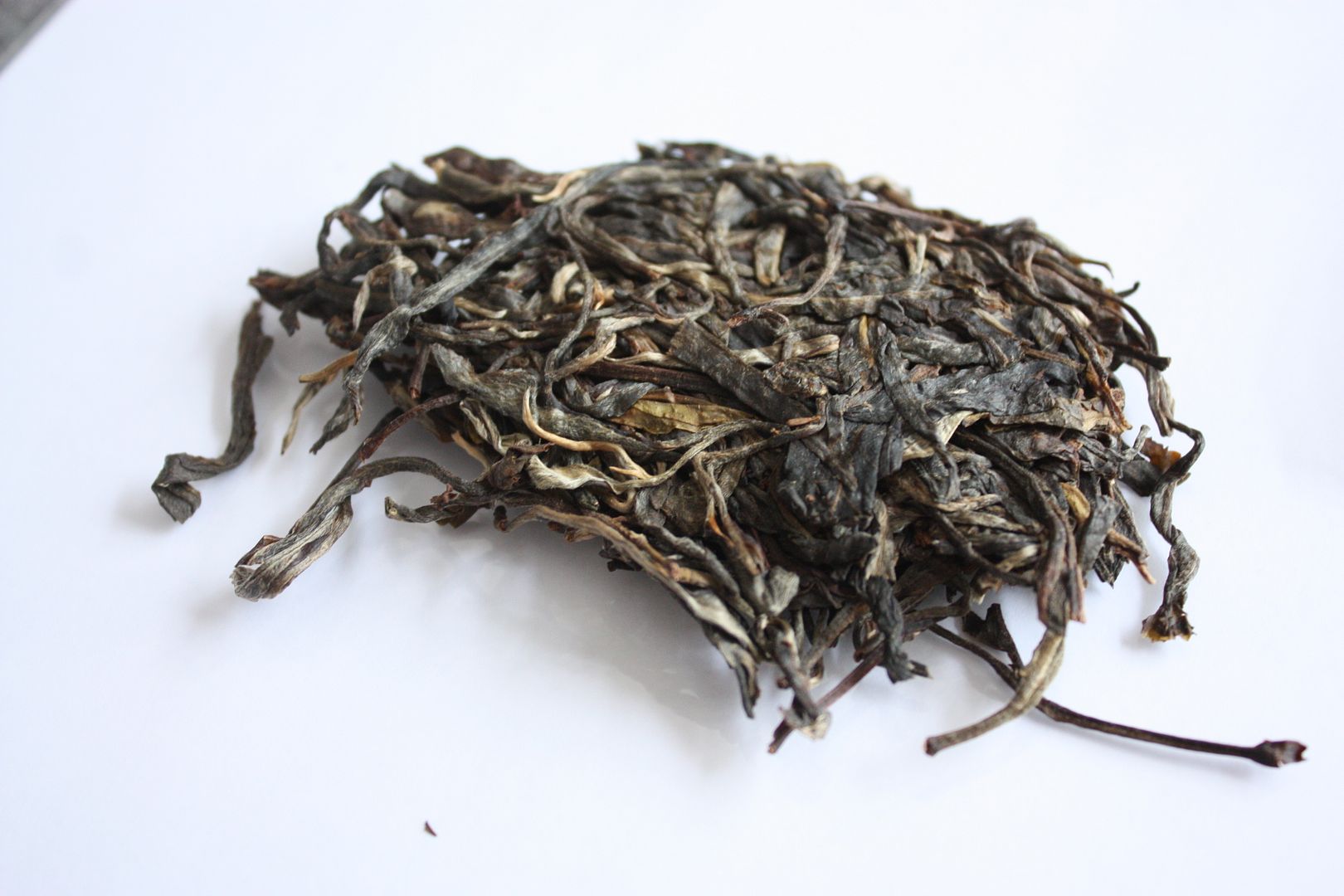 I do like my good Yiwu though, and some of the best are indeed the ones that are labeled as old trees. The above is a sample from Guafengzhai I got from the same store in Dongguan that sold me the Jingmai. They only had a few cakes left, and I didn't want to buy anything that I haven't tried, so I asked for a sample and the shopkeeper gladly gave this chunk to me. It's hard to show such things, but even just looking at the whole cake, you can tell this is good, well made tea.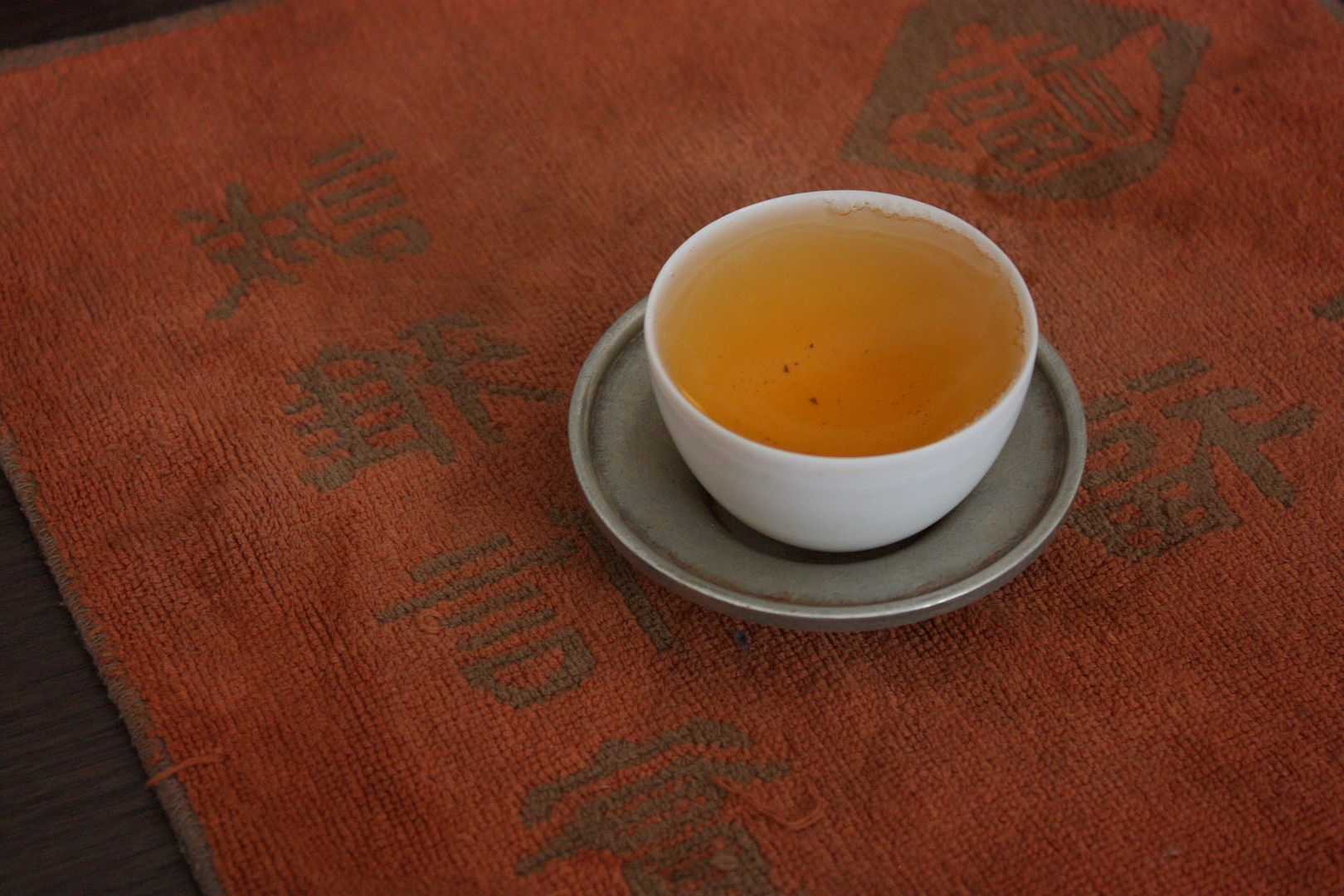 One of the things that takes a while to get when trying these old tree teas is that they are subtle – very often, they don't give you any "bang" whatsoever. Instead, the bang can be very soft, at least initially. There's no overwhelming bitterness nor obvious, high fragrance. It does, however, fill your mouth with something, and that something should stick with you for a long time. This tea, for example, gives my throat a cooling sensation after I swallow, but before that, it really doesn't seem all that remarkable. After you drink a few cups, however, you do feel that it has qi, which is in fact quite strong and obvious.
I remember trying really hard to figure out during 2006/2007 what were the ways to really identify old tree teas. There were various theories, and at that time everyone was trying to do the same thing. I think I can now say, with some confidence, that most of the teas that come out hitting you hard in some way or another is not an old tree tea. I'm not saying weak, mellow ones are, but the ones that stimulate your tongue or mouth strongly probably aren't.
I didn't use that much leaves for this sample, and the tea lasted about two kettles before turning into sweet water. The leaves are soft, well rolled, with stems that are flexible and not woody. I do like a good Yiwu indeed, especially a spring tea, and I think I need to go buy more of this.