This is one of the most beautiful pots I own.
It is also one of the ugliest.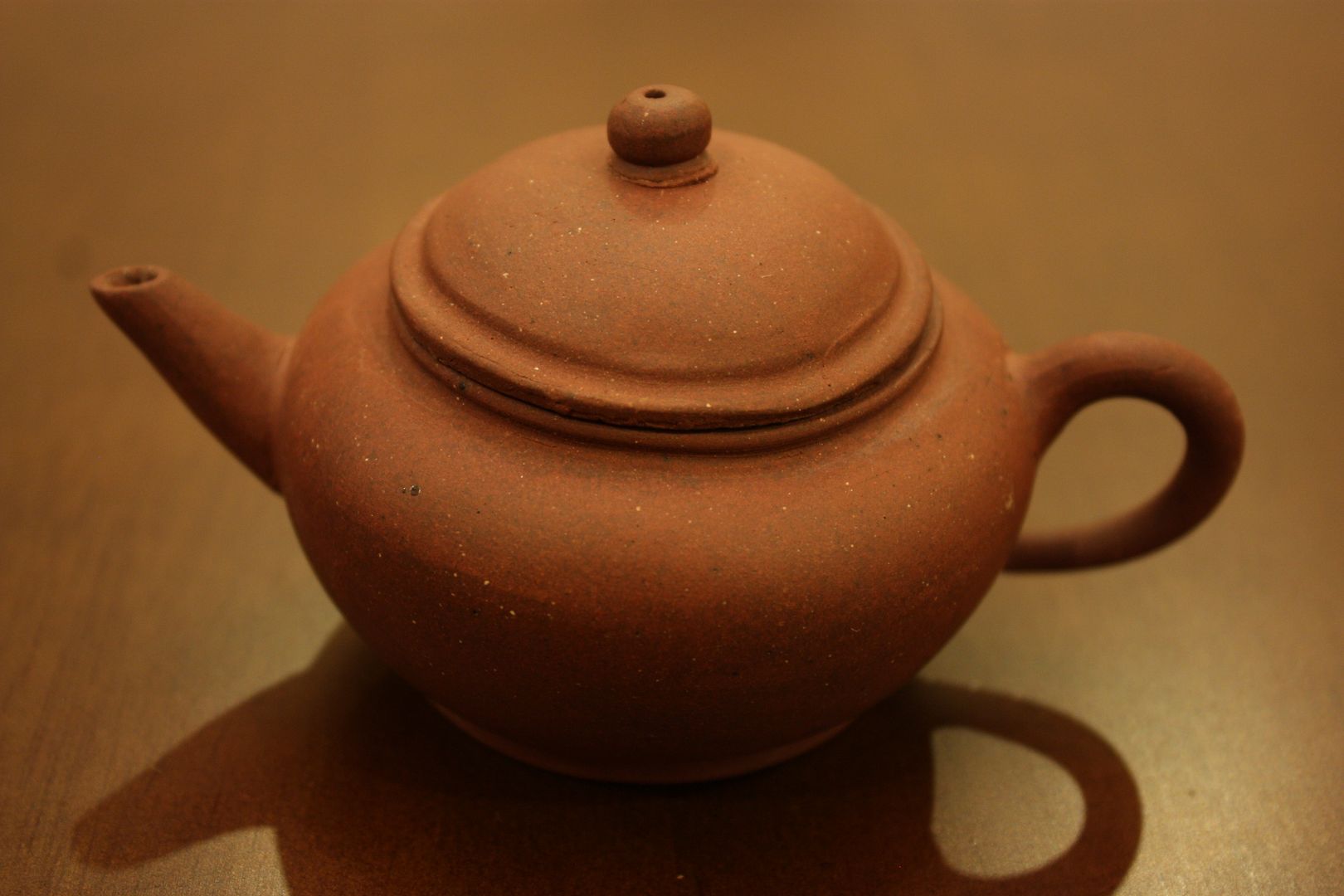 The reason I say that is quite simple – if you look at it from afar, the pot looks quite nice.  If you look closely, it has all kinds of flaws.  The shape is uneven, the body is slightly collapsed on one side, and the lid, oh the lid — you can see how it seems to be sinking on one side, and it's not even round — in fact the pot is not round.  It is more like an oval.
As you can probably imagine, the lid doesn't fit all that well.
Yet, there's beauty in this.  All too often, I find newer pots to be entirely without character or personality.  A pot that is made exactly to shape and size is, in my opinion, very boring — I can find a million of those in any tea market, anywhere.  Give me a tea mall and I can find you a thousand perfectly made shuiping pots of all sizes.  I can assure you, however, that walking through a tea market for a whole day will not yield one that looks like this pot I have here.
All those supposed tests for trying out a new pot — whether or not the water will stop if you cover the air hole (this doesn't), whether or not the lid will fall if you fill the pot with water and the flip the pot around (I haven't tried, but I'm sure it will) and whether or not the pot has all its elements lined up perfectly in a straight line (no, once again) are, when you think about it, completely useless for tea brewing purposes.  There will never, ever be a situation where, mid-pour, you just need to stop the pour by covering the air hole.  Nor is there any real reason behind why a perfectly fitted lid will brew better tea (think the airhole that allows flow doesn't leak air? think again).  So, these so called "well made" tests are, in effect, tests of whether or not a pot is made to perfection.  Why, yes, sure, they can be done by hand, but so can a machines.  Why do you need paintings when you have photographs, if perfection and precision is what you want?
I like this pot because it has personality, and because it's full of contradictions.  Looking at the pictures, you may think it has very rough skin, but in fact, when you touch it, you'll find that it's silky smooth.  Its shaped with quirks that you only find in older pots – a slightly upward bending spout, a joint line that isn't even remotely concealed, clay that still shows you what's in it, and of course, the lack of any filters.  Pots like this one make me very happy – they tell a unique story that you can't find anywhere else.  No wonder MadameN calls them my concubines.