I think one part of any hobby that requires collecting is the fun in finding winners.  Some hobbies, like stamp collecting, have what I think of as high transparency.  Everyone already know what's out there, and generally speaking, people have a fairly good idea of the rarities that may exist and how much they would go for.  Once in a while there's a surprise, but those are few and far between, and generally require some luck to land on.  Then there are things like puerh drinking, which also has a collecting component to it.  Here, I think the transparency is both high and low — high for a small constellation of "famous" cakes which everyone knows about and is sought after, not always for the right reasons.  Then there's the rest of the teas out there, largely unnoticed, flying under the radar.  Some can be very good, and in some cases even better than some of the more famous productions, but very often, they are duds and deserve to remain in the background.  The joy of finding a hidden gem, however, is great.
Hobbes at Half Dipper has just talked about two cakes that I recently got samples for from Yunnan Sourcing — the purple and red Yisheng from 2005.  These are sister cakes to the red Yisheng that I bought in Beijing back in 2007, and which Hobbes has diligently reviewed after he purchased some himself.  I remember trying the one I bought with the one that YSLLC currently offers, and decided on the one that I eventually bought because I thought it slightly better.  I don't remember seeing the purple there, or if I did, it was more expensive and thus ruled out of consideration.
I've seen the cakes surface on Taobao since then, but never really found reason to try them again, especially since it involves buying a whole cake.  With YSLLC offering samples though, I decided to take the plunge.
Yesterday I had the red, since I know it better.  As soon as I opened the sample bag, I could smell the tea.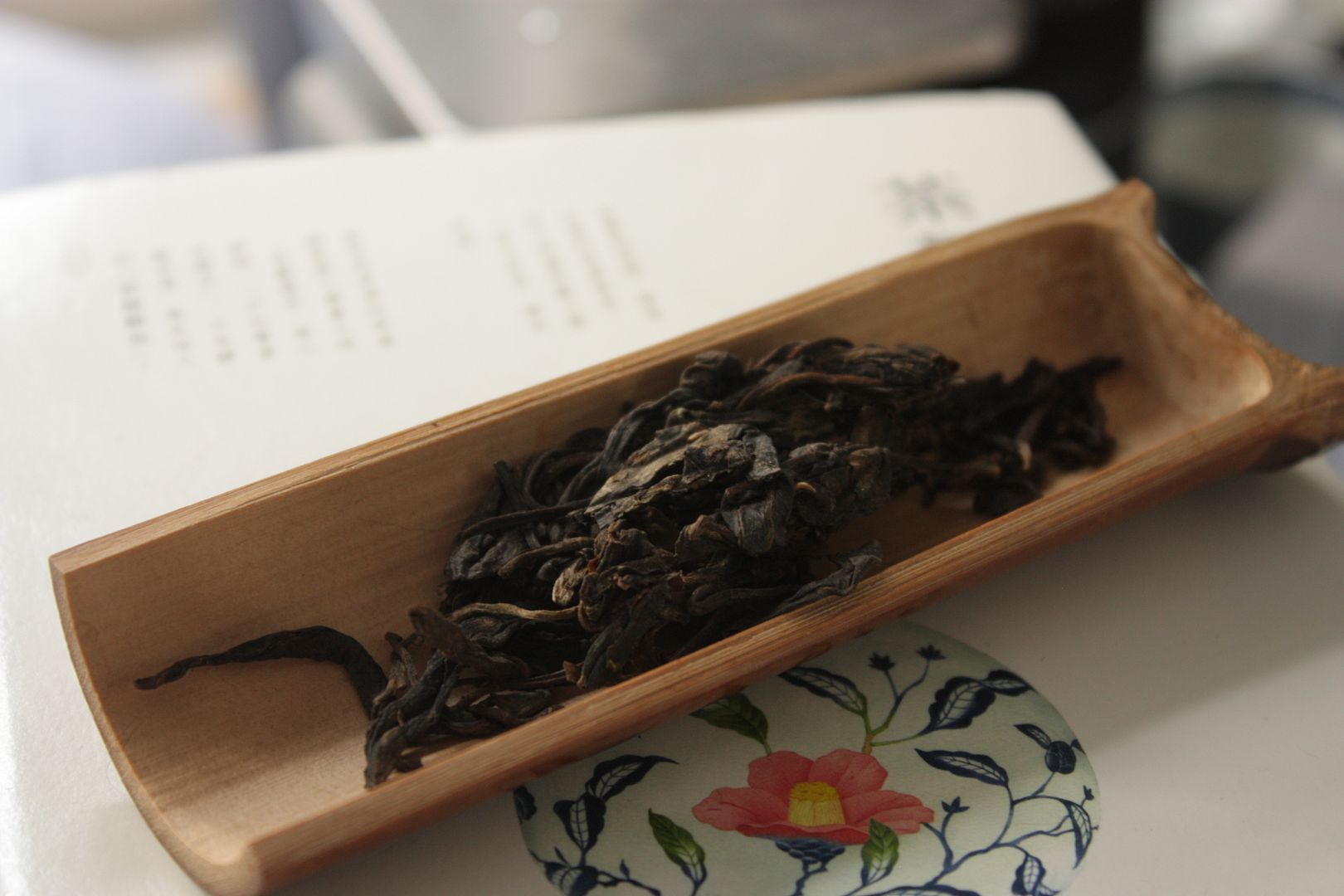 Using my trusty young puerh pot, it brews dark
The tea was, according to Scott, aged in Xishuangbanna, and it shows.  Kunming teas don't age like this, and one of the reasons I decided to try the tea at all was because of this storage claim.  In my experience, teas stored in Xishuangbanna in general are quite good.  They mellow much faster without the dryness that Kunming has, which I find to be draining on a tea.  Drinking this red Yisheng, I am reminded of my own cakes — and wonder how they're aging in Hong Kong.  Unfortunately, I have no basis for comparison, but this tea is very nice, showing signs of age as well as a solid Yiwu taste and mouthfeel, with good qi and longevity.  I like this.
The red is, according to Scott, a fall tea, while the purple was picked in the spring.  So it's only natural that I try that today as a comparison.  Right away, you can tell that the leaves are smaller and more buds are present.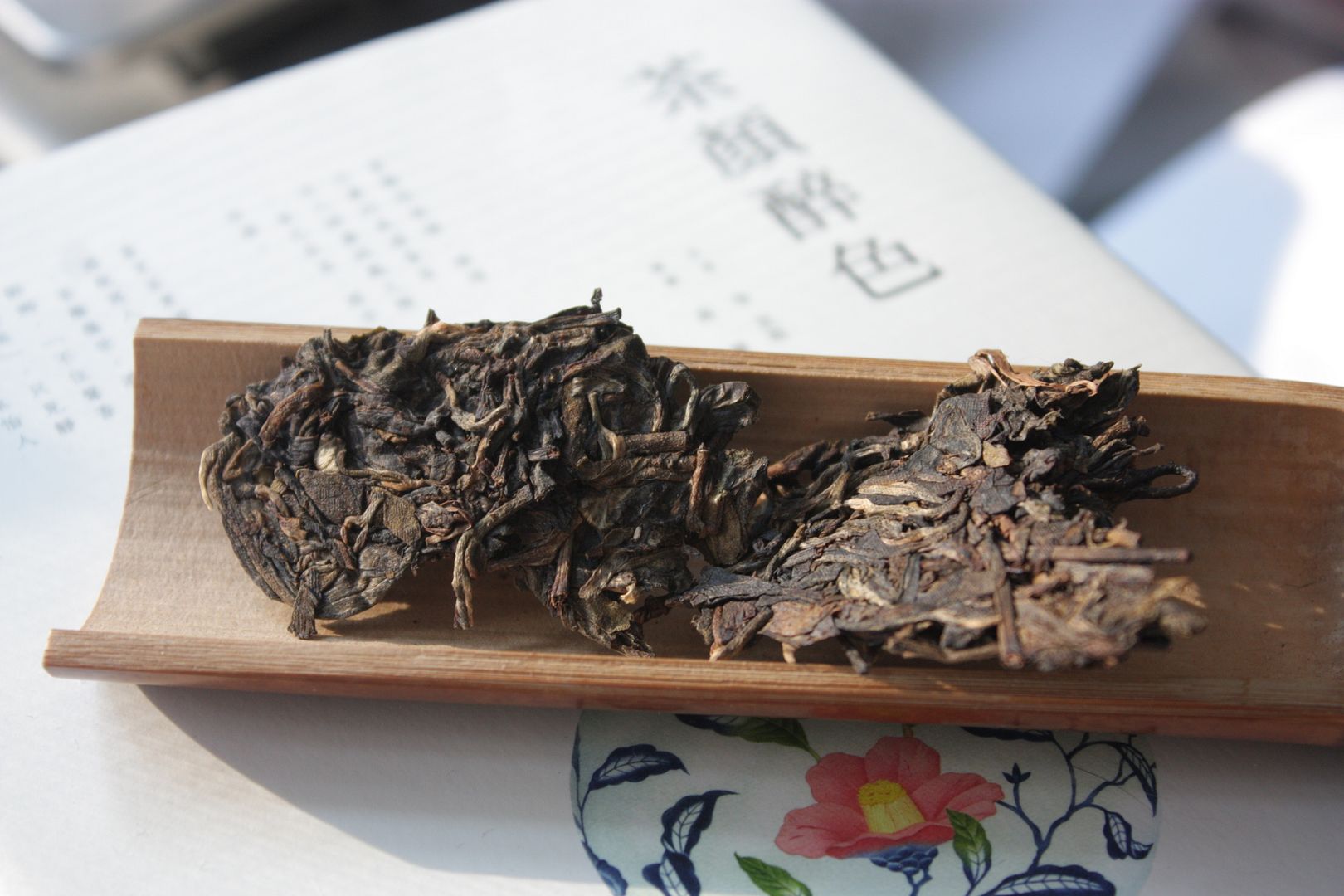 The colour of the liquor is largely similar, with perhaps a hint darker than the red.
The true test, of course, is in the way it goes down, and here the extra rainy season it endured is obvious — the tea tastes more aged.  It also has more punch, being a spring tea, and it lasts forever.  Three kettles of water later, it still yields a strong cup.  For the purposes of record keeping, I took the leaves out for some pictures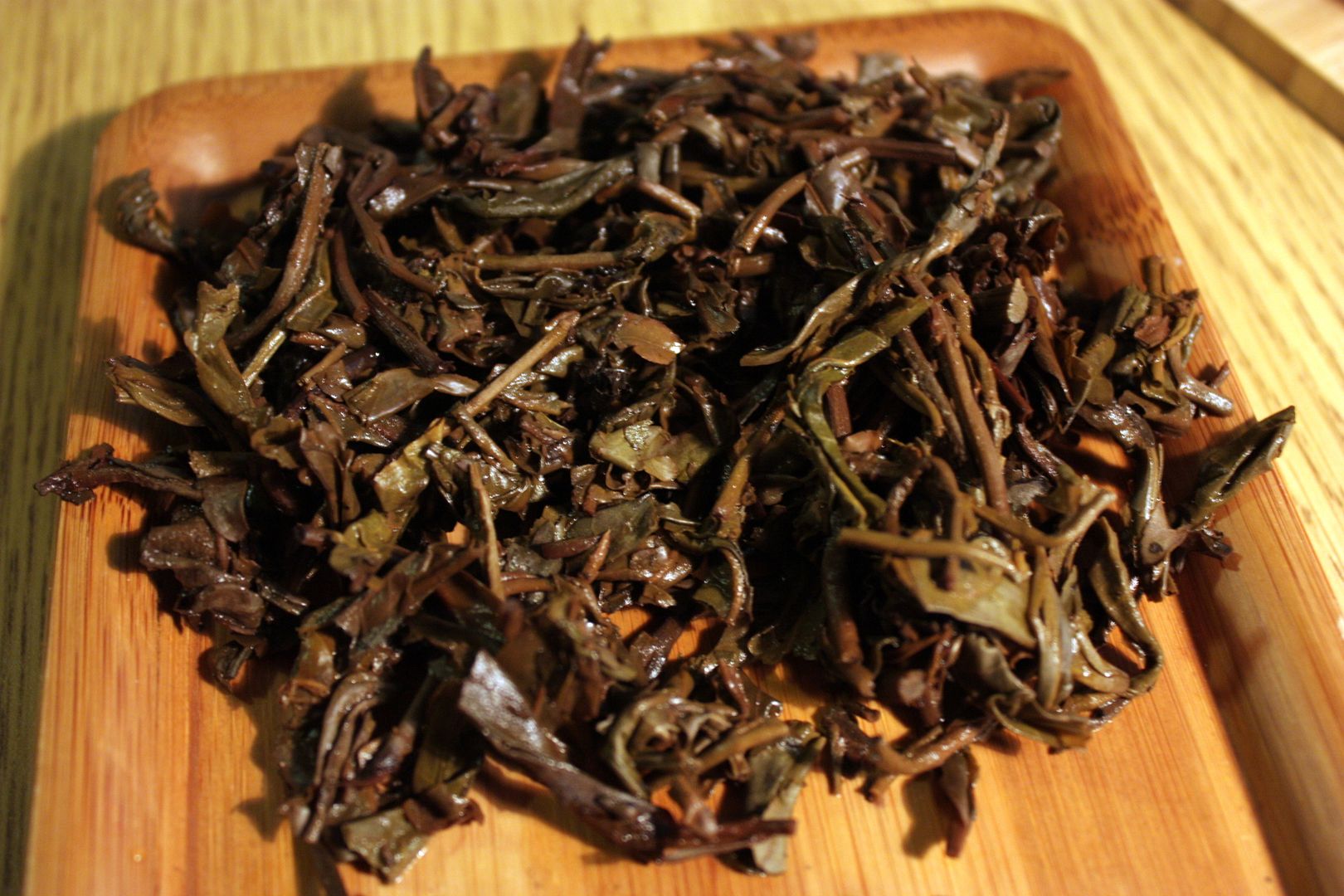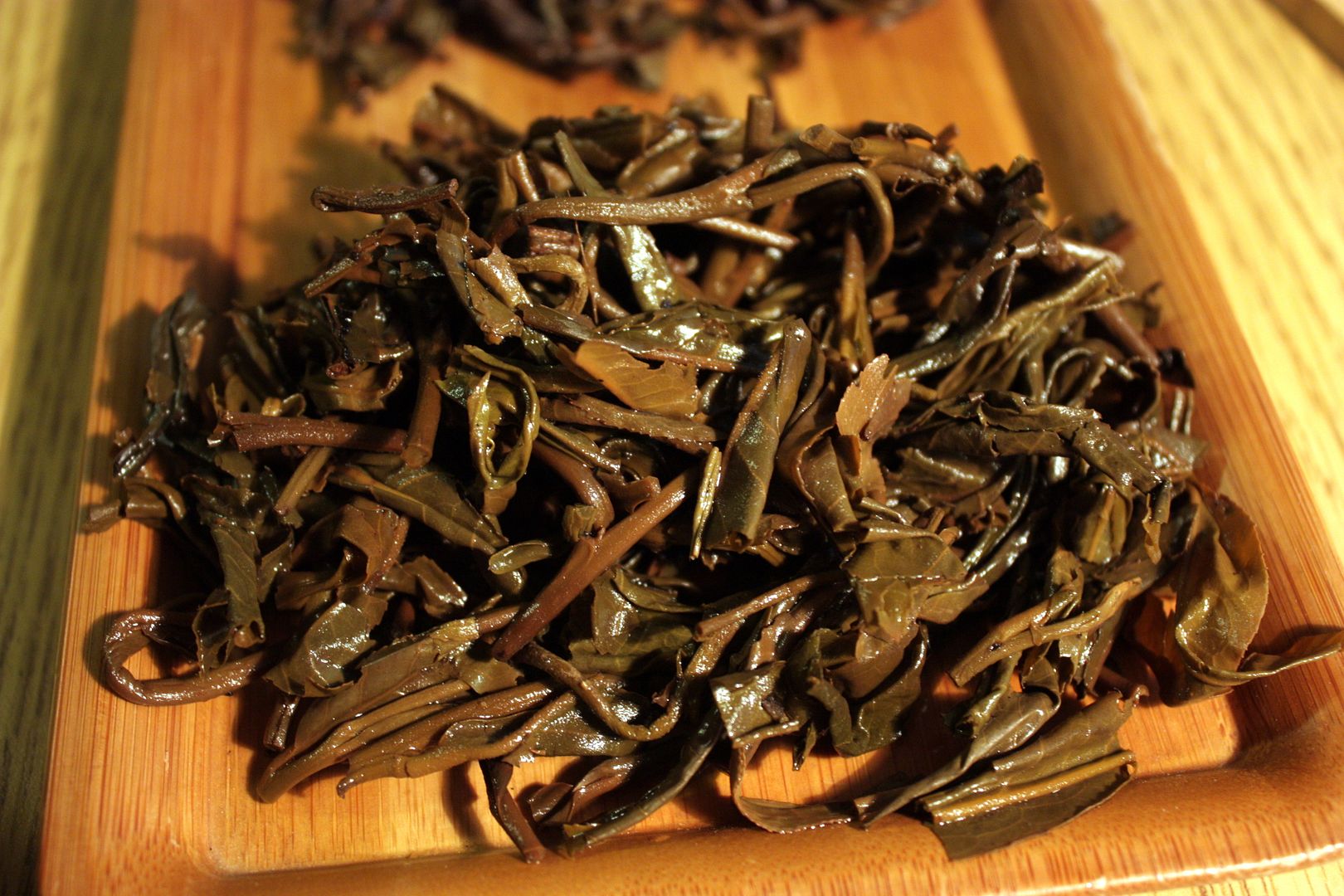 With the purple on the left and red on the right.  Then, having taken said pictures, the purple leaves are now back in a mug for some grandpa style drinking.  Interestingly enough, drinking it this way yields a slightly smokey note that was not present in the normal brewing.
Both of these teas are what I would consider great young puerh that are starting to show some age, while having enough "stuff" to go on aging without worries about deterioration, which is more than I can say about many other cakes of this vintage.  The purple is punchier, while the red is mellower, which some might like.  I remember the great feeling of having found a "winner" in the spring of 07 when I bought the Yisheng in Beijing, back when Douji was a relatively obscure brand and nobody has heard of Yisheng before.  Drinking these now, I have the same feeling, and wonder why I didn't try the purple one first.  I wish I have my own cake here to compare, but it's probably better that they are in Hong Kong, safely tucked away from my evil clutches.  Taobao's offering are similarly priced, and if you factor in proxy costs and other sundry charges, YSLLC is as good as any.  Of course, your mileage may vary, but I think this tea deserves at least a hearing.