Some of you may remember I bought my wedding favour from Adagio, which meant a lot of free credits for free tea, so I got a few things. Oolong 40 is one of them.
I find the naming scheme to be slightly annoying. Even though I understand that they have a music theme going on there, Oolong #40 really doesn't tell me anything about the tea whatsoever. The product page says it's "Formosa oolong", which still doesn't say much. Upon inspection, it's some sort of Oriental Beauty type tea, highly oxidized stuff. I am personally not a huge fan of Oriental Beauty — I find them to be rather boring and expensive for what they are, but heck, this one's free.
I'd normally brew such things in my black tea pot, since I consider them to be closer to black than a real oolong. I do have some fancy new teaware to use though
A nice gaiwan I got through Ebay, of all places, and which matches the cups I bought, also from Ebay, a while ago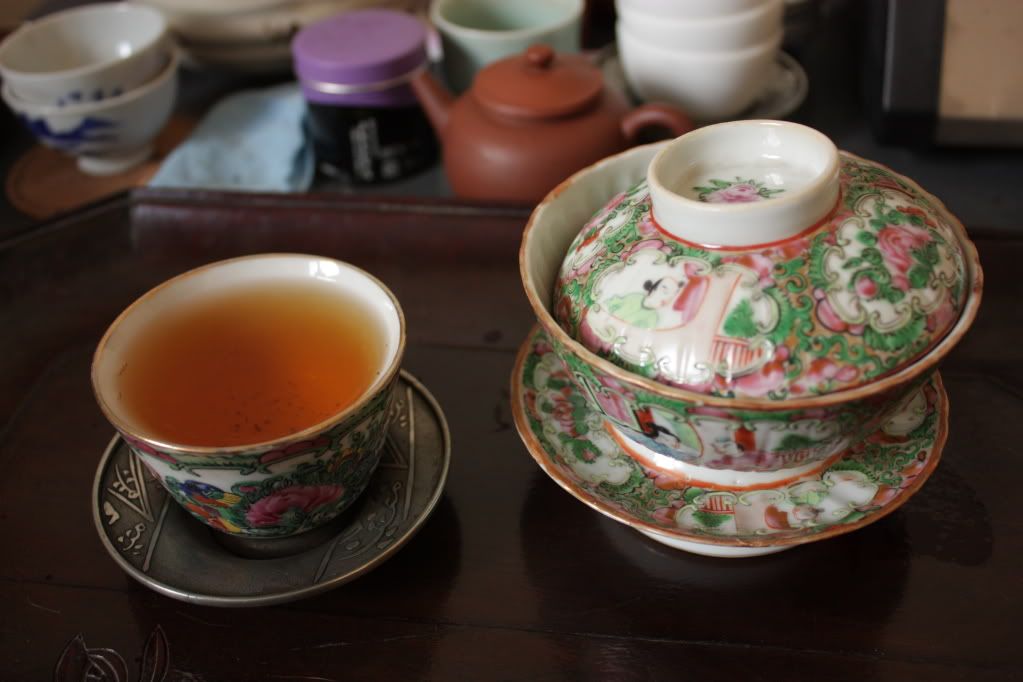 The gaiwan is very wide, much wider than a normal one, and flat. If you have small hands it's really not a very good one to use. These were made probably for sipping rather than brewing, as it comes with the base ring that works very well to hold it up. It's not a saucer — there's a hole in the center where the gaiwan itself sits. The shape of the lid makes it so that when you dip the lid into the gaiwan, it really pushes the leaves away. But anyway, enough about the wares.
The tea itself is pleasant enough, like any OB, with clean flavours and no astringency whatsoever, which to me is very important. It also isn't bitter, which is good as well. Some throatiness, which in my experience is usually enhanced when I use my tetsubin to make water. I did use a healthy amount of leaves
All in all a pleasant enough tea even though it's not something I would buy, but that's probably my personal bias because OBs are really not my kind of thing. I'd take it if it's free, but probably not if I have to pay for it.