I got this as a sample from Danica when I was in LA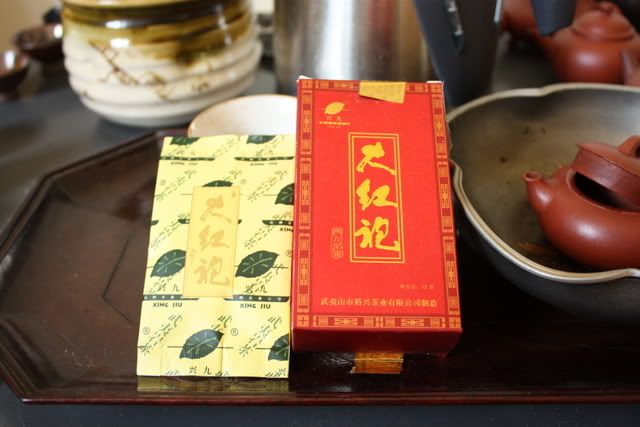 It comes in a nice little box, two packs to each box. There's actually no real need to package good Wuyi tea this way — they keep quite well on their own and doing this can actually only stop it from potentially aging. There's also my usual complaint — packing teas in small packs means that I cannot actually adjust the amount of tea I use for my brewing. You have to adjust to its amount, and change your teaware, instead of the other way around. Mighty inconvenient, if you ask me.
This is the entire contents of the bag
Which translates to this much in the pot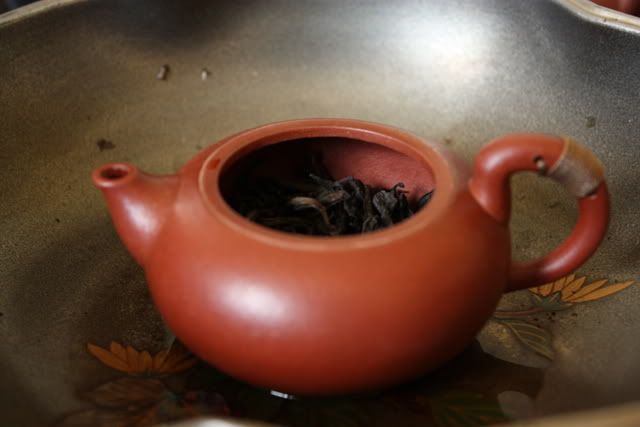 And made tea that is coloured thus
The tea is a light to medium roast yancha, unfortunately made a little weak because I didn't quite have enough. It took two infusions to get a decent "rock aftertaste" to come out from the cup, and then after a few more, it faded… I don't think it was a fair session with this tea, as I think it would be better if I had more (or a smaller pot I can use). Alas, I didn't. I learned the "stuff the pot" way of making Wuyi tea from friends in Hong Kong, and have found it to be generally true — if you don't stuff the pot, it won't come out right. I don't know if it's just me being used to that amount of tea, but in general, if too little tea is used, the flavour tends to be thin and a bit elusive. It works better with less tea if it's a low roast tea, but I just don't like low roast yancha….