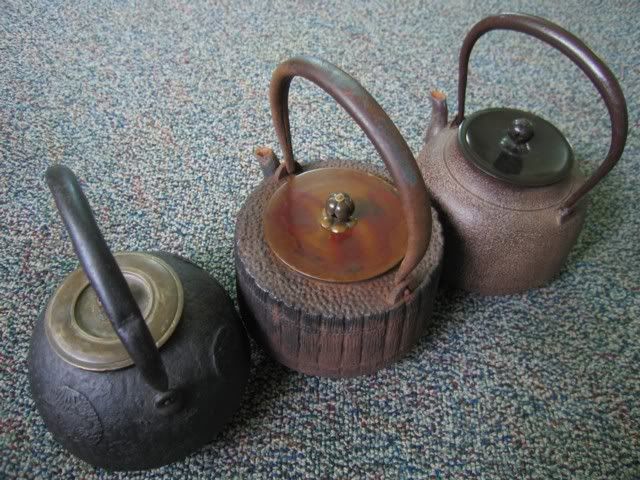 Tetsubins come in all shapes and sizes. Here are three that I own, as well as the smaller, flatter hobnail one that I had trouble with trying to de-smell. Since switching to it, I've found it does help with the tea I brew — it's gained a bit of a deeper flavour, and is probably especially suited to the types of tea I normally drink, which is mainly aged teas these days. It also gives Wuyi teas a nice aftertaste that is more pronounced than with my Braun kettle.
As you can see… they're not the same at all.
I think when picking out a tetsubin, there are a few things to keep in mind, aside from the obvious question of cost. First — is it a used item or is it new? New ones tend to have enamel lining inside, which neutralizes any effect it might have on your water. The enamel will break off eventually, especially if you heat the pot on the stove directly. If it's used — how much rust is there in the pot? Does it leak? When I bought my leftmost pot, that was the problem — there was a hole in it and it leaks. Then, I got the rightmost one, which was a newer make, and lightly used. A bit of rust (I've since added to it a little — iron will rust no matter what you do), but nothing problematic and makes nice water. Then, very recently, I acquired the middle one for a very low price (around $50). It's a heavily used item, also not very well kept, thus the outer surface is rusty. You can see it clearly here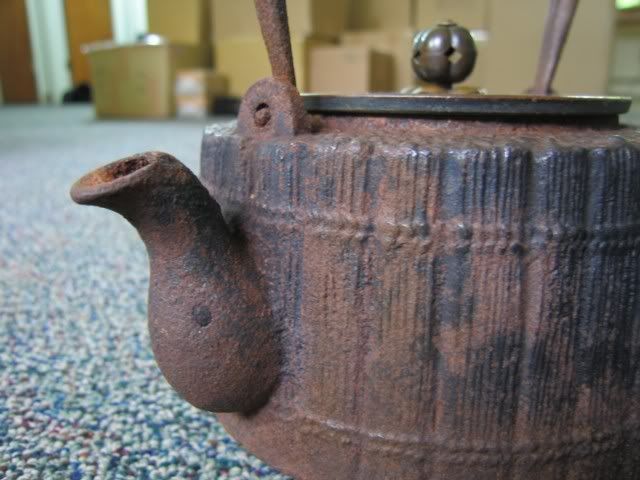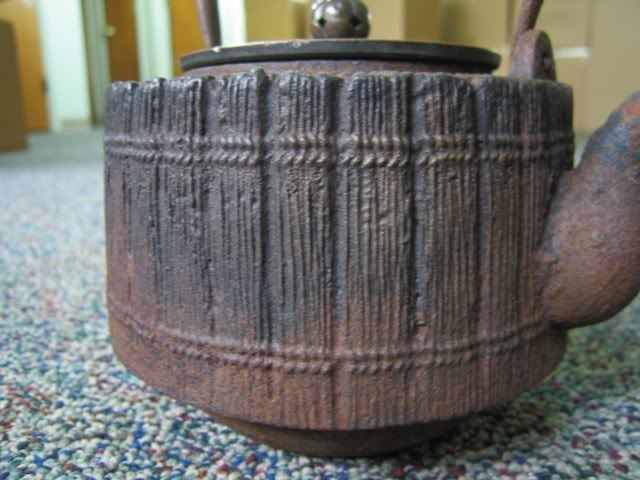 Not the prettiest, but I liked the shape of the thing. I also liked the minor details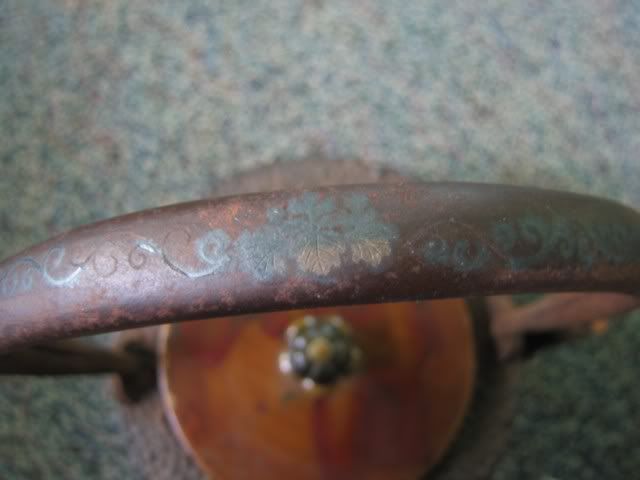 Generally speaking, after having looked through many, many of these online, I've noted that the cheaper ones are the ones with the solid iron lids — lids that are made of the same cast iron as the kettle itself. Better ones will invariably have other kinds of lids, made of some sort of copper alloy usually, but very rarely also of silver (which sends the price of the tetsubin skyrocketing). Under the lid is sometimes written the name of the maker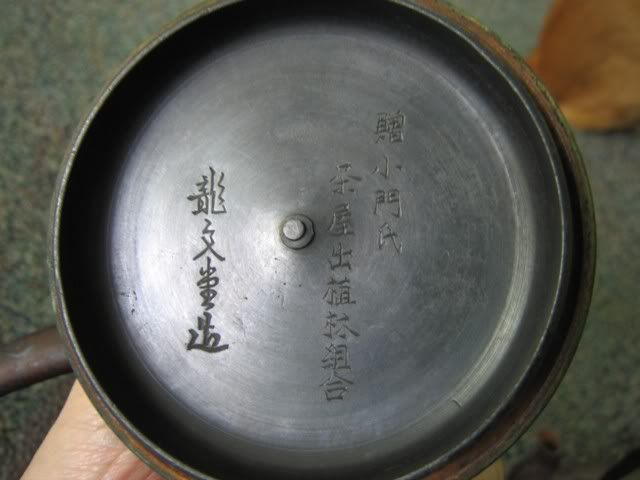 In this case Ryubundo, a famous and also very prolific tetsubin maker that, I believe, got started in the Meiji period. They're still making tetsubins today, I think, and although well known and famous, Ryubundo tetsubins are actually quite common — you can easily find one from Japan if you look. However, I've seen places that sell just lids for tetsubins by the dozen — of various kinds, usually, I'd imagine, from old rusted and broken tetsubins. The lids, however, are worth money, and a non-famous maker tetsubin can be made into something else with the addition of a nice (and hopefully fitting) lid.
I think my right hand one, i.e. the most often used one, is of the usual simple design — a plain pattern with some sort of uniform surface. These are quite common, and generally cheaper, especially if there's no maker's name, but even if there are they don't exceed maybe $200 or so in price. The ones that are wholly iron are even cheaper.
Then, however, you get into more expensive territory when they start having designs on them. The left hand one is of a simpler form — some sort of relief pattern of whatever it is — ranging from animals to leaves to geometric patterns to flowers to VERY elaborate relief patterns of houses, rocks, etc. Some are tasteful, others are gaudy. Some also have old kamon, or family crests, of important families. Those can be quite nice and rustic, but those also tend to be expensive. Of course, these things depend on individual taste.
It's worth keeping an eye out for the way the handle is made too — sometimes the handles are also elaborately designed, whether with some inlaid patterns, as my middle one does (though much faded), or in some cases, with detailed sculpted patterns and figures. Both the patterns on the handles and on the body itself can be highly decorative and sometimes made of other precious metals, usually silver, sometimes gold. Those, again, will drive the price of the items up into the stratosphere.
I sometimes see these tetsubins having a very shiny black surface with zero rust, which I find incredible because if you use it, it's going to rust, in and out (slight rusting on the outside is hard to avoid when it deals with water all the time). So my guess is, they somehow rub it off or polish it with something, although I don't know what. If anybody does know, please let me know 🙂
Find ones with original boxes — and make sure (if you can read Japanese — or ask friends who do) they're the original, not some substitute. Of course, that's not always possible, and if you just want function, ones without the original wood box work just as well, but the wood box cost money, and the value of your item is substantially lower to collectors if there's no box that comes with it. My "new" one comes with a very nice weathered box. I don't think it's the original, but I wasn't about to complain for the price I paid, flawed though the piece may be. The box, if nothing else, gives the item an extra air of history to it. I'm a sucker for those things.
Tetsubins are by no means rare, since the Japanese seemed to have produced them in prodigious quantities. A search on Trocadero will yield a number of fine ones, some of which I personally think are fairly reasonably priced (for the quality, anyway). One downside to these things — they're heavy, so I think I'll be capping my purchase of these things for now until I don't have to move again any time soon, because otherwise, it'll be hell to move.