Another sample today, courtesy of Bill at Ancient Tea Horse Road. This is a cake from Douji, although the factory name is actually a very long and clunky "Yunnan Xishuangbanna Yiwu-Mountain Tea Industry Co. Ltd". Spelling errors fixed.
The cake in question is best translated as "All Natural" big tree tea. "All Natural", because the Chinese used here, "shengtai" denotes something that is in between normal farming and organic. This is the sort of nebulous area where a lot of products these days advertise themselves as "all natural" without really meaning much, so I am going to use that term here. The tea is supposedly blended, and as with any blended cakes these days, that means teas coming from all sorts of places you've never heard of. Funny enough, even though the production date of the tea is 2007, on the wrapper they note that the tea received a silver award at some tea show in 2006. I am guessing they are referring to the 2006 version of this tea (which means it has really not much to do with the 2007 one), but the date thing is a little wacko.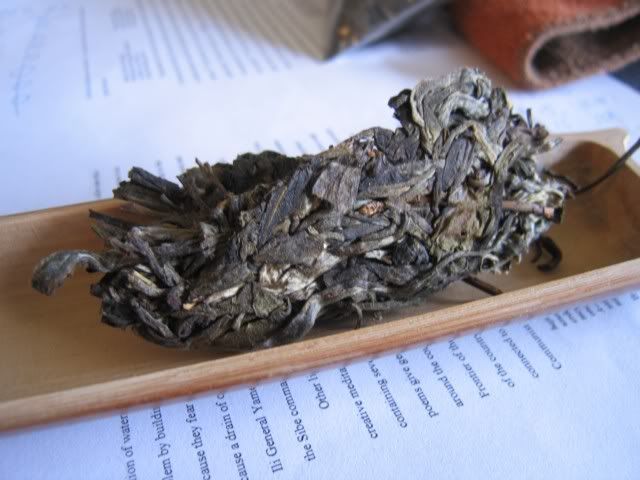 There isn't much that is interesting with the dry leaves. Just standard better-looking raw puerh fare. The colour of the liquor isn't too exciting either
I used a fairly generous amount of leaves, and the tea came out pleasant. It has a nice huigan, a decent set of aromas, and a good coating of the mouth with a feeling that you're drinking a good tea.
Douji makes decent tea, at a price. I personally think they're one of the more reliable brands out there for quality young puerh, and will heartily recommend their products to anybody who is trying to buy tea in China without wanting to get into the minefield of fake or poor tea. They are expensive compared to some other factories, but I find their quality consistent. It's not bad for a one stop shop if you can find them cheap. Why some vendors of puerh in the West haven't picked up on this and try to source their teas is beyond me. I think their products easily best the sometimes dubious stuff made by Xizihao. All they need is somebody to promote this stuff over here. This cake probably costs about 200-300 RMB a cake for retail in China. At today's exchange rate (the RMB rose above 7 to 1 against the USD today, a historic high) it means about $30-40, roughly. For a vendor to make any money it will probably have to be in the same price range as the Xizihao stuff, but if one can buy it in bulk, I'm sure it's cheaper. The business case, I think, is there. The matter is to find the tea.
Solid tea, thanks for the sample Bill. I still owe you a few samples, but am trying to figure out what to send you 🙂