One of my boxes from Taiwan arrived with a bunch of tea in it. I couldn't wait to pull out the bag of that tieguanyin that I felt reminded me of how tea used to taste… and taste it.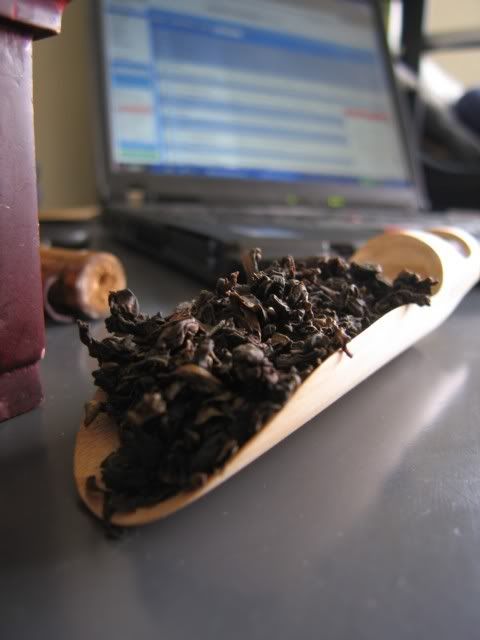 The dry leaves of the tea is unremarkable. It looks more or less like a roasted tea, but you can see how the rolling of the leaves was light — it was done in the old style when leaves were much less tightly rolled than today's teas, which are so tightly rolled into a ball that you can actually throw them around. I'm not sure of the exact time when the switch happened, but I think this is at least 10 years ago when the mainland started switching to the more tightly rolled teas.
The liquor also looked like roasted oolong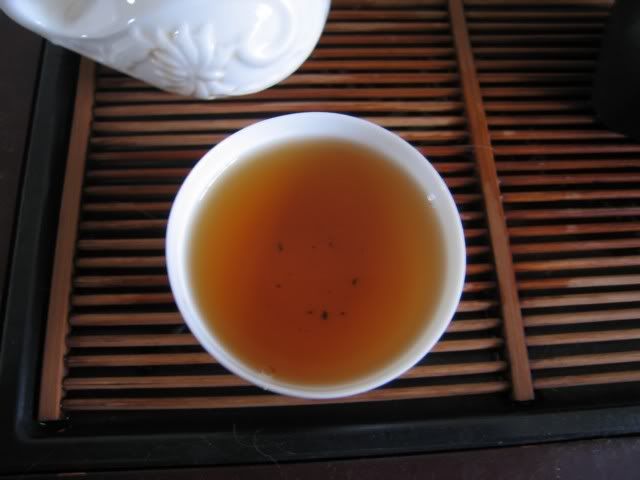 But there's very little roasted taste, in my opinion, in this tea. I've sent it to people who thought it tasted more roasted, so perhaps it's because I've tasted stuff that have been very roasted that I don't feel it. To me, it doesn't really have any charcoal taste, and it also doesn't have much of that "fire" taste in roasted teas. It's mostly just sweet…. quite sweet with a soft aftertaste that lingers in the mouth, a sort of plummy taste. I don't know what it is, exactly. Maybe somebody with a better range of taste-related vocab can do a better job.
The leaves are, as you can see, rather green. I was a little surprised myself, as I never brewed this tea in Taiwan after buying it from the store. There isn't really that scaly, "toad" surface of highly roasted teas. Instead, it unfurls to something that looks more like what nowadays is a green tieguanyin. Mystery.
What I like about this tea is still the aftertaste and the sweetness. I think this tea is something that everybody can easily enjoy — there's nothing that needs to be "acquired" for somebody to like this tea. There's, of course, more to get from it if you've had more experience, but I think anybody who isn't offended by tea can probably appreciate it. It makes me wonder why I didn't buy more of it.