I got these in the mail the other day
I haven't really tried anything new for quite a while, and definitely haven't tried anything from Xizihao for a long time — since April, I think. Some of these cakes, especially the higher priced ones, have been selling like the world's about to run out of puerh. I'm not sure who's buying these things sight unseen, but it seems like a lot of money to spend on cakes that one hasn't tasted at all. Now I'm curious to find out what they're actually like.
I get the sense that the nu'ercha (daughter's tea, literally) is the lowest grade of the three, so I figured it's a good place to start.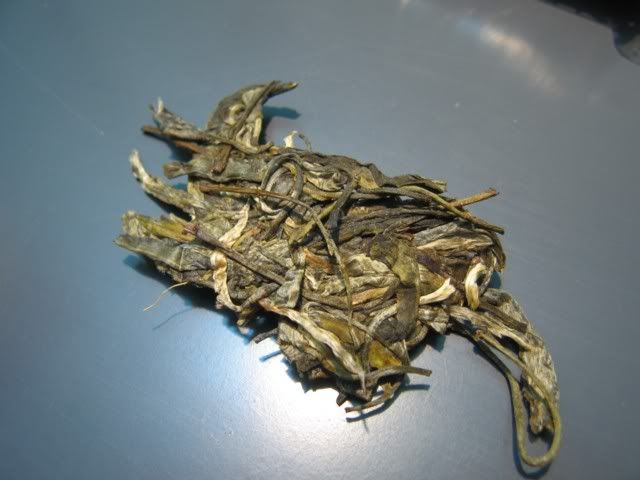 The leaves are big and good looking. They're quite green, which I've found to be pretty typical for 2007 teas. At any rate, looks deceive.
The tea brews yellowish green. It also tastes that way. There's an interesting floral quality to it somewhere during the second or third infusion, which I tend not to associate with young puerhs. I found the tea to be generally a little meek, and the bitterness somewhat lingering. The tea hits the throat quite well, but in a way that some green tea puerhs have also done before. I'm not saying this is definitely problematically processed, but it does seem to raise some questions. Having tried some 2004 or 2005 stuff before, I have to say this tea, on the whole, behaves differently. The floral like quality to the tea especially makes me wonder if something is going on there.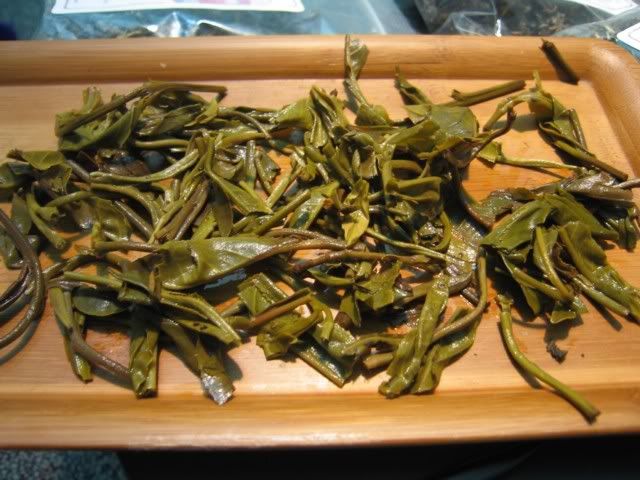 The leaves are big, long stems, but largely in keeping with what an autumn tea might look like. Some leaves have some redness or what not to it, which is normal, but others are so uniformly green, it worries me. I hope puerh isn't going through a change in process that tieguanyin went through in the past decade. If it is…. it'll be a sad day.
When I went and met with the guy from Taipei whom I contacted through the internet, he mentioned how the Taipei tea drinkers don't view the Tainan tea makers who have their hands in puerh very favourably. There's a certainly difference in philosophy. He didn't elaborate, but I get the sense that it's about materials and processing. There've been a few times when I thought certainly Xizihao products are designed more for better current consumption than long term storage. Not all their stuff give me that sense, but this nu'ercha is one of them.