Today's tea is a little odd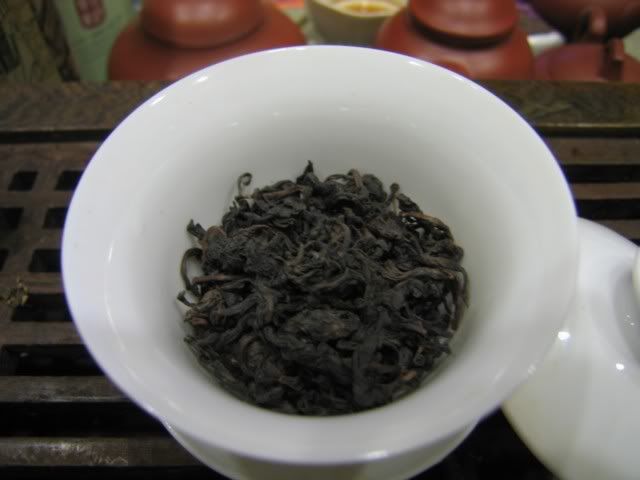 This is one of the teas I exchanged at the old lady's store when I went back to fix the problem order. I tasted this at the store and it seemed fine, so I brought some home. It looks ok here right?
Well, when I examined the leaves, I could see some whitish stuff on the tea… I think it's mould. The same stuff you see on a wet stored cake. Yup…. I guess technically this is spoiled tea.
But white ones don't faze me. If it's yellow, black, or red, then I'll be scared.
The tea brews a deepish coloured liquor in the first infusion, and it tastes a bit sharp. Sharp in the sense that a sharp cheddar is sharp. It's not 100% pleasant, but it's definitely distinctive. The sharpness decreased by infusion 3, and the tea turns to a very sweet aged oolong that is actually rather pleasant. I have a feeling that the sharpness might lose its edge a bit if I let the bags air out. Right now they're pretty tightly packed and probably doesn't help the flavours. If I let the air circulate a little — much like the "tuicang" process of a wet stored puerh — it might make the tea better.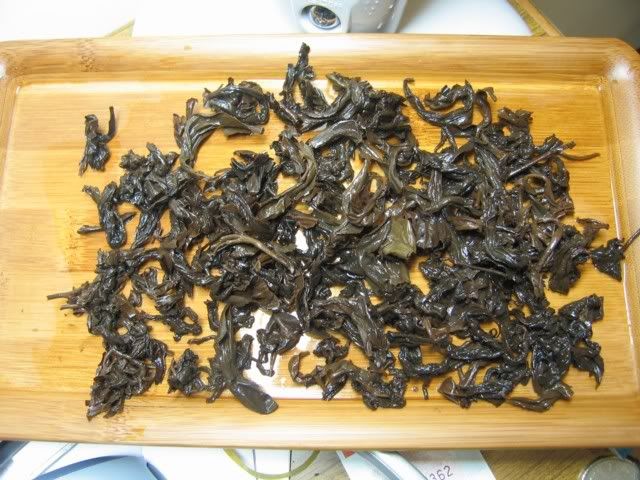 Leaves are a bit blackish…. but still quite soft and flexible. I think this tea might actually surprise me if I give it a little time.