There was a very strong typhoon that hit Taiwan today, so the whole day was spent indoors since going out was a real hazard. There were at one point debris that were flying and hitting the wall/window of my apartment…. and I live on the 8th floor. My friend's house got part of its roof ripped open. So yeah, it was strong.
Perfect day to sit home and drink tea though.
So I pulled out one of the samples I got from Fuxing recently — the spring 2006 production of Chen Guang He Tang's Yiwu Chawang.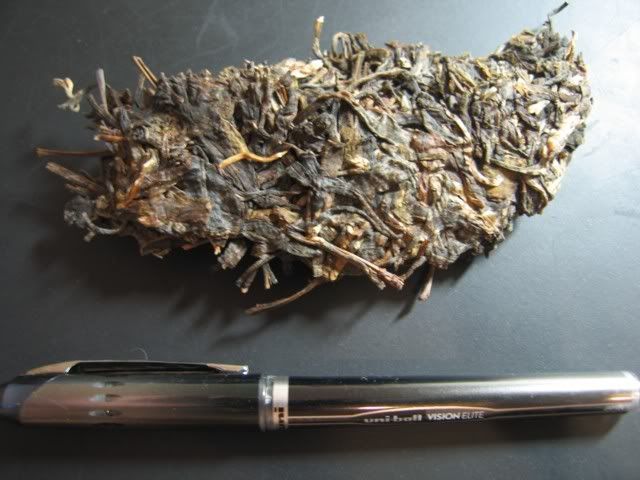 Yeah, it's a big piece I got. No, I'm not crazy enough to use it all in one session.
This tea, in the words of the store owner, is "two times better than the fall 2006", and it's the same price. There's also a cheaper version of Yiwu tea from spring 06 as well. There are also a number of other CGHT cakes on sale there too — some looking quite fine. I wonder why Hou De didn't get a hold of them to sell. They seem to sell out within hours these days.
The tea brews a medium coloured, medium bodied liquor
It is actually not THAT similar to the fall. The taste is actually lighter, although I do remember the fall Chawang having a slightly unusually heavy/dark taste to it. There's a good huigan to the tea and it does give you a "throat feel", but somehow I feel the qi of the tea is a little lacking. The body is good, and the tea, generally speaking, is really quite pleasant.
There's one problem though. The tea came out quite rough after a few infusions, and the roughness was quite up front and obvious, which I found was rather distracting to the whole tasting process.
Tea Nerd has a post about astringency that includes roughness, and a brief explanation of what it's about. I find roughness to be the most annoying of all these things, and generally speaking, a tea that is really rough can take a long time in dry storage aging before the roughness goes down to an acceptable level. I'm not sure if this tea is too rough or not — that probably depends on individual taste and all that, but I did find it to be a prominent feature of this tea.
It's not bad, it's just rough. It left the mouth dry. It had all the right makings of a good puerh, I think, especially if the roughness is a bit more subdued. I'm not sure what's causing it — if it's the tea itself, if it's the mix of leaves, the storage condition, or what, but it didn't produce the most favourable impression that way. I don't seem to remember the fall version of this tea to be as rough, although I do remember it having some roughness. I know some Hong Kong tea friends will just frown upon this immediately and say this is making their tongue hurt — and will wait years before drinking this. Maybe it's like bitterness — it's good to have some to show strength in a tea that will age. But how long will this take? I've had 10 years old teas that can still be quite rough. So that's obviously not enough. In fact, it's probably the single most distracting thing, I think, in a tea. I still remember trying that tea in Beijing that made me gulp down a whole bottle of water right after tasting it… it was rough and drying to the extreme. It's funny when teas do that to you. This isn't nearly that bad, but it did leave a rough taste in the mouth.
The leaves are quite pretty though — and very long stems