I tried the other sample Lew of Babelcarp sent me. It's a tea he pressed in Yunnan while he visited there this spring. The leaves are from Nannuo, and the neifei he uses says
"Lew" sounds a bit like "Liu (six) in Chinese, and "liuda chashan" is the usual phrase for "Six Famous Tea Mountains". Quite clever 🙂
The tea is quite aromatic even when dry, and I can smell it clearly. The leaves are robust looking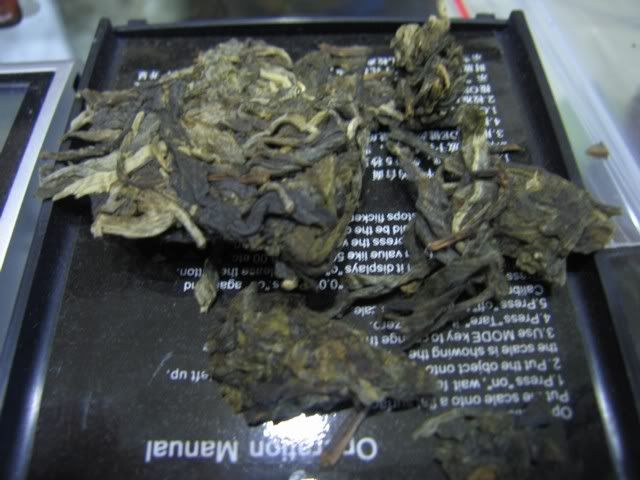 Sorry for the shaky hands.
The initial infusion was very light in colour, and then it deepened a bit to this
It's a bit sweet, with an aroma that is identifiable as Nannuo, where the tea's from. The sensation in the mouth is full, and one can really feel the tea in the back around the throat, also on the roof of the mouth (what do you call that?). I think this is a good tea. It's got my head spinning a little and body sweating a bit. It does hit the back of the throat. The taste also lingers for a good bit after the tea's been swallowed.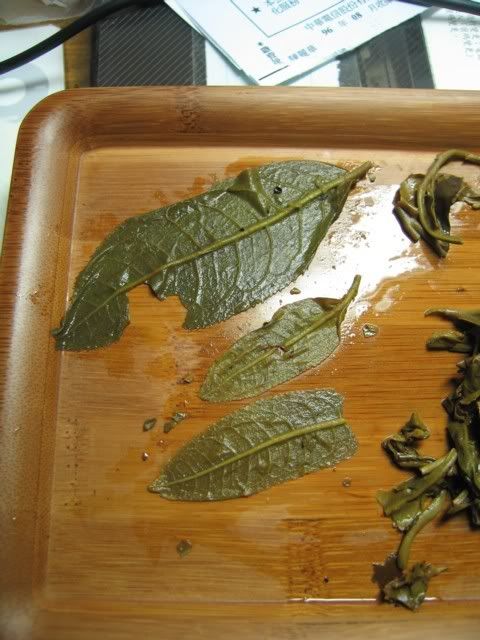 The leaves run the gamut in terms of size. While they look good, there's one thing in the leaves (as well as something in the taste) that concerns me a little. There's a certain greenness to the tea, and the bitterness in the tea got much more prominent around infusion 4-5 onwards and never quite went away after that. I'm not entirely sure this is normal or not, but I have heard a frequent complaint on Sanzui that teas this year are all rather green in nature. Perhaps it has to do with weather? I really don't know.
Either way though, thanks for the sample, Lew, and I'm definitely interested to see how this tea changes!