Another dug up sample from the 2006 Tasteoff… this one thanks to BBB.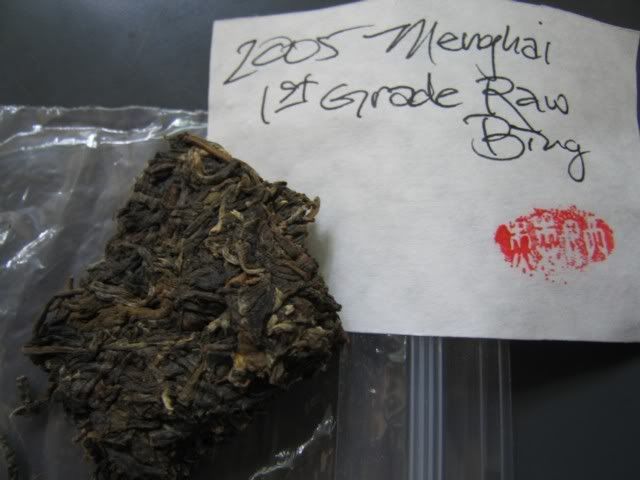 I brewed it again in my new pot. I am having some adjustment issues with the pot — namely I am putting in far too much leaves. I haven't been able to gauge how much leaves I am actually putting into the pot versus the volume, and both yesterday and today I think I have basically overstuffed the pot, making it very strong and slightly difficult to swallow at times.
The dry leaves didn't smell like much of anything, having resided in the plastic bag for the whole year last year. The piece I got was pretty compact, and obviously made of small buds, as the name "First Grade" bing suggest. In Chinese the cake is actually called "Jia Ji", or better translated as "A grade". I think it is safe to say that the leaves are not indeed all first grade leaves, but instead a mixture of high grade (i.e. small) leaves.
It brews an orange infusion. No doubt, the high leaves to water ratio has something to do with the saturation….
It was bitter. Quite bitter, but not so bitter as to be entirely unenjoyable. It's not bitter in the way a green tea puerh is bitter. There is a huigan, albeit a slow one. In fact, this tea tastes rather similar to the tea I had yesterday. The tea I had yesterday was a little mellower, whereas this one's a little more punchy. Taking into account the age difference and the slightly higher amount of leaves I put in today (as I discovered halfway into the brewing) I think it explains pretty well what's going on. It does hold up better than the tea yesterday, but that might also have to do with the higher amount of leaves present. It's not a great tea, I think, but it's a regular puerh made by Menghai. Retail for this on Taobao is 230 RMB, which translates into something like 30 USD. BBB said he got it for 18.50, but probably won't buy it again at that price. At $30… it's not worth it at all.
The leaves, as you can see below, are very small, and quite chopped up
They are mostly small, under 3cm in length. There's some variety in how they look like when unfolded… but nothing too exciting either way
A factory tea through and through. I think what factory teas do well is consistency… at least before the whole craze really got to them. With enough blending, you can come to expect a certain type of taste from a certain factory. Small producers don't have that consistency, but that's part of the fun in trying the differences and to see how different people make them differently. It's also more of an exploration… whereas I've had many Menghai cakes that are very roughly similar (especially the newer productions) with differences that are usually relatively minor. There are exceptions, of course, but by and large, that's been my experience.