Again going back to the old stash I have here, I dug up a cake of the Fengqing mini cakes that I own. Last time I tried this was before the 2006 Tasteoff, at which point I sent samples of this tea out to various people. It's time to try it again, a year later, to see if I can find anything I missed. I probably would, because at that point I haven't tried all the young puerhs that I've recently tried in Beijing…
Small cakes always look rather cute.
The liquor seems to be darker than I remember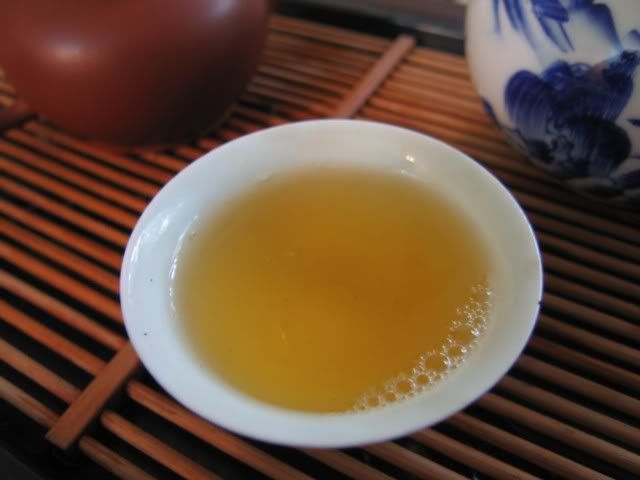 But then, I added quite a bit of tea today. The taste is mellow, but with a bitter edge. The bitterness dies a bit, but it never quite goes away entirely. There's a strong initial rush of flavours in the first few infusions, but it drops off a bit after about 5 infusions and then seems to skate on a lower plane of flavours — more subdued, less bitter, colour obviously weaker, but despite its light colour, taste is there. Clearly this is plantation tea, but not horrible, I think. At least I don't think it's been weirdly processed. There's just a hint of age in there, but it's still pretty raw. It's got some time to go yet… I think I'll let it sit some more before trying it again.
Worth mentioning though is also the christening of a new teapot — my friend L gave it to me as a parting gift of sorts. This is a prototype that was made for him to inspect before they make a larger production of the pots, and through him I'm ordering some pots for myself as well as some members of the LA group. He had a few of the prototypes sitting around, so he gave me once since it was going to be the last time I see him for a long time.
Unfortunately, I chipped the pot a little yesterday when I boiled it in water to clean it. I think initially the boiling was a little too vigorous and it bumped the pot I was boiling it in….
Sigh… luckily, it doesn't really affect the pouring at all. The stream is still rather clean and crisp, and so for that, I'm thankful. It did do something that I haven't really done before with my own pots though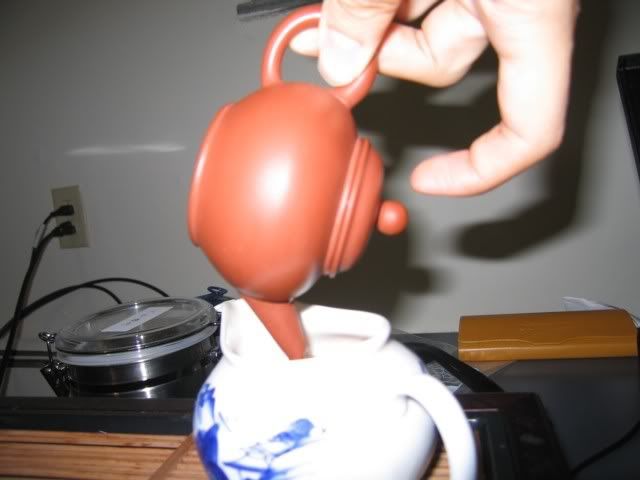 When I poured I noticed the lid wasn't really coming off. I suppose that's a good thing, despite the rather short "legs" the lid has. I do wonder if the tea tasted different given my use of a pot. It probably did — pots seem to soften the teas that are brewed in them. Chances are the tea today would've been more stimulating if I brewed it in a gaiwan.
The wet leaves are mostly broken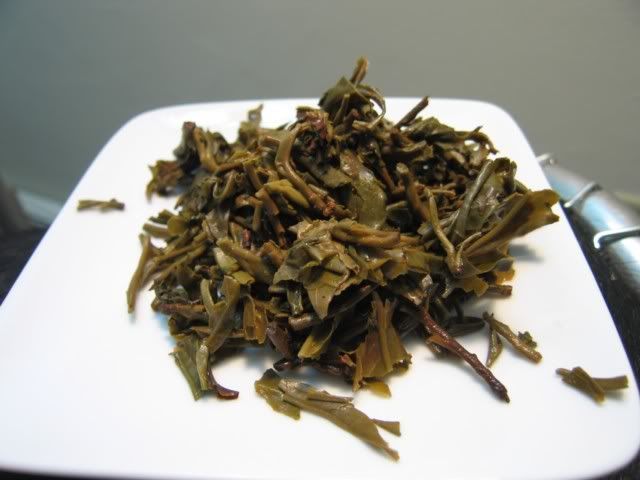 And tiny
A pretty mediocre tea all around. At least it was cheap. I don't think I'd buy this again, but it might be ok 20 years down the road…