I thought about this tea after drinking the Yiwu Zhengpin a few days ago. As I noticed an obvious change in the Yiwu Zhengpin, I wondered if this tea I'm drinking today has changed as well since I last had it, probably sometime in December in Hong Kong with Tiffany. I got this from the Yiwu girl when I was dealing with her, trying to get the tong of tea from her that I wanted. The tong is now with me, and I still have some of this maocha left. Not a whole lot, mind you, but enough for a few more sittings.
I duly measured 7g of tea.
Last time I drank it and actually posted a full set of notes, I thought it was nice, very nice, in fact. Of course, back then my experience with young teas was considerably less than what I know now, purely because I've had so many more teas in the past year 8 months (wow, it's been that long). I think this tea is memorable for the fact that it was the first time when I felt all those things that people talk about but I have only seen glimpses of — the throatiness, the huigan, the qi, all mixed into one. I've since had other teas that are like that, but this one was the one that first allowed me to taste what I now seek in young puerhs.
I've really liked the results of me taking pictures of the liquor of the tea in my little clothes-drying area — the lighting in the afternoon works well to give it a consistency that I needed, and looks more natural than artificial light. Too bad I'll be leaving Beijing soon and have to find some other way to replicate this.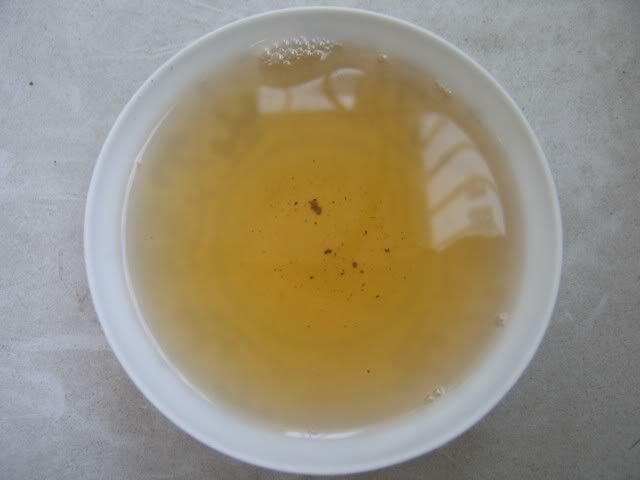 The colour of the liquor, I think, is comparable to the last time I tried it. Although the dry leaves do look a touch redder than the last time, the tea doesn't taste that way. It's slightly bitter, sweet, an obvious Yiwu taste, and good huigan as well as qi. The tea is medium bodied. There's some throatiness as well, more, I'm sure, if I brew it for a little longer, as I employed fairly short (5s or under) infusions until about the 7th.
The tea is smoother than last time, I think, and only displayed some minor roughness when hitting the 5th or 6th infusion, but it died soon after as the tea turned to a sweeter taste. Bitterness is more obvious if I employ longer infusions, but I've tried avoiding that.
A very interesting thing is the way the different teawares smell after each infusion. After I pour the tea out from the gaiwan into the fairness cup, I smell the bottom of the lid, which smells like that slightly sour, slightly off smell of young puerhs — some have called it "stinky green" in Chinese parlance. It's not an aromatic smell. Rather, it's more like an odor. Some have said this is the sun smell. I'm not sure, but I have taken it to be a typical young puerh smell. The leaves themselves don't display much of a smell at all.
Then, pouring the tea from the fairness cup into my drinking cup, I smell the fairness cup, which, in this case, smells quite floral. It's that Yiwu smell. After drinking, I smell the drinking cup, which is sweeter than the fairness cup.
It's quite fun smelling all the different things. I think a wenxiangbei will only give you one kind of smell. I am personally not a fan of those things, as must be obvious, and it seems my preference against it is shared in some circles, more in mainland and Hong Kong. In Taiwan they seem to employ it more often.
After quite a number of infusions, I poured our the leaves
Since it's maocha, it's pretty.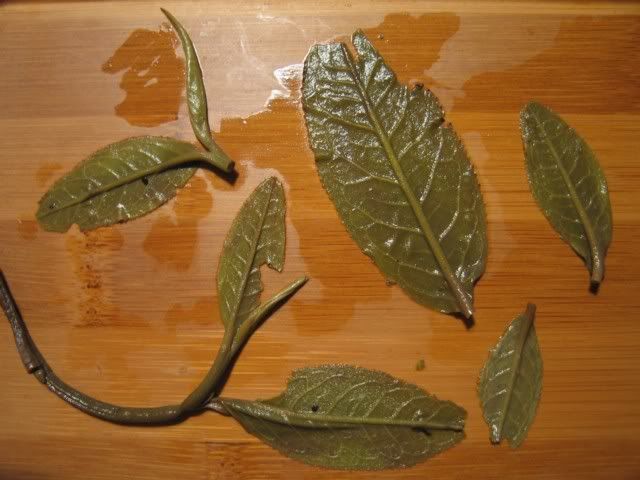 I should note, at this point, that I no longer think thick center veins have anything to do with the age of a tea. I've seen plantation teas with very thick center veins. I do, however, think that if the secondary veins are obviously popping, that could be an indicator of the fact that the tea is from older trees. Don't ask me why, and I don't know if biologically this makes any sense, but among the teas I've seen, obviously popping secondary veins are pretty rare, and seem to happen most often with old tree teas. This picture might make my point clearer
In the pictures for the 6 mountain maocha series that I drank (link to the left), you can also see this in action. Although, I don't think that is universally true and certainly shouldn't be used as a reliable indicator. Rather, it's more like an observation….