Rummaging through the samples I have today, looking for something to kill, I found a blue box with a label on it saying "Gopalhara Tea Estate — Red Thunder oolong". Hmmm, I've neglected to taste this tea! It was kindly given to me by DH, a Boston area tea friend. He got it from somebody in New York, who apparently buys these small lots of premium Indians teas and resells them. There was a few grams in the tin left, perfect for a session with my small gaiwan.
The leaves look a little like oriental beauty, with the mixture of colour and type of leaves.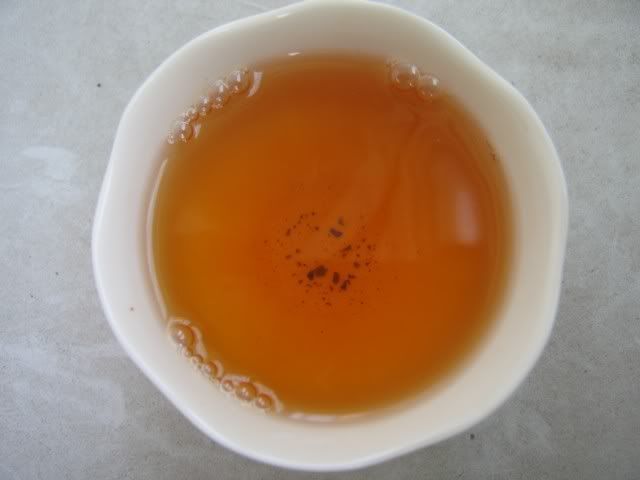 The tea brews a deep orange, with clear and somewhat thick liquor. The taste… is intensely floral. The first two infusions, as I've noticed with these Indian oolongs, coat your mouth with whatever taste the tea has. I was expecting this thing to drop off after a few infusions, as some other Indian oolongs I've had tend to do, but this one stayed strong — I brewed probably 10 infusions, and it still had decent taste. I'm impressed.
The floral quality of the tea reminds me of a dancong, actually, or at least the non fruity dancong. The affinity to dancong is most obvious around infusions 2-3. Later on, it came back to a taste that is mostly like a first flush darjeeling. In fact, I wouldn't know this one's supposed to be an oolong were it not for the floral qualities in the early infusions. It's got less of the astringency that one gets from regular darjeelings, and but in some ways, I prefer those more. I think there's something weird to me when I drink one of these teas — perhaps it's the fact that the floral/fruity qualities are so concentrated in the first two infusions but then fade away. When I drink teas like this, I always wonder if they're coated with a layer of artificial flavour. I'm sure they're not, but it just seems that way sometimes.
This is easily the best Indian oolong I've had though. Depending on the price, I could get some of this. If it costs more than what I have to pay for reasonable dancong though, I'd pick up the dancong instead. The novelty value isn't enough to keep me that interested over time.
You can see the wet leaves also look somewhat like an oriental beauty… I wonder how they did the fermentation, kill-green, and rolling/drying.