Today was a very nice day, and I invited two friends to come to have tea with me.  Since it was a warm but not too warm day, I thought it best to sit outside, next to the blooming roses…
We started off with one of the Douji Maocha samples that I got from the tea expo. To refresh your memory, it's one of these:
Since I'm a fan of Yiwu… we drank the Yiwu.
The amount of maocha was just right for the gaiwan… not too little and not too much.  One of my friends is a tea novice, so I thought other mountains might be a little too bitter.
The Yiwu turned out to be quite fragrant, thick, smooth, and generally very pleasant to drink.  It lacked a bit of a "throat feel" that I hoped for, and huigan is mild, not as strong as can be.  The tea is obviously spring tea, although I'm not sure if it's actually 07 spring tea.  I'd imagine it might be, but it could also be an 06.  It's hard to tell and I personally am not sure.
The wet leaves are quite beautiful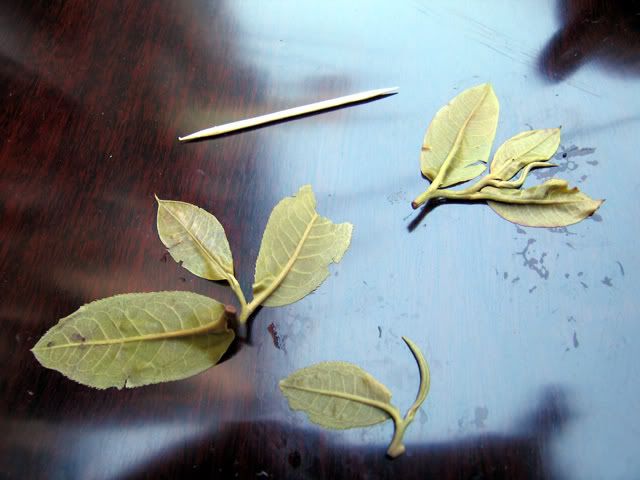 I think I liked this tea quite a bit.  Now I wonder how the other mountains taste.
We then went on to a qingxiang tieguanyin given to me by Toki.  I brewed it using the pot I got yesterday
It worked pretty well.  It's a little bigger than the amount of tea was good for, but at the same time, we were looking for something a little less strong.  It brought out the fragrance of the tea quite well, although I always find the newer qingxiang tieguanyin these days to be a bit grassy for my taste.  I haven't had a qingxiang tieguanyin for so long!  Thanks Toki 🙂
This is what's left of it at the end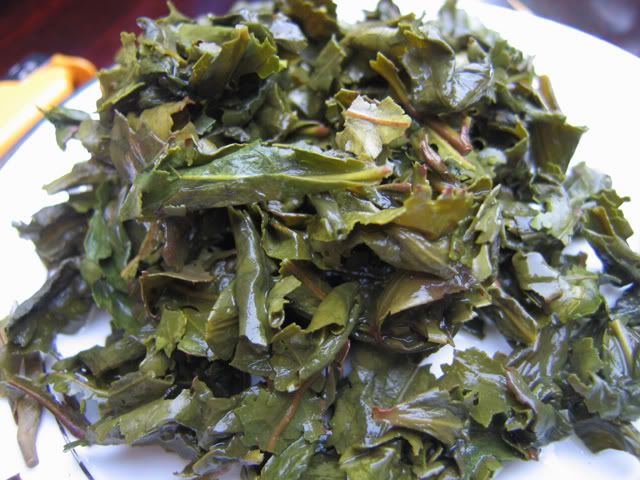 We then drank the cheap Yunnan green, or rather, tested the cheap Yunnan green I bought.  I wanted to contrast it with the maocha just to see what's in the tea…
I think it's pretty safe to say that if this were pressed into a cake, nobody can tell for sure if it's puerh or not without being able to smell it and try it.  It can look quite like the real deal.
The taste, however, is distinctively beany.  Many green teas have a "bean" taste, and this tea, I think, has a classic "bean" taste that can go into a tea textbook.  If I ever want anybody to know what a "bean" tasting green tea is like… this is it.  This is also something that a puerh shouldn't taste like, lest it will not age well in a few years….
The wet leaves are rather green too.
By this time it was getting a little late, and we finished up with the Qimen Haoya B that I bought a few weeks ago here in Shanghai.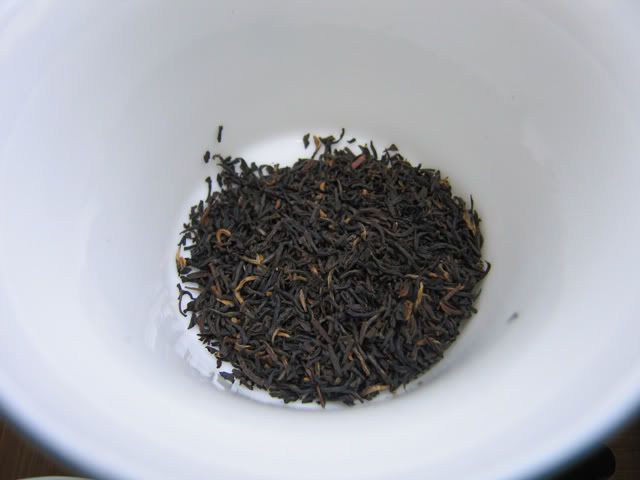 I didn't use too much leaves as I didn't want to overdose my guests.  It yielded a nice cup of tea, quite nice to drink to finish off this session.  I always like to drink something warming/mellow to finish a tea session to keep everybody on a happy note.  Something too high-strung can really make one feel jittery or uncomfortable after many teas.  The hongcha did the trick, I think, and we proceeded to dinner after the tea.  Not before I take a shot of the wet leaves though…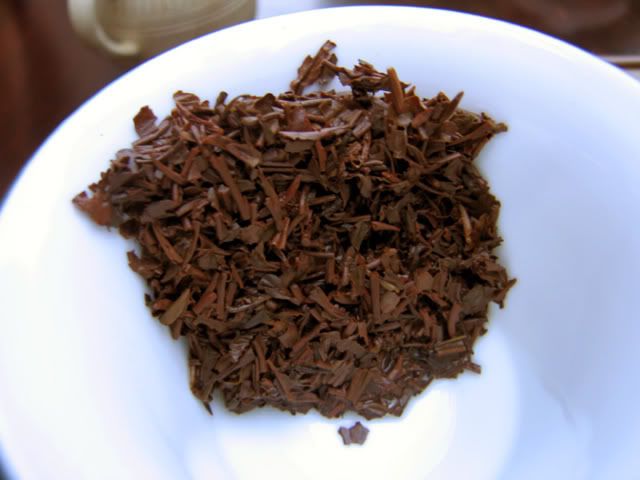 By this time the sky was turning dark.  The camera was doing funny things to compensate for the lack of light, so the gaiwan is showing up in interesting colours.  I played with the colour balance to try to approximate the colour of the wet leaves, but this is still a little off.  Oh well.
It was fun, and I think I should definitely do this again.  Drinking tea outside has its charms, and so long as it's not the mosquito season… it's a very pleasant thing to do.