I got back, got off the plane, and the familiar scent of a slightly damp city graced my nose. Hong Kong is always wet, and it seems like the super wet weather of spring is hitting early this year.
This leaves me a bit uneasy with my tea stash here. In Beijing I never worry about moisture, because it's always too dry there (I put two bowls of water in my tea cabinet, so to make sure that the water doesn't run out before I return). Here, though, you can feel the wetness.
This is where the tea was stored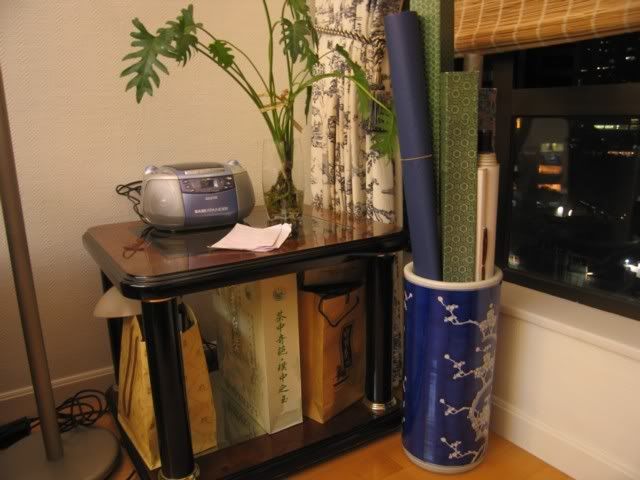 The place, as you can see, is not ideal. It's next to the windows, so when the windows are open (as it was when I came back) there was a slight breeze. It brings a lot of moisture through the air. Although what's stored there are just two tongs (the other loose cakes are in a paperbag on one of the bookshelves), I worry about it. I could sort of smell the tong wrapping. I opened one of the tongs up to check… the cake almost feels damp. It's wet all right. Time to move them.
So I cleared out a little corner of one of the bookshelves and put my tongs there. Take a peek
I need to clear the area out a little better, but it will do. I am thinking of making one shelf tea related stuff, if my dad will let me. After all, I don't have a room in this place and sleeps on the murphy bed in the study.
Other than my puerh stash, I also got a nice package in the mail:
These are tea samples from Mr. Lochan of Darjeeling. They're actually all big bags… 100-200g each, I think. That's a lot of tea to drink. I might give some to the Best Tea House folks to try.
Anyway, time to turn in. I think I am going to deliver Rosa's tea tomorrow (which, incidentally… put my luggage over the weight limit…)