To those of you who have been following this blog for a while, you would've noticed that I haven't had a tieguanyin for a long, long time.
Well, I decided to finally drink one today. As you might recall, I've self imposed a "no young puerh" rule recently (although I must say that if I go to Maliandao young puerh will be unavoidable), so it is a great opportunity for me to get away from those young puerh tastings, which isn't always enjoyable anyway, and back to the stuff that got me started.
On the menu today is a lightly roasted tieguanyin I got in Beijing when I first arrived, some five months ago now, from the store Chadefang on Maliandao, which, incidentally, I have never been back since.
I stored this tea poorly in a papier-marche box. There were two teas that I put in those boxes. One was this, the other was a Maocha. The maocha suffered horribly, tasting like paper. I thought the same fate might befall this one, but oddly enough, it hasn't. Nevertheless, since I haven't had this tea for so long (3 months now, I think), I figured I will use the gaiwan today to taste its condition, so to speak.
The first two infusions were light, a bit thin, and you could almost say it was watery. I was a little disappointed initially, but then I was probably out of practice in brewing them. I also decided to add a little of the 5100 leftover from yesterday to my kettle of my usual water, to give it a little kick. Remembering the experiment yesterday, I figured it might give me more from the tea.
The result was as expected — it did. The tea started tasting sweeter, softer, peaking at around infusion 4, and then starting on a gradual descent, but lasting me about a total of 15 infusions or so, which is quite decent for a tieguanyin.
Infusion 5:

Infusion 6:

Infusion 8:

Meanwhile, I kept my tieguanyin pot around to season it with leftover tea. I didn't want to drink too much, so about 1/3 of each infusion went to the pot, instead of me. When I opened the lid, a film of tea stayed and I took a shot of it
That's some serious surface tension.
I was pretty satisfied with myself today, mostly for not messing up the tea, but also in rediscovering why I liked roasted tieguanyins in the first place. In a way, drinking young puerh, which is interesting and exciting because of its sense of discovery, is not quite the same as drinking a nice, mellow oolong just for enjoyment. Today I was just enjoying my tea instead of trying to figure out where it's from, what kind of leaves were used, etc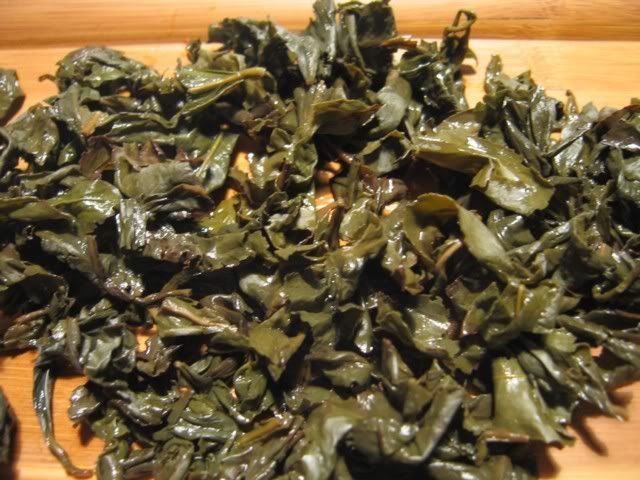 Although, now that I've said that I wasn't trying to figure out what kind of teas were used, I do wonder if this is tieguanyin at all, or if perhaps this is a benshan. I'm not very good at spotting the difference. The price would suggest a benshan, or a tieguanyin from an outlying region. But whatever… it was nice drinking it. I will probably brew it up again fairly soon, instead of waiting another two or three months.