Today's teas started at a local tea shop — Fuchaju. Some of you might have heard of this from an auction store on Ebay who sells his teas. Basically, it's started by a Taiwanese tea drinker who is quite famous for his tea roasting skills, and he sells some oolongs as well as puerhs. I had some expectations going into the store.
And my god, the expectations were dashed quickly and mercilessly. It was awful. The two salespersons there knew almost nothing about tea…. whether it be oolongs or puerh. They could tell me little about anything. I asked if they have higher fired oolong or tieguanyin, since that should be what they specialize in, but they couldn't tell me what they've got exactly, not show me the tea proactively so that I can look at the leaves and compare. Who trained these people??
So I ended up settling for one oolong for taste, and looked at the puerh while they were boiling the water. Turns out that there's only one raw puerh cake on sale. The rest are all cooked. They are wrapped in your usual puerh wrapper, but beyond that, somehow they have also put them in these heavy plastic bags, so that even the samples are difficult to look at, and I had to take them out. I'm not sure what they were protecting the tea against.
Meanwhile, the water was ready and I tried the oolong. Light fire stuff, nothing exotic. It was quite pleasant, but not really something I'd spend money on buying right now, just because it's not what I am looking for.
The one raw cake was from Wuliangshan in Yunnan, so I asked to try that. Oddly enough, while I was still tasting the oolong, the other girl sat down at the other table and decided to start making the puerh for me. I'm not sure what the hurry was, nor, for that matter, why they were doing it away from me. So by the time I finished with the oolong (after a 3 weak infusions with maybe 3g of tea in a HUGE gaiwan, and which they brewed the first infusion using about a minute and the second one about a minute and half…) I was presented with lukewarm puerh from the other table, also brewed with very little leaves and with infusions of a minute or more. Why they do this, I do not know.
While brewing, the girl repeatedly apologized for not knowing exactly how to make tea and such. Turns out this branch only opened a few months ago, and they were both hired very recently. They are from Hunan (for some reason, I've met a lot of Hunan girls recently selling tea, mostly in Maliandao). None of them had a background in tea, so….
So, of course, I didn't buy anything. It was an exercise in annoyance. Their manager was away, but somehow, the manager is either grossly incompetent (i.e. not training his/her staff well) or the manager usually does everything with the girls sort of serving as aids. It was pretty sad. It's obvious the location of the store is terrible as well, since it has no pedestrain traffic and you are pretty much destination-shopping when going there. Who decided to open a store here, I don't know. It was a mistake, I can say that much.
Anyway, enough ranting.
Not being satisfied with two meekly brewed teas, I came home wanting something stronger. I was looking on my shelf of samples, and saw the 8582 bag from Hou De. I still have a piece of the tea, and I remember I liked it the first time I tried it, a few months ago… so I decided to make it again to see if I still feel the same way after quite a few months of intense puerh drinking. Last time I drank it I was undergoing a long period of drinking very little puerh — I was on an oolong binge, so I think my taste might have been off.
So this is the piece left behind — I peeled it open to reveal the inside, and look what I found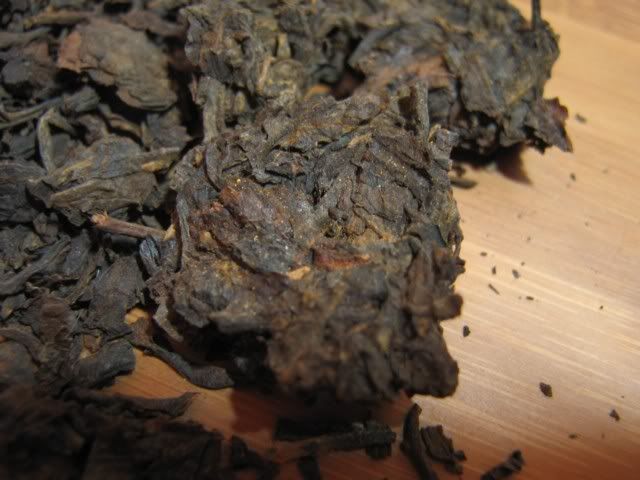 I think that's mould, the yellow dots. I braved it and drank it anyway.
This is colour of the liquor from infusion 2, which remained about the same until about infusion 7, when the colour started dropping off.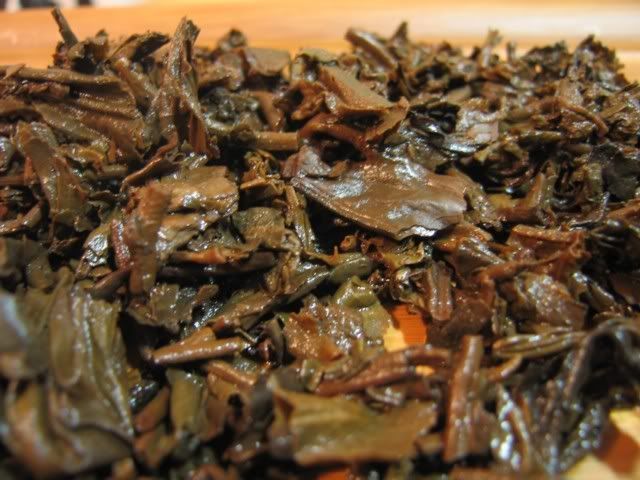 The brewed leaves.
So what do I think of it now?
I think it might've been poorly stored or wet-stored, I'm not sure which. Poorly stored and contaminated with moisture is my guess, although it's hard to tell with just such a small piece. The brewed leaves indicate that it hasn't been fully dry stored, as claimed by the vendor. Nor, mind you, is the colour of the liquor convincing that it is dry stored — 10 years old does not look like that if it's fully pure dry storage. It's not possible.
I guess I did learn something over the past few months 🙂
The taste is fine…. it's not the greatest, but it's not nasty either. It's a bit like those cheap bricks I bought in Hong Kong, which I know for a fact that are not dry-stored and went through some sort of poor/wet storage over time. This one has less "off" tastes and more orthodox aromas, and is actually not bad, aromatically.
Something else just struck me though as I was writing this entry….
Is this fake?
I went back to the vendor's site to look at the picture of the cake while writing this and something struck me as odd. The pressing of the cake looks too compressed, and the edge of the cake is not your usual Menghai edge, which is a nice, thin, round edge. Instead, the edge is very broken up here, and the mold used to make the cake seems to have a ring around the edge… also not Menghai's style. The back of the cake also does not look like Menghai, either, with the large stems and all. Then… on the wrapper, the wording in Chinese is actually different from the usual. The words for "Cha ye", which means tea leaves, is instead "Cha ye" meaning tea industry………
Um…
Let me ask on Sanzui and see what I find. There are lots of experts on this kind of thing. Mainlanders deal with fakes all the time, and they might be able to spot this one. I'll report back.