Puerh #2 from Hou De – this is the 1995 8582 cake they sell. They actually charge more for this than the 7542. Let's see how this goes.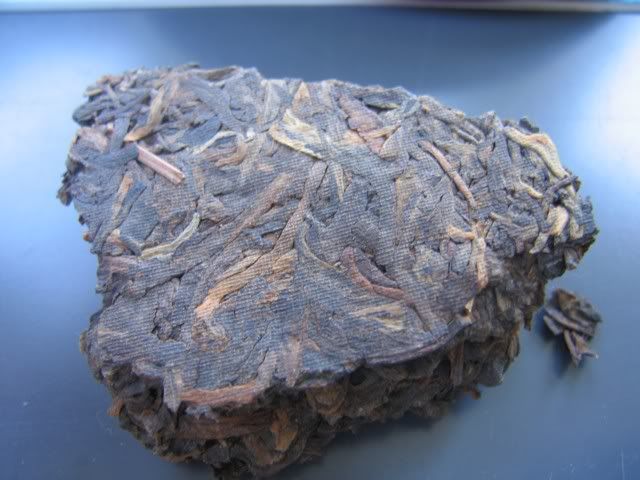 Looks like Rosetta Stone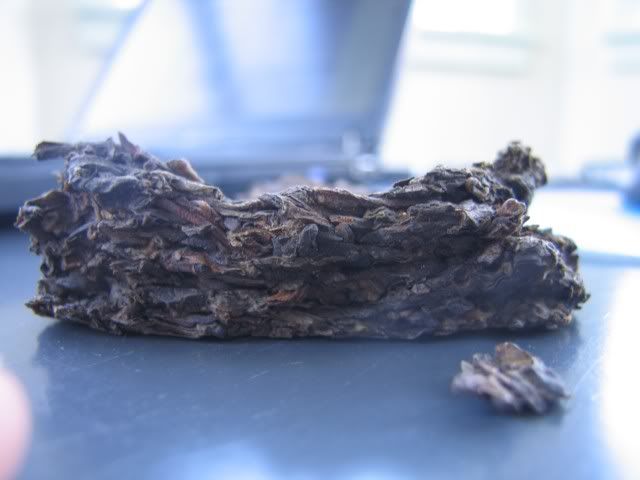 Dry leaves: very solid, hard pressed. You can tell by the way it looks that it's quite compressed, which would mean, among other things, that it ages slowly. Compared with the 7542 yesterday, which was very loose, this one's hard. I had to break this piece apart using a good bit of force in order to get the right amount for my pot. Yesterday's tea just peeled off.
Because of the hardness of the piece, and the way it has been broken for me, I couldn't peel off layers before it put it in the pot because I couldn't get a good handle on it. So I dumped it in, gave it a rinse, then peeled off layers. Not surprisingly, even after the rinse, the inside of the piece was completely dry. If I didn't do this, I'll be drinking successive, weak brews instead of using all the leaves for one brew. I really need to buy a good puerh knife.
Ah, after the second rinse I can clearly smell the ubiquitous camphor when I opened the pot.
First infusion: The tea's still warming up, so it's a bit weak. I can already tell this is obviously less aged than the 7542 yesterday, not surprisingly. Comparatively, it is more sweet than bitter. A bit of the raw flavour in the back.
Second infusion: Hmmm, much stronger. After drinking a few sips… The first noticeable sign of cha qi is showing up, with me sweating down my back. The smell is of sweetness. I think I might've put in a tad too much tea and left it in too long, because it came out slightly astringent. Less time next steep.
Third infusion: The sweetness is more pronounced, and has an earlier onset than the 7542 one which only shows when you're done drinking. It's very strong, and it's sweeter without the bitterness. The flavours taste… like… Hmmm, I don't know how to describe this. Paper? Paper tastes a little like this, I think. There's that smell of camphor, but not a lot of the taste of camphor. I'm done with the 3rd infusion, and I am still tasting the sweet aftertaste in the back of my mouth. It's quite strong.
Fourth infusion: It's gotten a little more medicinal, and in my first cup, a slight hint of acidity. There's a camphor-like aftertaste. The sweetness is more subdued, taken over by a more woody aroma.
Fifth infusion: Colour wise is similar to the fourth. The camphor taste is showing up stronger, and I think the sweetness has definitely faded now. Still a slight sourness if I swirl it around.
Sixth infusion: Tastes similar to the fifth. There seems to be something else that showed up, but I'm not sure what it is.
Seventh infusion: I think I added a little more leaves than I thought I was – the compression (I guess especially since it's in the center?) made it harder to gauge how much I was using.
Eighth and beyond: similar to before, but I'm letting it steep longer. It has lasting power, and lingers on. Actually, I'm still drinking it right now, infusion #11. Steeping time is now into the 10 minute zone, but it's still coming out nicely.
I like this much better than the one I had yesterday. Is it solely due to the fact that I added a bit more leaves? I don't think it is. The aroma and tastes are more complex. While I don't exactly find the fruity flavours that their website claims (perhaps the slight acidity is what some call "guosuan" or fruit acidity), it is more complex and more changing than what I had yesterday. Will I pay $39 more for a cake of this over the 7542 from yesterday? Yes, no doubt about it. Will I pay $160 for a cake of this? Hard to say. I think I am too poor as a student, arg.