Another day, another cup (last night I got home late and ended up doing the leaves-in-a-cup thing, yes, I deserve to die for that). Today, another Puerh. This one though is something I got from Hong Kong. It is from a teashop called Sunsing. They're not the best tea shop in Hong Kong, and the guy who served me was actually rather dismissive (another rant for another day). However, they do sell decent Puerh there, and this one I got is a loose leave Puerh

No flash, pretty close to actual colour I'm seeing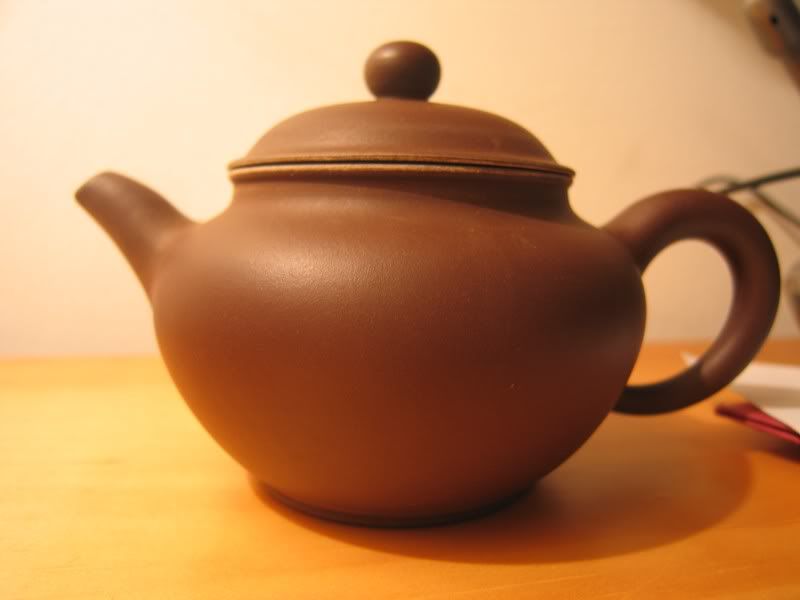 This is my Puerh pot
Anyway, so this is what I'm having today. It wasn't exactly cheap, but when I saw it in the teashop it looked really good, and I had a taste of a leftover brew (something like 7-th brew, perhaps) and it tasted quite nice even then. I decided to get an ounce, most of which is what you see in the first pic.
The tea leaves smell like nothing, as one would expect of an old aged Puerh that's well kept (it really shouldn't smell very strong of anything at all). The tea brews a dark brown, almost black, but not pitch black like the other one I had from Upton.
Taste — very nice, slightly biting entrance, with a decent astringency and a good aroma coming from it. The lingering smell in the cup is that of spices — at least for the first 3 brews or so, that's the case. Now that I'm on my 5th brew, it changed a bit into a more mellow smell, but still there. You can definitely taste the "raw" character of the tea, telling you that it is definitely an aged Puerh, rather than a "cooked" Puerh that is aged artificially and thus has no real character. The tea leaves, when brewed, is a medium to dark brown. While not cheap, it was well worth the money, I think, and good for variety sake.
The great thing about buying loose leaf Puerh, rather than cake Puerh, is that 1) they are cheaper in comaprison and 2) they are easier to deal with. I have a few cakes, but it's a pain to have them around and breaking them apart to drink always feels like a waste no matter what, whereas with loose leaf I feel no qualms.
Back to my tea…