Lew of the ever expanding Babelcarp kindly gave me this sample when I was in New York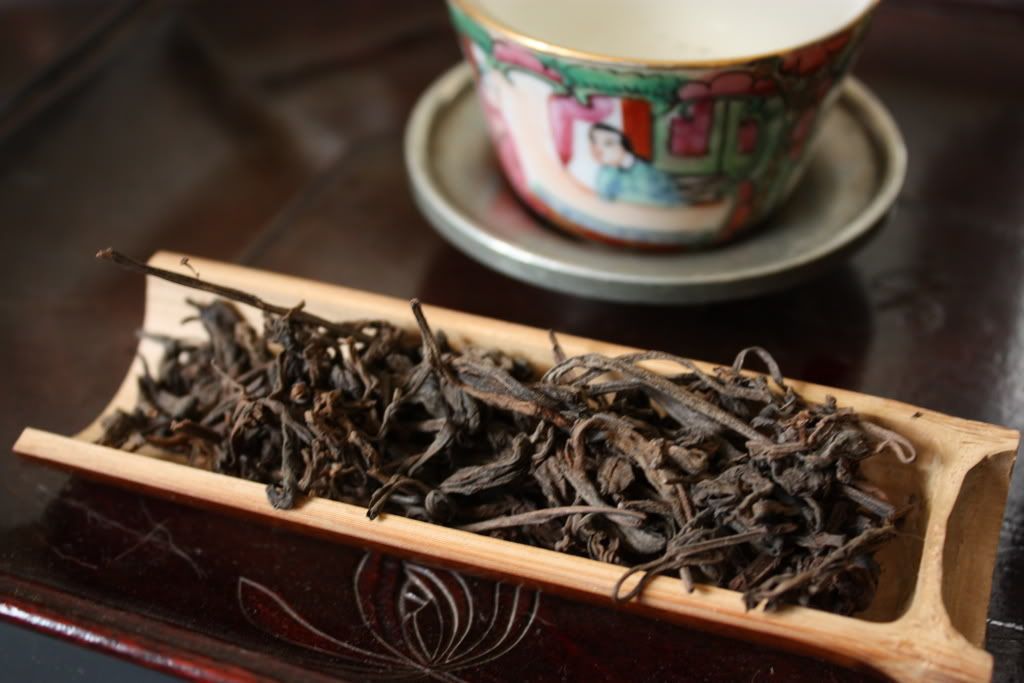 The tea is from Taipei — a store that I actually visited once or twice, and then through a friend of his came into his possession. When I first saw it and smelled and looked, I told Lew that I think it's a "border tea", which generally means non-Yunnan tea made into some sort of puerh. On the back of the bag it says Yiwu Maocha, but every maocha out there is Yiwu….
The reason I said it's border tea is because it smelled like it, and it also looked like it — long, wiry, thin stems with that twisted look. Yunnan tea generally looks a little fatter and shorter. I have a cake of this stuff, and also some various assortment of loose tea that are almost certainly border tea — most likely of Vietnamese origin. They also have this distinctive smell — it's best described as somewhat spicy, and after trying a number of these things, quite common.
They also tend to brew dark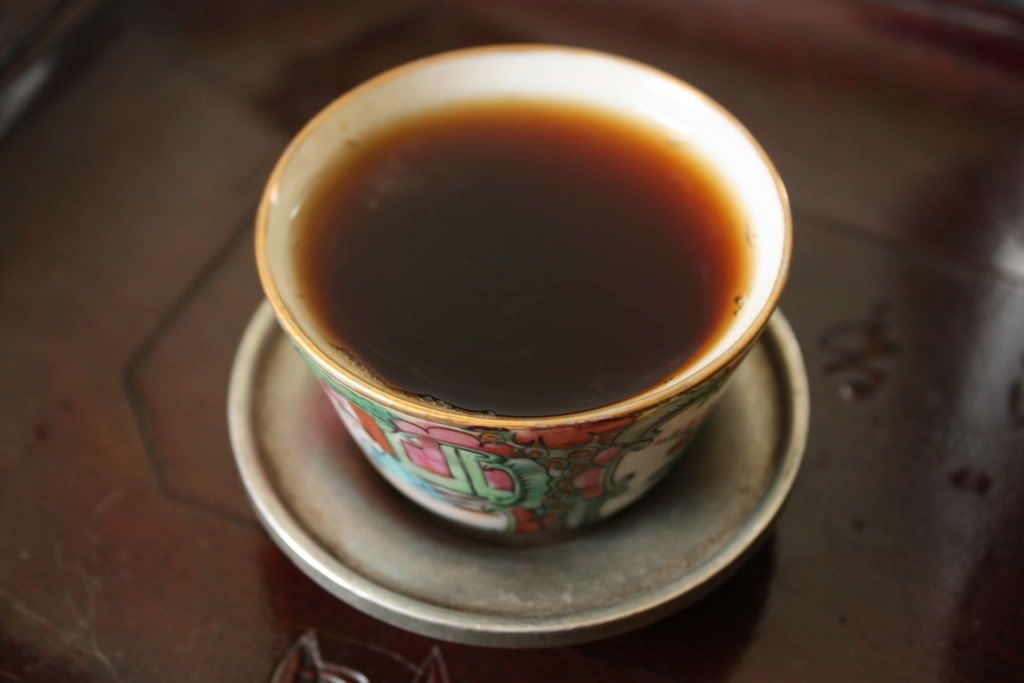 And they look dark when wet
The taste is usually of the same spicy note you'll smell, and tend to be a little thin in terms of body. Mind you, they're hardly bad — I'd drink this anytime. They're just not Yunnan in origin, and is often passed off as higher grade stuff, which it decidedly isn't. The most famous border tea that is easily obtainable is probably the 1980s or 1990s Hongtaichang, which you might see quite often. They have a squarish neifei with about four columns of words and usually no wrapper. I've seen them sold at various places, including M3T in Paris and shops in Taiwan, as genuine Yunnan puerh with the price to boot. If you find them in places that sell them for what they are, they are fairly cheap (under $50 a cake). For a 1980s or 1990s tea, it's not bad…
Thank you, Lew, for the nice sample. I tend to like these mellow, easy to drink things. It's less stressful to make than younger or harsher teas.