I rearranged my tea closet yesterday, which helped me fully appreciate how much tea I am actually sitting on, and while doing it, dug up a lot of old samples that are slowly aging in their respective little bags.
Since there's precious little point in keeping those around, I decided to start — or at least attempt — to eliminate some of them by, well, drinking them.
The first victim is the Orange in Orange Zhongcha sample from Hou De, which is, I believe, sold out long ago. The tea is from 1996, supposedly, and I'm sure if you dig far enough in this blog, you can find my last review of it.
The tea smells almost liked a cooked puerh, oddly enough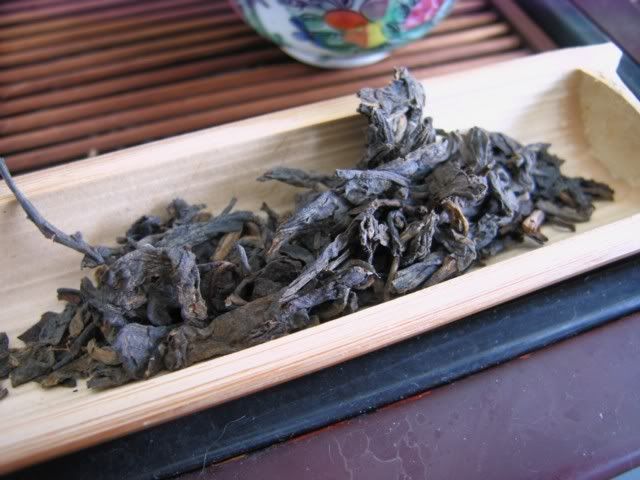 And the smell sort of persists into the first cup
(Both of these cups, btw, are new acquisitions from Japan, along with the new tetsubin and a few other things — such as the bamboo tea spoon… although strictly speaking they are both intended to be used for sake, but I don't care for such details)
The tea is…. quite unremarkable. It's a bit cooked like at first, even though it is raw — wet storage can do that to you, but somehow for this particular tea, it's a little more pronounced than usual. The tea switches into its "raw" mode after maybe 5-6 infusions, tasting greener and lighter, which, often enough, is the better part of a wet stored puerh. It's not that interesting per se, but it's not too bad either, and I'm sure back in the day when a sample means 2oz of tea, the price was sufficiently low to justify the purchase of many such cakes. Now…. I wonder if Hou De would even bother to list anything under $400 for somethig that's about ten years old.
The wet leaves are, by and large, small and a bit broken. Clear signs of wet storage exist, but nothing so serious to have those carbonized leaves. Maybe wait another five or ten years and this tea should be pretty good, but these days, I begin to wonder if I will ever be patient enough to see my teas through decades of aging. If a tea that's ten years old tastes only so so…. I don't want to think about the implications.