Ok, so with my last shipment from puerhshop, I also got a sample of this puerh. It has this clunky name because the brand, "Qingcheng Feng" is literally "blue-green city/town peak". Rest assured, Green City Peak is not a peak in Yunnan…. as far as I can tell anyway.
So they say this is the best Mengku cake they've gotten this year. I got a 5g sample, which is, truth be told, a little less than what I normally use for one session, but it'll have to do. One cannot complain about free samples.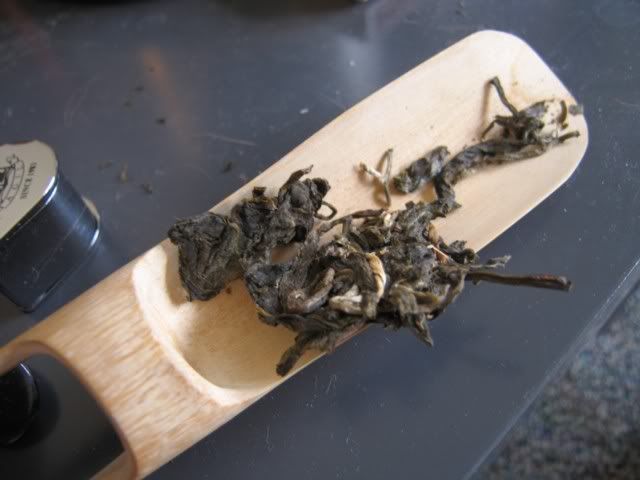 The leaves look normal. Actually, they are brighter coloured than the picture on the site suggests. At first I was a little nervous about this being one of those "wild wild" puerh out there which can be fairly disgusting, because of the dark coloured picture. Thankfully, that's not the case. The tea brews normally.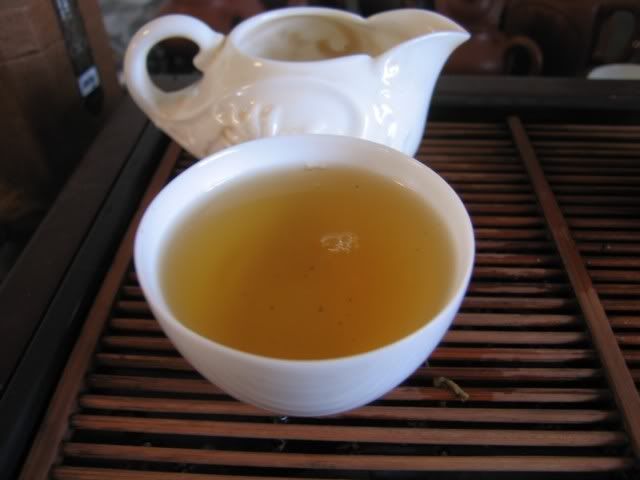 The tea…. is interesting. It is bitter, but not really. It is strong… but not really. It is flavourful and active… but not really. The only thing I'm sure about is that it hits the throat and leaves a mark there. The reason I said "not really" three times is because it is one of those teas that seem strong, but yet the strength seems a little elusive. I definitely feel that there's a sort of coating around the mouth when I drink it, but then, it is almost ethereal, sort of there, but then you question yourself as to whether it is really there or not.
Instinct tells me this is a good tea, but I need to try it again to be more sure — preferably with a little more leaves so I am not feeling like I have to juggle amounts of water in order to make the water/leaf ratio be closer to my "normal" amount. As is usually the case these days, whether it is worth its price or not is really up to the individual, although I can say that it impresses me more than some more expensive teas I've tasted recently.
The leaves are big
Which might indicate that some, at least, are not spring leaves, but summer, or whatever, pickings. There are, however, no wooden sticks in there or extremely long and old stems, which is good. The leaves are well done.
Interesting tea, at the very least.