I have a distant relative who lives in Taipei who helped me a lot to find a place, settle down, etc, and she asked me a few days ago "hey, have you gone to Pinglin yet?" because I told her, when I first got here, that I thought about going. No, I haven't. So today, we went to Pinglin.
Now, for those of you who are not into Taiwanese geography, Pinglin is actually really close to Taipei. From where I live, it's less than 30 minutes drive to Pinglin, door to door. Yes, it's that close. While some place like Nantou is actually kind of out of the way, driving to Pinglin is actually faster than me riding my subway to where I've been going to work the past few months — and that's in Taipei.
You can already see farms on the way there
The first place we hit was the tea museum there
It doesn't have a whole lot, and for anybody who knows something more than the very basic about tea, it's not really worth a visit. Nor is their gift shop any good. If you're on a time crunch, best to skip this place, unless you're into reproductions like these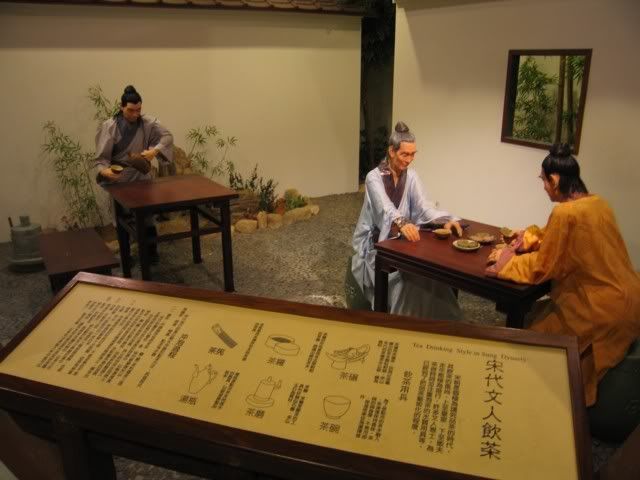 Song dynasty tea scene, apparently. Now all they need is a dance floor and some music.
Not too long ago, a new highway opened near Pinglin which passes by Pinglin to Yilan on the east coast of Taiwan. However, before that, you had to take a longer and more mountainous route to the eastern coast, and Pinglin was one of the places where you could stop for some food, bathroom, and tea
So this is like any American town where a state route cuts across it – except every single place sells tea. Some, though, are more food oriented than anything else. As you can see
Tea store on the right, food stall on the left. Since the new highway opened though, the old business died – so this area is really struggling because people no longer stop by on their way, and even though we were there around noon time, nobody was eating in those places and you could tell business was depressed.
We went to a store that focused on selling tea (rather than food), sat down, and I did my usual "do you have old tea" routine. They did, of course (everybody does, at least they claim so). The tea she brought out smelled a little sour, but not bad enough so I'd skip it right away. We tried it… roasted, but not very good. Thin, weak, sour, but not terribly so, but…. no good. And it was expensive to boot, as I found out after asking about the price. 28 years old? Sure, whatever.
We left, had lunch, and then wandered over to the old town part of Pinglin.
A much more charming little street than the ugly highway, I must say. We wandered around — most stores are closed, and the place looked almost as dead as the highway. Given that it is a weekday, but still… it's kinda depressing.
Eventually we settled into a store. An old woman was picking tea (separating yellow leaves and stalks from the good leaves). She said the yellow leaves sell for 100 NT/jin (600g) — that's $3 per 600g. The good leaves? $10/600g. Cheap tea. And yes, people do buy the yellowed leaves to brew, usually factory workers and that sort of thing — they just want a tea to drink during work.
Almost all self-respecting tea stores will have a few of these plaques
These are the "first prize" or "special prize" plaques you get in tea competitions. It usually says "congratulations to xxx for achieving Top Prize in the xx year Pinglin tea competition, given by xxx". This one's more elaborate than the usual ones (which are just plain words). However, since every store has at least a few of these (although some decidedly more than others) it makes you wonder if the competition teas really mean much of anything. Is it just a rotating championship so everybody gets their turn to charge astronomical prices for their teas?
The tea setup here is also decidedly simple
I again asked for old oolongs. We got an old baozhong which she claims is from 1968. Ok. It doesn't smell sour. Looks good enough
We tried it… and it's indeed pretty good. It's one of the better aged baozhongs I've had. Alas, I've already bought something quite similar from Taipei for only slightly more money (about $10 more per 600g) so I'm not exactly crying for more. I did buy my relative some tea though, because I feel like I owe her a lot for helping me out during the past few months, and I think she liked this stuff too.
Interesting day. Pinglin, as you can see, really isn't very mysterious. The farms I saw along the way were mostly machine-harvested. I know there are good, organic, well kept farms out there in Pinglin, but rest assured, most of them are probably not.
I did, however, discover that my relatives here (she's my cousin-in-law's eldest sister, complicated enough?) actually used to be tea farmers. What's more…. the farm's still there, but no longer harvested/managed and hasn't been for some years. I drool at the prospect of coming back to Taiwan and going there to check out the untended trees.