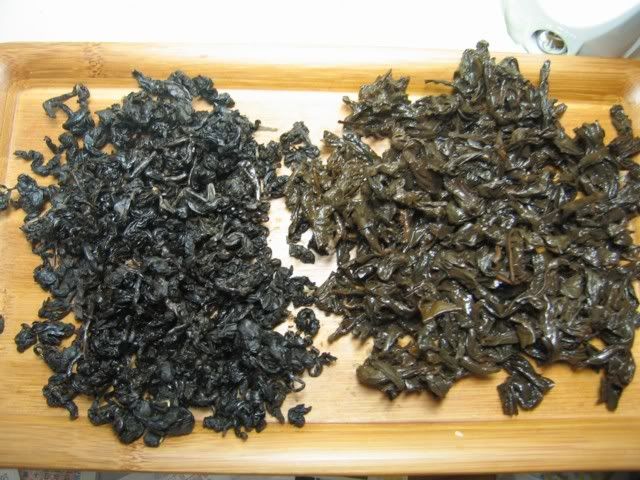 The above photo consists of two sets of leaves. On the left are the leaves of the roasted oolong I had yesterday. On the right are the aged tieguanyin I had today. Put together, I think the contrast is much more obvious. You can not only see the colour differential, but also the way the leaves are — one's much more open, flexible-looking, and lively, while the roasted one is quite black, don't really unfurl, and if you try to pry it open, breaks apart as it is very brittle.
Reminds me of cooked and raw puerh… or maybe wet stored and dry stored puerh.
Now, obviously, the parallel isn't exactly. The tieguanyin in this case must've been roasted as well, as some of the leaves show evidence of that. However, it is the degree that matters… and I find, in the case of aged oolongs, that lightly roasted and then left alone, they produce the most interesting results. Lively and vibrant, they retain some of the original character of the tea while having changed enough so that you won't recognize it. The roasted stuff are softer, mellower, but lacking in that liveliness that really spices things up (sometimes literally). I like it still better than cooked puerh though.