Today I went with Aaron Fisher to Jingmei Tang, Wushing Publications' teahouse, so to speak. They're not normally open, but only for events. There's an event today — the opening of a 1920s (or is it 1930s?) jian of liu'an that they found in some Chinese medicine shop.
So we went there at 2pm sharp. Everybody was already there, and the prize was there too, sitting in the middle of the room. Now, liu'an is a tea that is generally packaged in baskets. When they first come out, they're basically green tea steamed into the basket — sort of like liubao, although liubao usually comes from Guangxi, and liu'an comes from the Huizhou area, near Huangshan, the same places that give us Qimen, but NOT the same place that gives us liu'an guapian, the loose green tea (that's farther to the west and has nothing to do with Huizhou). The most famous brands of these is the Sunyishun, and this is what we're opening today.
Before we went on with the opening (and drinking) though, we first drank the 1930s liu'an that they opened a month or two back and featured in the current Chinese issue of Puerh Teapot.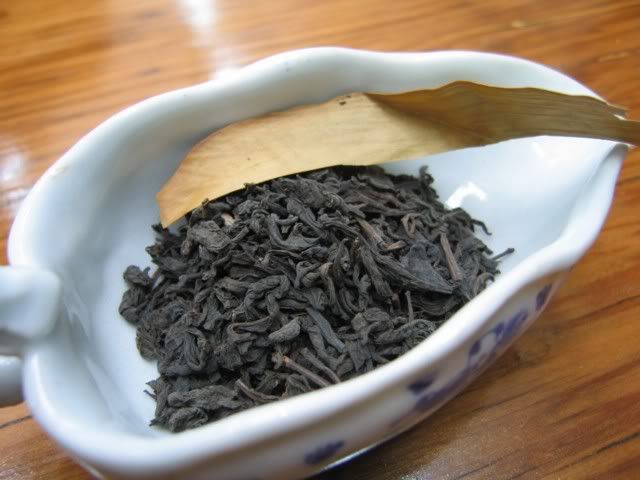 The bamboo leaf is part of the wrapping of the original basket, and in some cases you brew the bamboo leaf along with the tea (depending on preference, really). The bamboo leaf itself is so old and mixed with the tea for so long that it has taken on medicinal quality. So has the tea. Sitting across me was a gentleman whose family originally was in the medicine business. He said back in the day, teas like this were used as medicine for certain ailments. I can believe him.
So Aaron did the honours in our corner of the room and brewed. The liquor is very much looking like a liu'an
It tastes like a good liu'an, mellow, medicinal, good and obvious qi, but in a pleasant way, and generally a pleasure to drink.
But you don't want me to babble on about this, so on to the video. This is Lu Lizhen, another one of the Taiwan tea experts, who was doing the honours. Zhou Yu did some introductions and background info for the tea in question.
And in case you want to see pictures of the jian of tea in detail
There are ten stacks of tea in this bundled together, each stack consisting of six baskets. The small writing on the canes that hold the baskets together says "Xin'an Sunyishun zihao jianxuan yuqian shangshang yinzhen", which means, "Top grade (literally top top) silver needles selected by Sunyishun company of Xin'an", with Xin'an the older name for the Huizhou area.
So of course we drank this too… stronger, more lively, and more aggressive. The tea's been kept in excellent condition, and the finish of the tea even has a hint of that greenness that you find in younger teas. I even came home with a sample of it…. which is worth quite a bit, considering the whole ball of tea, 60 baskets in all, is said to be something like $400,000 USD.
Aaron and I stayed behind to drink some more tea with the owner of Wushing Publications, a good tieluohan and an extremely good shuijingui, both of them Wuyi varietals. It was a pretty good outing.